After being attacked for his record on civil rights issues, Rev. Jesse Jackson has come to Democratic presidential candidate Bernie Sanders' defense.
During a press conference while the Congressional Black Caucus PAC announced its endorsement for Hillary Clinton, Rep. John Lewis (D - Ga.), slammed Sanders' record on civil rights and accused the Vermont senator of never being present in the movement.
"I never saw him, I never met him," the progressive civil rights leader told reporters Thursday. "I'm a chairman of the Student Nonviolent Coordinating Committee for three years, from 1963 to 1966. I was involved in the sit-ins, the freedom rides, the March on Washington, the march from Selma to Montgomery, and directed their voter education project for six years. But I met Hillary Clinton, I met Bill Clinton."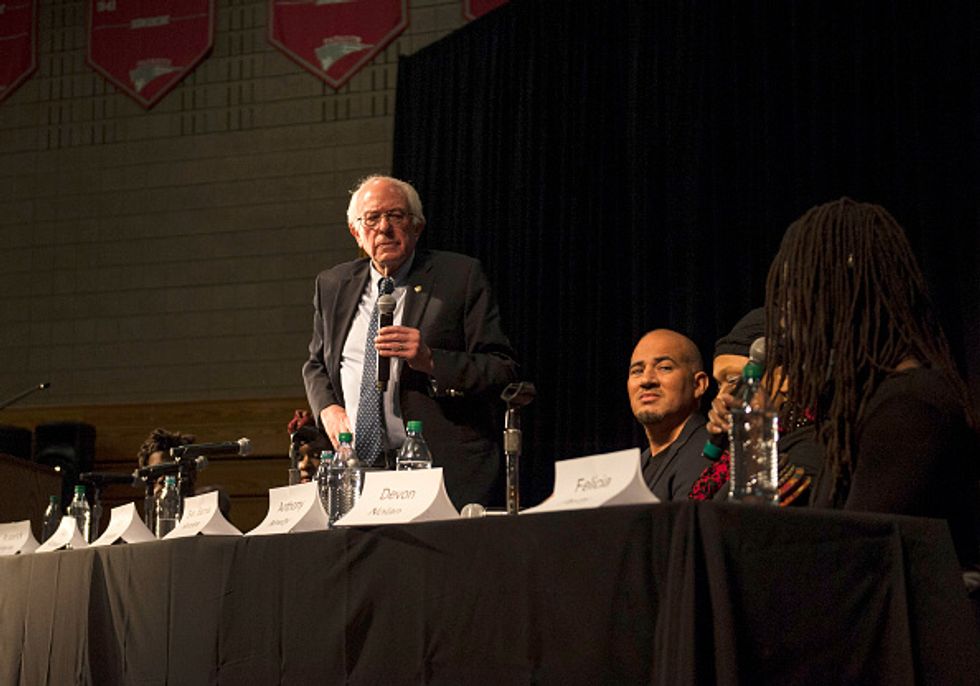 Democratic presidential candidate Sen. Bernie Sanders (D-VT) answers questions at a forum on race and economic opportunity. The event was coordinated by Neighborhoods Organizing for Change, a grassroots organization working for racial and economic equity. (Photo by Stephen Maturen/Getty Images)
However, Jackson, himself a venerable icon in the civil rights movement, dismissed Lewis' claims that he "never saw" Sanders.
"Bernie was fighting back in Chicago, not in the deep-south — in affordable housing struggles in Chicago. The movement was so broad based. There were civil rights leaders in Chicago," Jackson told the Daily Caller.
Jackson, a South Carolina native, also said he had "enough room in [his] heart to respect John and Bernie" despite Lewis' claims. 
As the Daily Caller noted, Sanders endorsed Jackson in 1984 and 1988 when he ran for president himself. However, as he is also friendly with the Clintons, Jackson said he will not be making a presidential endorsement this year.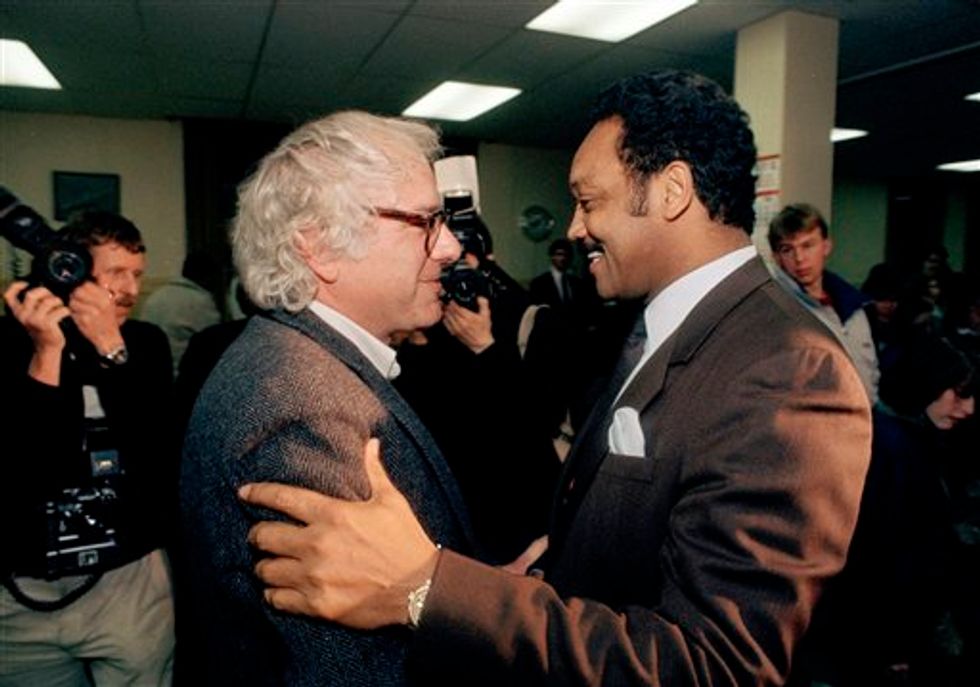 Burlington Mayor Bernard Sanders greets presidential candidate Jesse Jackson at a campaign appearance at Montpelier City Hall, Dec. 31, 1988. Sanders, the nation's only Socialist mayor, told a crowd of 1,000 people that he supports Jackson. (AP Photo/Toby Talbot)
Jackson also criticized the PAC's endorsement of Clinton as he asserted that it was "based on interests" whereas he is focused on "voter registration and issue development."
"My concern there is, they're choosing based on relationships…my concern is, what is the agenda? What does the agenda need? Who has the most immigrant and figures plan for affordable health care — accessible affordable education and job training and housing re-construction and urban development? That's what we need. Something needs to be built around that," Jackson told the Daily Caller.
Sanders soundly beat Clinton in the New Hampshire primary last week, and the two have their eyes on the South Carolina primary on Feb. 27.
South Carolina's Rep. James Clyburn (D) is reportedly taking the weekend before making an endorsement. Clyburn is the first black lawmaker elected to Congress since Reconstruction from the state, and his support is much coveted. 
According to Real Clear Politics' aggregated polling data, Clinton is ahead of Sanders by nearly 30 points in the Palmetto State.