LAS VEGAS (TheBlaze/AP) — Hillary Clinton and Bernie Sanders are speaking from the pulpit as they campaign ahead of next weekend's Democratic caucuses in Nevada.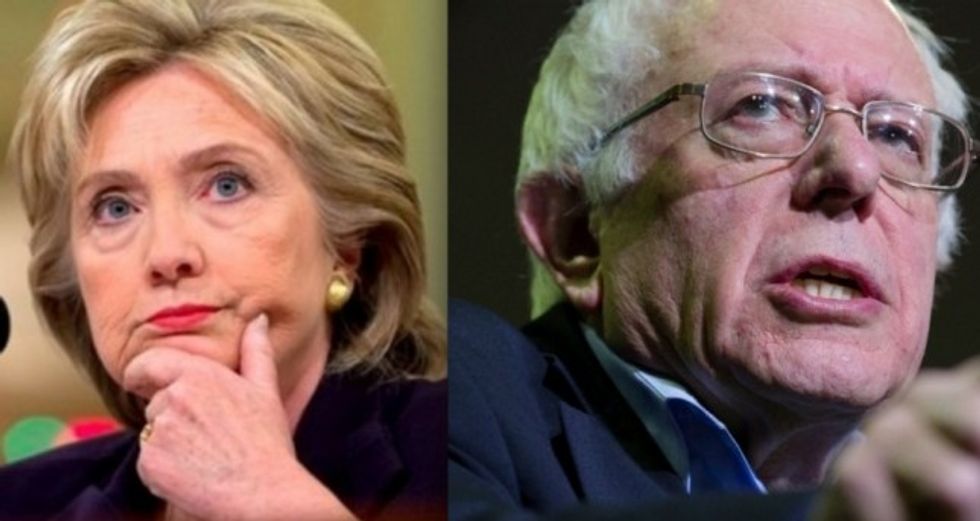 From left: Democratic presidential candidates Hillary Clinton and Bernie Sanders (Image sources: Clinton — AP Photo/Carolyn Kaster; Sanders — AP Photo/John Minchillo)

The former Secretary of State and the Vermont senator both spoke at Victory Missionary Baptist Church in Las Vegas on Sunday.
Before the black congregation, Sanders praised President Barack Obama. But he also noted the economic struggles in Nevada since the recession, saying "we have made great progress, but much more needs to be done."
He also spoke about the number of people in American prisons, saying "we cannot as a nation turn our back on the reality that we have more people in jail today" — punctuated by an "amen," the Las Vegas Sun reported — "than any other country on Earth."
John Lewis w Clinton at church in Vegas this morning (same one Sanders may be going to shortly) via @danmericaCNN pic.twitter.com/sKXZb9sVLt

— Liz Kreutz (@ABCLiz) February 14, 2016
Clinton — accompanied by civil rights icon, Rep. John Lewis of Georgia — opened things by quoting from Psalm 118: "This is the day that the Lord has made. Let us rejoice and be glad in it."
The congregation returned "thunderous applause," the paper said.
Clinton told the congregation that she would "build on the progress" Obama has made. Taking a subtle shot at Sanders, Clinton said, "I am not a single-issue candidate, and this is not a single-issue country," according to the Sun.
With the Nevada caucuses and South Carolina primary looming, Clinton has been stressing her ties to the black community, touting endorsements like the one she's received from Lewis.