Though just months ago President Barack Obama excoriated and mocked Republicans who oppose offering Syrian refugees resettlement in the U.S., Secretary of State John Kerry on Saturday characterized the flood of refugees entering Europe as a "threat" of "near existential" proportions to the continent.
"The United States of America understands the near existential nature of this threat to the politics and fabric of life in Europe," Kerry told the Munich Security Conference Saturday, according to the the State Department's transcript of his remarks.
The top U.S. diplomat said that half of those trying to get into Europe aren't even Syrian and that there's "a whole industry" designed to move them over borders, echoing arguments made by those who want a more stringent vetting process before allowing migrants claiming to be Syrian refugees into the U.S.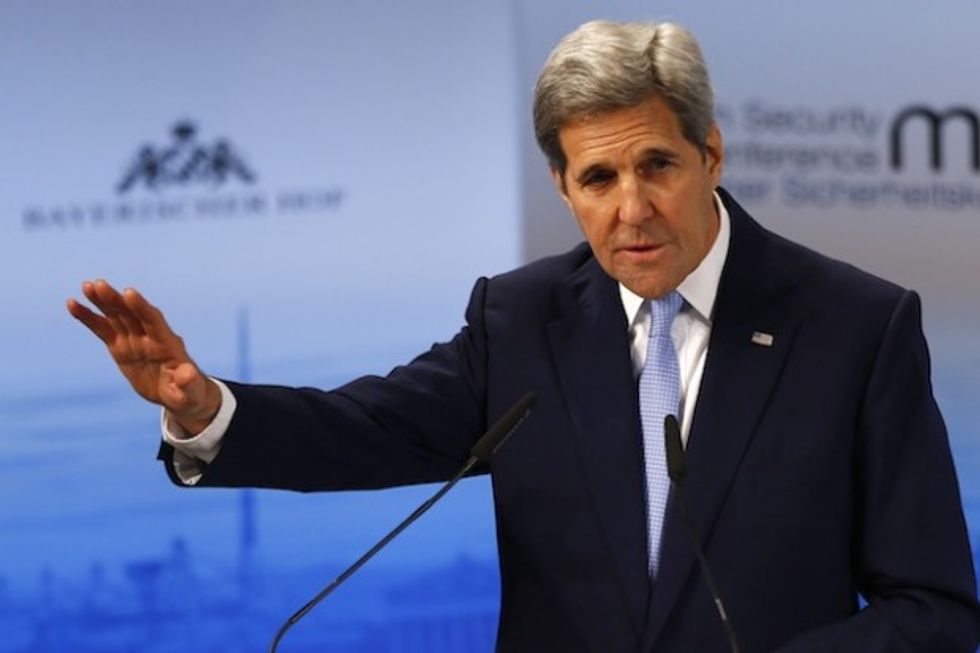 U.S. Secretary of State, John Kerry, gestures during his speech at the Security Conference in Munich, Germany, Saturday, Feb. 13, 2016. (AP Photo/Matthias Schrader)
"As we know, 50 percent of the people now knocking on the door of Europe — with a whole industry that's been created to try to help move them and some very perverse politics in certain places that turns the dial up and down for political purposes — half of them now come from places other than Syria. Think about that — Pakistan, Bangladesh, Afghanistan," Kerry said.
The secretary of state said that the "staggering humanitarian crisis" is posing "unprecedented challenges" and affecting "the social fabric of Europe."
He also made a point of acknowledging German Chancellor Angela Merkel for demonstrating "remarkable courage." Germany took in more than 1.1 million migrants in 2015 alone.
Kerry said that the Obama administration considers the European migrant crisis to be an American problem as well.
"I want to make it clear to all of you: We in the United States aren't sitting across the pond thinking somehow we're immune. We're not sitting there saying this is your problem, not ours — no. This is our problem," Kerry said.
Senate Republicans wrote a letter last week to Department of Homeland Security Secretary Jeh Johnson and Kerry expressing concern that the Obama administration was planning a "surge" of interviews of those claiming to be Syrian refugees in Jordan who wish to immigrate to the U.S., The Hill reported Friday.
"We continue to be troubled by the Administration's plans to admit 10,000 Syrian refugees, especially in light of the shortcomings in the Department of Homeland Security's ability to adequately screen and vet such refugees, as has been discussed in hearing after hearing in both the House and the Senate over the past few months," the senators wrote in the letter, a copy of which was posted on Judiciary Committee Chairman Sen. Chuck Grassley's website.
"The Administration's refusal to suspend or even slow the pace of such refugee processing is particularly disturbing when reports abound of ISIS terrorists intentionally inserting themselves into the Syrian refugee stream," the senators wrote.
The lawmakers said they had learned that the U.S. was planning to send between 200 and 300 officials to Amman, the Jordanian capital, to interview prospective candidates for refugee resettlement.
The signatories were Republican Judiciary Committee members Sens. Chuck Grassley (Iowa), Sens. Ted Cruz (Texas), Orrin Hatch (Utah), Mike Lee (Utah), David Perdue (Ga.), Jeff Sessions (Ala.), Thom Tillis (N.C.) and David Vitter (La.).
Obama in November mocked Republicans critical of allowing migrants into the U.S., accusing them of being "scared of widows and orphans coming into the United States of America as part of our tradition of compassion."
"At first they were too scared of the press being too tough on them in the debates. Now they are scared of three-year-old orphans. That doesn't seem so tough to me," Obama said then.