WELLINGTON, New Zealand (AP) — A magnitude-5.8 earthquake has shaken the New Zealand city of Christchurch but there are no immediate reports of injuries or major damage.
17km ENE of Christchurch, New Zealand #earthquake Mag 5.8 - February 13, 2016 - 7:13:43 PM (12:13:43 AM GMT) pic.twitter.com/ZbujwanWAG

— Appsmini (@Appsmini) February 14, 2016
The quake Sunday comes nearly five years after a 2011 earthquake destroyed much of the center of New Zealand's second largest city and killed 185 people.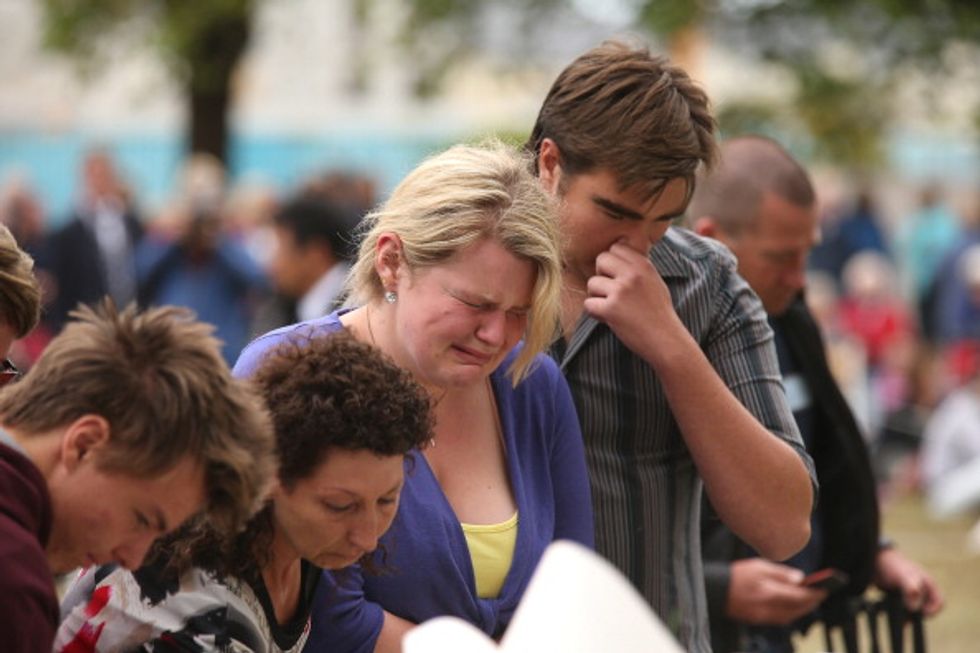 Emotional family members lay flowers during the memorial service marking the second anniversary of the Christchurch Earthquakes on February 22, 2013 in Christchurch, New Zealand. On February 22, 2011, a 6.3 magnitude earthquake hit Christchurch which, along with several aftershocks, killed 185 people. (Photo by Martin Hunter/Getty Images)
The U.S. Geological Survey reported that Sunday's quake was centered 17 kilometers (11 miles) east of the city at a relatively shallow depth of 8 kilometers (5 miles).
New Zealand authorities did not issue a tsunami warning.
Sunday's quake was one of the largest since the 2011 quake and people from across the South Island reported feeling the ground shaking.
Cliffs crumble in New Zealand Earthquake https://t.co/qtc3Xtwaft pic.twitter.com/MOwKUvAC9R

— BlastingNewsUS (@BlastingNewsUS) February 14, 2016
New Zealand sits on the "Ring of Fire," an arc of seismic faults around the Pacific Ocean where earthquakes are common.