A "laser incident" caused a New York-bound flight to reroute and return to London when the pilot reported feeling unwell shortly after takeoff Sunday evening.
Virgin Atlantic Flight 025 had just taken off from Heathrow Airport when a laser beam reportedly was aimed toward the airplane and shone into the cockpit, according to CNN. Following the incident, the first officer reported feeling ill, and both pilots decided to head back to London rather than continue with the flight's trans-Atlantic crossing.
"Probably about an hour into the flight we had a tannoy, and it said the second pilot had been shot in the eye with a laser during take-off, and we were going back to Heathrow," passenger Beth McHutchinson told BBC.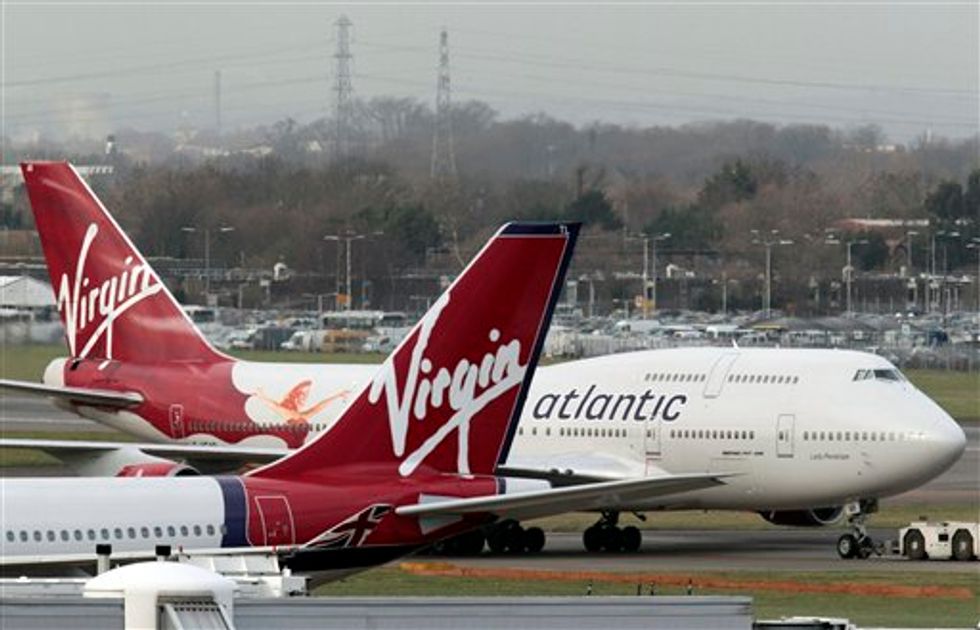 Virgin Atlantic airplanes are seen at London's Heathrow Airport. (AP Photo/Lefteris Pitarakis, file)
The crew communicated to air traffic control that there was a laser-induced "medical issue" with one of the pilots before grounding the flight as a "precautionary measure" overnight at Heathrow, according to BBC. All of the flight's 252 passengers and 15 crew members landed safely at the airport, and Virgin Atlantic Airlines put up the passengers in hotels for the night.
It can be a criminal offense for someone to shine a laser at an airplane, and as of yet, London's Metropolitan Police Service has made no arrests, although the police are still investigating the incident, the BBC noted.
Britain's Civil Aviation Authority reported 48 laser incidents that occurred at Heathrow Airport during the first half of 2015 alone, and similar incidents are on the rise in the U.S., as well, as handheld lasers are becoming increasingly more common, according to CNN. If laser beams are pointed at pilots' eyes, they can burn the corneas and cause serious injuries resulting in hospitalization. Affected pilots can also be temporarily disoriented and blinded when struck by the laser beams.
According to the British Airline Pilots Association's general secretary, Jim McAuslan, lasers are "incredibly dangerous" and should be officially classified by the government as "offensive weapons," the BBC reported.
"This is not an isolated incident. Aircraft are attacked with lasers at an alarming rate and with lasers with ever-increasing strength," McAuslan said. "Modern lasers have the power to blind, and certainly to act as a huge distraction and to dazzle the pilots during critical phases of flight."
Being struck by a laser is "very like a lightning strike in that it's very instantaneous, very, very bright light, which is dazzling basically," commercial airline pilot Janet Alexander told the BBC. "And of course, if it's targeted in exactly the wrong way, you could permanently damage someone's sight."
—
Follow Kathryn Blackhurst (@kablackhurst) on Twitter