A woman who claims to have had an affair with Bill Clinton when he was the governor of Arkansas in 1983 has revealed some bizarre, purported details about his behavior while they were together, also telling the Daily Mail that she is essentially terrified of Hillary Clinton.
Sally Miller told the outlet that Bill Clinton once danced around her bedroom, donning her black nightgown and playing his saxophone — an act that was apparently intended spark laughter from his purported mistress.
Now, Miller, 77, is preparing to release details of her supposed conversations with Clinton in a shocking, new memoir, the Daily Mail reported.
Miller's claim of an affair is nothing new, as she first went on Sally Jesse Raphael's show in July 1992 to share the shocking details nearly a decade after the relationship was said to have unfolded.
Former president Bill Clinton (Getty Images)
Among her claims is that Clinton told her that his wife — 2016 presidential candidate Hillary Clinton — preferred relationships with women. Miller also said that Hillary Clinton is behind alleged acts of stalking and harassment that she has allegedly been the victim of over the years.
"Hillary is a lesbian," Miller said, adding that she believes that the former first lady is curious and potentially worried about what Bill Clinton unveiled during their purported time together.
"She doesn't care what I say about Bill, that's old news, but I think she wonders what Bill told me," Miller told the Daily Mail. "I think she wonders how much I know about her that came from Bill."
She continued, "With the election coming up she can't afford any sort of loose end. She's the closest thing you can imagine to Al Capone. I don't think she is going to rest until she puts me to rest."
Miller said that she's so afraid that Hillary Clinton will seek to silence her that she sleeps with a loaded semi-automatic, and typically ventures out with her dog.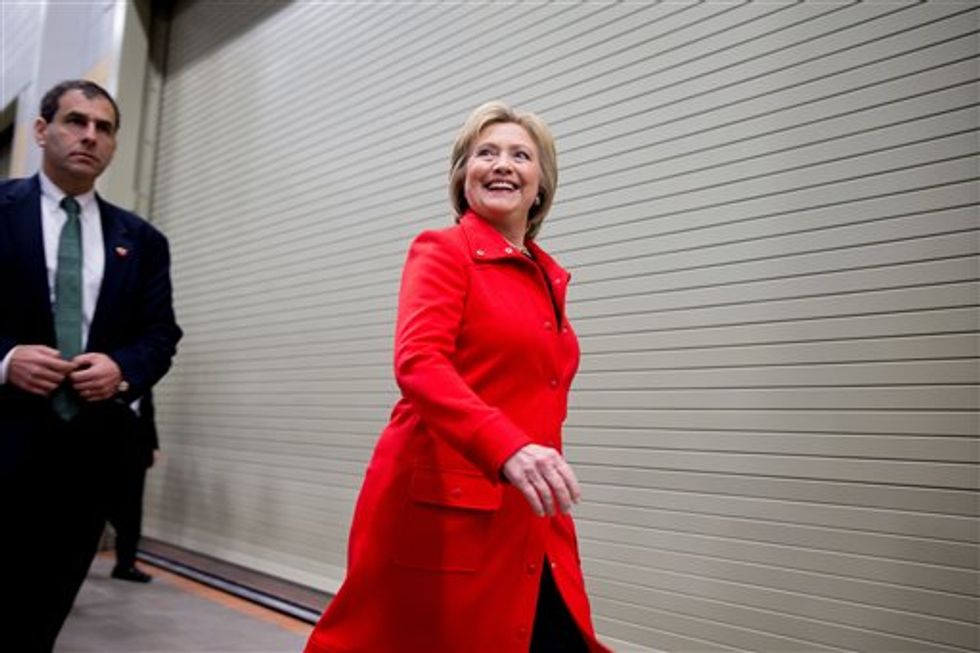 2016 presidential candidate Hillary Clinton (AP/Andrew Harnik)
Recounting the details of the start of the alleged affair, which purportedly unfolded more than three decades ago, Miller recalled reaching out to Bill Clinton about a project she was considering after having previously met the then-governor at political events.
Miller said that he eventually visited her at home and the two struck up a friendship, which developed into repeated visits to her home and an affair. During their time together, she said that Clinton would smoke marijuana and sometimes had white powder that he would snort from her coffee table.
The affair ended in 1983 after Miller said that she told him that she planned to run for mayor of her hometown. What followed, she claims, were intimidation attempts by the Clinton camp and those associated with them. Read the full story here. 
Miller also published a Facebook post last month in which she fervently spoke out against the Clintons and offered up a warning to her friends and family.
"There was a time I contemplated suicide. It's no secret…. after being labeled a Bimbo; being relentlessly attacked by Hillary and her professional henchmen; after losing jobs, all sources of income, and finally having my daughters reject me… I lost the will to live," she wrote. "In this election year, if you read I died….by committing suicide….don't believe it."
(H/T: Daily Mail)