Rutherford County Sheriff Robert Arnold suggested that the several shots fired outside his Tennessee home may have been linked to this month's Super Bowl halftime show featuring Beyonce's homage to the Black Panthers.
Arnold was on the phone in his Murfreesboro home at 8:18 p.m. Monday when he heard roughly eight gun shots fired outside his house, according to the Tennessean. Immediately thinking of his wife and two young children, Arnold said that he told his family to get to the ground as he looked outside the window and saw a dark gray Nissan Altima drive away from his home. No one was injured during the shooting.
"That's what bothers me the most, how this affects my family," Arnold told the Tennessean. "For this to happen at my house, this bothers me tremendously."
But when Arnold spoke with reporters at a press conference Tuesday, he revealed his suspicions regarding what might have instigated the shooting.
"With everything that's happened since the Super Bowl, and with law enforcement as a whole, I think we've lost five to seven officers, five deputies, sheriffs since the Super Bowl," Arnold said, according to MSNBC. "Here's another target on law enforcement."
When the reporters asked him to clarify what exactly he meant by "the Super Bowl," Arnold responded, "Well, you have Beyonce's video and how that's kind of bled over into other things it seems like about law enforcement."
Beyonce's controversial Super Bowl performance featured beret-clad back-up dancers dressed like Black Panthers and was also used to promote her recent song, "Formation," MSNBC noted. In the song's music video, which features images and lyrics referring to Hurricane Katrina and the Black Lives Matter movement, Beyonce can seen reclining on a police car that is sinking underwater.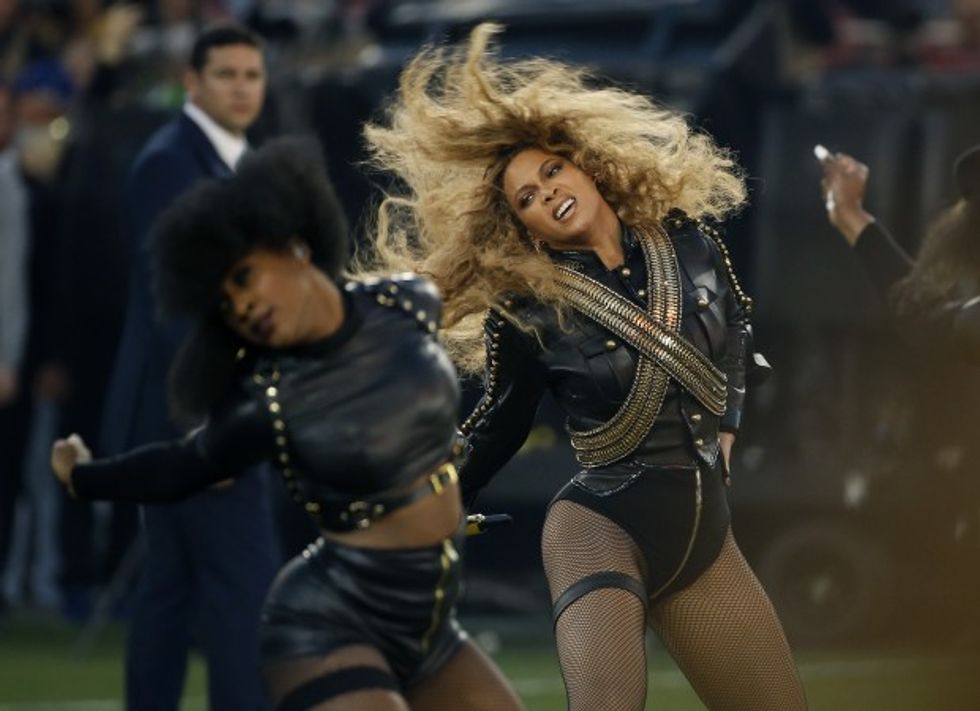 Beyonce performs during halftime of Super Bowl 50 Feb. 7 in Santa Clara, California. (AP Photo/Matt Slocum, File)
Following his comments during the press conference, Arnold sent an email to the Tennessean that further clarified his opinions regarding the incident outside his home:
My comments reflect the violence and senseless killing of seven deputies in the U.S. since the show aired. My comments are an observation of the violence that has occurred but in no way is meant to offend anyone. ... The senseless killing of four law enforcement officers just this week — on the heels of the anti-police "entertainment" at the Sunday Super Bowl halftime show — reminds us that the men and women in law enforcement take a solemn oath that includes putting their lives on the line every day to protect our citizens.
—
Follow Kathryn Blackhurst (@kablackhurst) on Twitter