Hezbollah leader Hassan Nasrallah has threatened to attack an ammonia storage facility in northern Israel, a move he said would pack the punch of a nuclear weapon, resulting in hundreds of thousands of fatalities.
"This would be exactly as a nuclear bomb, and we can say that Lebanon today has a nuclear bomb, seeing as any rocket that might hit these tanks is capable of creating a nuclear bomb effect," Nasrallah said, according to a translation published in the Times of Israel.
Addressing his message to Israel Defense Forces Chief of Staff Gadi Eisenkot, Nasrallah said, according to quotes posted by Ynet, "It's simple mathematics. A few missiles on a few ammonium plants equals the same amount of death as an atomic bomb."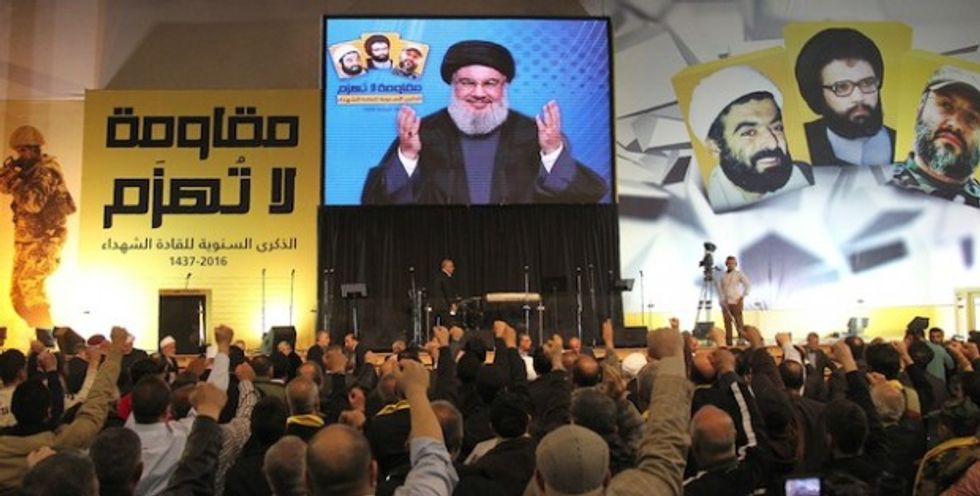 The head of Lebanon's Shi'ite movement Hezbollah, Hassan Nasrallah, is seen on a giant screen as he addresses the crowd in a televised speech from an undisclosed location during a rally held in the southern suburbs of Beirut Tuesday to mark the anniversary of the Israeli killings of Lebanese Hezbollah commanders Ragheb Harb, Abbas al-Mussawi and Imad Mughnieh. (Anwar Amro/AFP/Getty Images)
Israel's military chief Eizenkot on Wednesday responded to Nasrallah's threat, acknowledging that among the groups surrounding Israel, Hezbollah has developed the most significant military abilities, including developing the means to hit Tel Aviv in central Israel.
Though it is a formidable adversary, Eizenkot noted that the Lebanon border has been Israel's quietest for the past 10 years since the 2006 conflict known as the Second Lebanon War.
Ynet reported that following the 2006 conflict, the municipality of Haifa — where the ammonia facility sits — ordered a study, which concluded that in the event the plant were to be hit, it would release a 10-mile diameter cloud, an area that would cover both Haifa and Acre, a city 10 miles north along the Mediterranean coast. Both cities are home to Jewish and Arab residents.
Ynet quoted professor Amos Natua from the Technion Institute of Technology who said, "Researchers who conducted the studies in the 1990s concluded that there could be 70,000 casualties."
"The State Comptroller released a statement in 2003 that the number will likely be much higher," he added.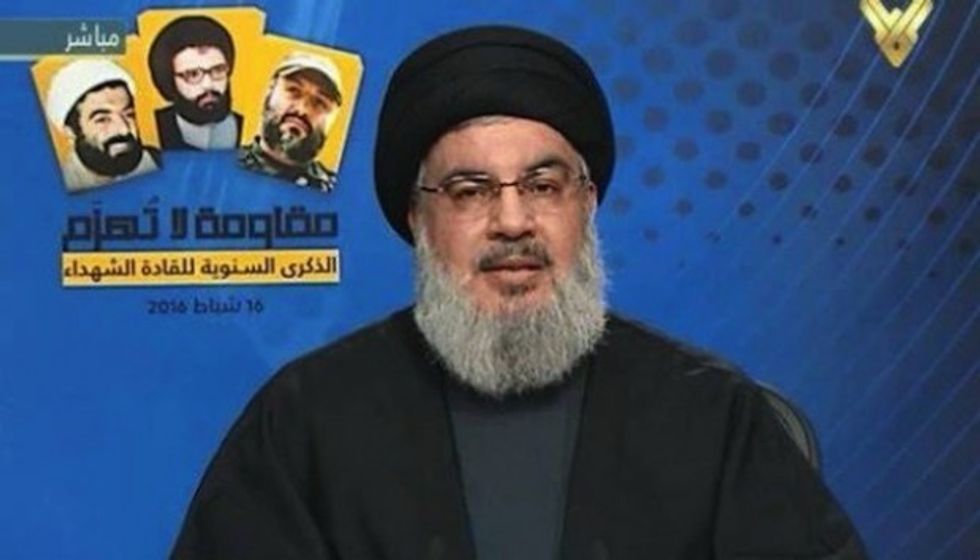 Hezbollah chief Hassan Nasrallah threatened to attack an ammonia storage facility in northern Israel, likening the effect to that of a nuclear weapon. (Image source: Naharnet)
Haifa Mayor Yona Yahav pointed to Nasrallah's threat as a reminder to the Israeli government that it must move the plant out of the city, which has a population of nearly 300,000.
"We are happy for help" in raising the issue, Yahav said, "even if it arrives from a frightened man hiding in his bunker."
Nasrallah spoke remotely from an undisclosed location transmitted to a rally honoring former top Hezbollah leaders who were assassinated. The event is known as "The Loyalty to Martyrs and Leaders Day," Israel's Ynet reported.