As South Carolinians turn out to cast their votes in the first-in-the-South primary, Ohio Gov. John Kasich (R) will have already moved on from the Palmetto State.
According to the GOP presidential contender's schedule, Kasich will be in Mount Pleasant, South Carolina, Friday evening for a rally at Patriots Point. Yet on Saturday, primary day, the governor will be holding a town hall in Worcester, Massachusetts, before heading to Boston for a high-dollar fundraiser, the Boston Globe reported.
According to the Boston Globe, the fundraiser's minimum donation is $2,700 per person.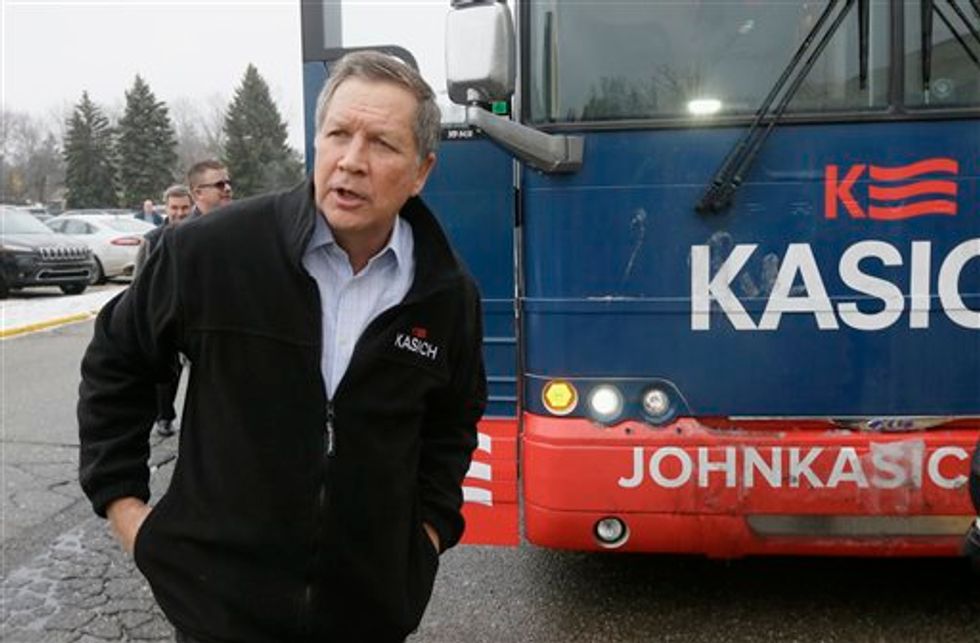 Republican presidential candidate Ohio Gov. John Kasich. (AP Photo/Carlos Osorio)
"We are competing hard in SC but the race doesn't end in South Carolina," Chris Schrimpf, a spokesperson for Kasich's campaign, told TheBlaze. "After South Carolina votes, the race moves on to other states including Massachusetts where we will hit the ground running like we are Michigan and other states."
Schrimpf told TheBlaze that the campaign has "not yet decided where we will be Saturday night." The Boston Globe reported that the fundraiser event was an "early evening" affair.
He added that the campaign had cancelled days in Michigan and Virginia in order to spend more time in South Carolina.
Kasich had a strong second-place finish in the New Hampshire primary earlier this month but is only polling in fourth at 10.3 percent in South Carolina with only a few days to go.
Fellow GOP presidential contender Ben Carson caught attention when he left Iowa before the caucus had finished in order to return to his Floridian home and retrieve fresh clothes.
This story has been updated with a comment from Kasich's campaign. 
—
Follow Kaitlyn Schallhorn (@K_Schallhorn) on Twitter