Republican presidential candidate Texas Sen. Ted Cruz said 2016 should be about giving voters a choice on the future of the Supreme Court and urged the Republican Senate majority to stand firm in blocking any nominee by President Barack Obama.
"I believe we should make 2016 a referendum on the U.S. Supreme Court. If the Democrats want to jam in a liberal judicial activist to undermine the First Amendment, to undermine the Second Amendment, to take away our religious liberty, we should make that an issue with the American people," Cruz told reporters in Seneca, South Carolina, Wednesday, ahead of Saturday's primary in the state.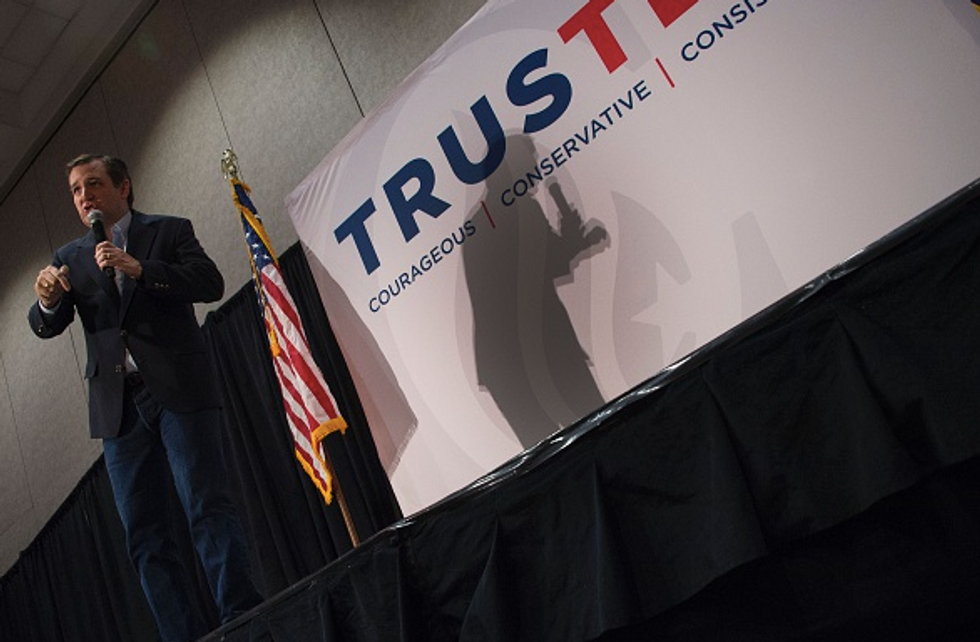 Republican presidential candidate Texas Sen. Ted Cruz addresses a campaign rally in Anderson, South Carolina, Tuesday. (Jim Watson/AFP/Getty Images)
"In just a few months, the American people are going to get to vote. I cannot wait to stand on that debate stage with Hillary Clinton or Bernie Sanders and make the case that their vision of the Supreme Court or their vision of the Constitution is fundamentally inconsistent with the vision of the American people," Cruz continued.
Obama vowed to nominate a replacement for Associate Justice Antonin Scalia, who died Saturday. Senate Majority Leader Mitch McConnell (R-Ky.) said the Senate would block any nomination.
"We should not confirm a justice nominated during an election, particularly with a lawless president who has undermined the Constitution at every step," Cruz said. "We have an election. Let the people decide. That ought to be something folks in the press would stand for, is letting the people decide."
One reporter objected that people already decided when they re-elected Obama to another four-year term in 2012. Cruz pointed to the 2014 elections.
"People decided in 2014 they wanted a Republican Senate, in large part because of the lawlessness of President Obama," Cruz said. "Elections have consequences because we have a Republican Senate."
In 2007, Sen. Charles Schumer said that then-President George W. Bush should not have any Supreme Court nominees confirmed for the rest of his time in office. It was a theoretical assertion, since no vacancies came open.
Obama and other Democrats pointed out the Senate confirmed Justice Anthony Kennedy in February 1988, the final year of President Ronald Reagan's second term. However, Regan nominated Kennedy — his third pick for that vacancy — in November 1987, after the Democrat-controlled Senate rejected two prior nominees.
In a Sunday editorial, the New York Times blasted the Republican Senate for seeking to block an Obama nominee. However, in October 1987, the New York Times said that the Democratic Senate was right to try to block Reagan's nomination of Robert Bork.
"Any Republican Senate would be foolish to confirm a left-wing Democratic nominee in an election year, which has not happened for a nomination made in an election year in 80 years," Cruz said. "Now is no time to start."