GREENVILLE, S.C. — The Republican National Committee has made public an internal memo that seeks to clear up rumors and accusations — including from one GOP presidential candidate in particular — regarding how debate tickets are distributed.
During Saturday night's debate in downtown Greenville, businessman Donald Trump accused those who booed him as being part of special interest groups. The next day, he took it even further on Twitter, as he accused the RNC of distributing tickets only to special interest groups, donors and lobbyists.
Loved the debate last night, and almost everyone said I won, but the RNC did a terrible job of ticket distrbution. All donors & special ints

— Donald J. Trump (@realDonaldTrump) February 14, 2016
Tickets for future debates should be put out to the general public instead of being given to the lobbyists & special interests - the bosses!

— Donald J. Trump (@realDonaldTrump) February 14, 2016
In their memo, obtained by TheBlaze, the RNC broke down the ticket distribution for the CBS News debate in Greenville. According to the memo from the RNC's Chief Operating Officer Sean Cairncross, approximately 1,600 tickets were divvied up by the following:
Campaigns received 642 tickets.
The RNC, elected officials and in-state grassroots activists received 300 tickets — only 10 of which went to RNC donors.
South Carolina Republican Party and CBS News received the remainder of the tickets, approximately 658 tickets.
Cairncross said campaigns received a higher allocation of tickets in South Carolina than in previous debates in order to fulfill their requests.
"Campaigns often organize their ticket holders, select their attendees carefully, and ask them to be vocal supporters," Cairncross said. "In South Carolina, it may have been the case that some campaigns executed this more thoroughly than others — or some may have been chosen not to do so at all."
"Of course, there is a wide variety of potential reasons behind crowd reaction: the upcoming South Carolina primary is very important; issue differences between the candidates are becoming more sharply drawn; and agreement/disagreement with statements made by the candidates on stage," the memo continued. "It's difficult to say with any certainty."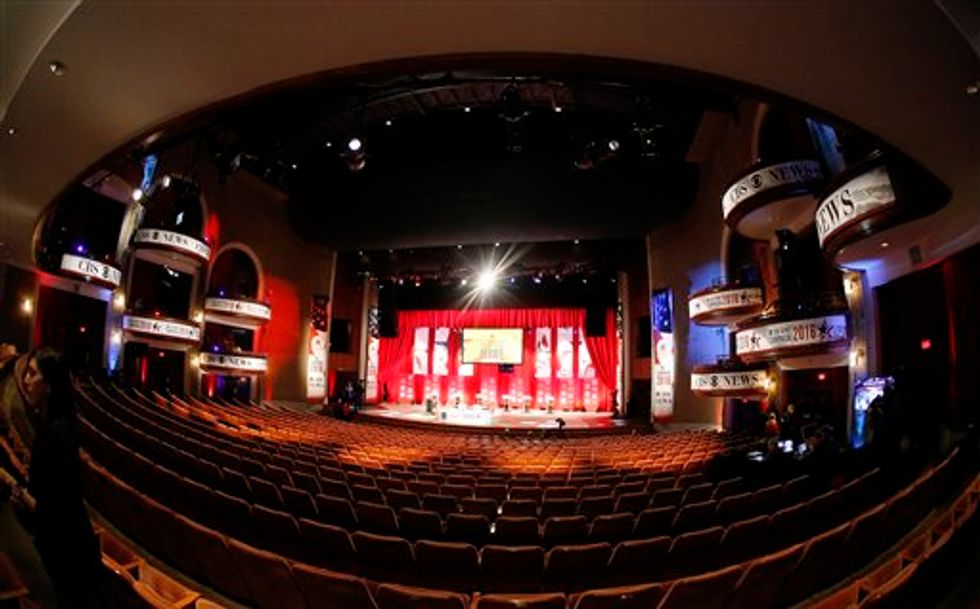 Construction crews work on the stage before the CBS News Republican presidential debate at the Peace Center, Saturday, Feb. 13, 2016, in Greenville, S.C. (AP Photo/John Bazemore)
The memo also addressed an additional allegation from Trump — that students at St. Anselm College in New Hampshire sold their tickets to lobbyists and donors who booed Trump during the event earlier this month.
"The kids made a fortune last night. The kids were scalping tickets," Trump said at a rally after the debate, asserting that he was only allotted 20 tickets to the contest.
"Every ticket to the RNC-sanctioned debates is matched on a name identification basis to its holder," the RNC memo asserted. "Individuals who receive tickets are entered into an electronic database before they arrive, and are required to produce a government-issued photo ID matching the name in the database on their ticket before being allowed entry into a debate."
"Notably, this system assists in security at the debates and is supported by the United States Secret Service — which is currently protecting two candidates participating in the debates: Dr. Carson and Mr. Trump," it continued.
However, while several debate attendees confirmed to TheBlaze that they had to produce identification to enter the Peace Center, others said they were able to walk into the performing arts center by simply producing their ticket.
A source at the Peace Center complained to TheBlaze that the RNC kept ushers out of the event hall during the debate — an issue that the source said could have affected security.
"If there had been an incident, no one would have been informed as to evacuation routes and procedures," the source said. "All in all, whatever issues they had need to be addressed internally."
"Our hands were tied once the RNC took over the event," the source said.
Trump's campaign did not respond to a request for comment from TheBlaze on the memo by time of publication.
—
Follow Kaitlyn Schallhorn (@K_Schallhorn) on Twitter