Things got tense on Fox News' "Outnumbered" on Friday when Judge Jeanine Pirro said Hillary Clinton "lied" about Benghazi and has "crippled herself" as a presidential candidate.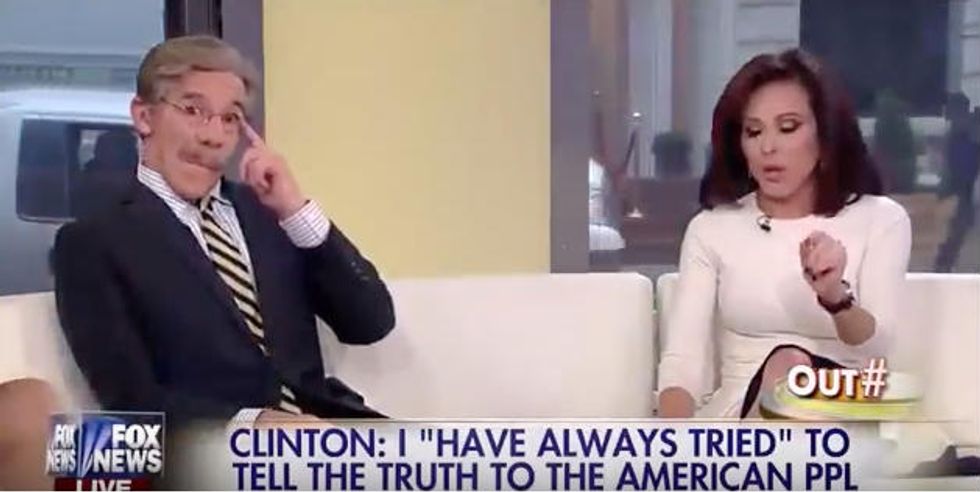 Image source: YouTube
Pirro's colleague Geraldo Rivera, however, pushed back, slamming congressional Republicans for their "phony-balogna Benghazi hearings," which he said have caused "severe damage to her credibility"
"I think it has crippled her as a viable candidate for president to the extent that the more people get to see her the less they trust her and the more they believe that answers like this are an indication of a candidate who is less than candid," Rivera said.
Pirro was quick to disagree, saying that "Benghazi didn't cripple her. She crippled herself."
"She is not familiar with the truth, and the thing that gets me about her and what she says is – she says to the families of the victims when the bodies are there, we're going to get the guy who did the video. I mean, the woman is lying to the families of dead Americans," Pirro continued.
Rivera, again, pushed back, saying that a "stand down" order came from a local CIA agent on the ground in Libya, and not from someone higher up.
"If I'm wrong, you let me know," Rivera said. And to that, co-host Andrea Tantaros was quick to reply."
"You're wrong, Geraldo," Tantaros said. "You're wrong. You're wrong."
(H/T: Mediaite)
–