A prominent scientist, author and journalist is speaking out in an effort to convince the masses that, contrary to popular opinion, "science and the Bible are very much in agreement" rather than in eternal conflict.
Dr. Michael Guillen, the author of the new book "Amazing Truths: How Science and the Bible Agree" and a former Harvard University instructor who holds a PhD in physics, mathematics and astronomy, told The Church Boys podcast this week that there are plenty of major points of agreement that are shared by both science and the Bible.
Insisting that these realms actually "have a very strong marriage," Guillen said that he explored "10 big, fundamental truths that both science and the Bible agree on" in his book. When asked which one of these elements was the most convincing, he was candid.
"When you look at how these 10 truths are agreed upon by science and the Bible you cannot come away without feeling like, 'Wow, there has to be something to this," Guillen said. "The first truth that I talk about in the book is the belief in the existence of absolute truth."
He continued, "That is to say, both science and religion believe that absolute truth, absolute right and wrong exists."
Listen to Guillen reveal the "amazing truths" that he believes prove that science and the Bible are totally compatible below:
Guillen said that this is essentially a "pretty big deal," especially in a "wishy-washy" culture in which many people have come to believe that truth is relative — an idea that he said neither science nor religion would back.
"This wishy-washy notion that somehow truth is like one of the Baskin-Robbins 31 flavors, pick your truth and pull be fine," he said. "Well, guess what? You may want to believe that, but you will then stand against both science and the Bible."
Guillen also mentioned the fact that both science and religion agree that time is linear. On the surface, he said that this might not seem all that profound, but he noted that some religions like Hinduism and Buddhism see a more circular paradigm in which reincarnation is at play.
The Bible rejects such a paradigm and aligns with the linear time sequence embraced by science. Circular time, Guillen said, is "completely at odds with" both science and religion.
"It's not circular and that has huge implications, because what it says on the Bible side is: we are not the product of our karma, we are a product of our creator," he said. "We are human from beginning to end and beyond."
Guillen also discussed the roots of the continued misrepresentation that science and religion are somehow incompatible, explaining that science has had an elevated place in media in recent decades, with new-found discoveries leaving many enamored.
"Science has kind of stolen the headlines," he said.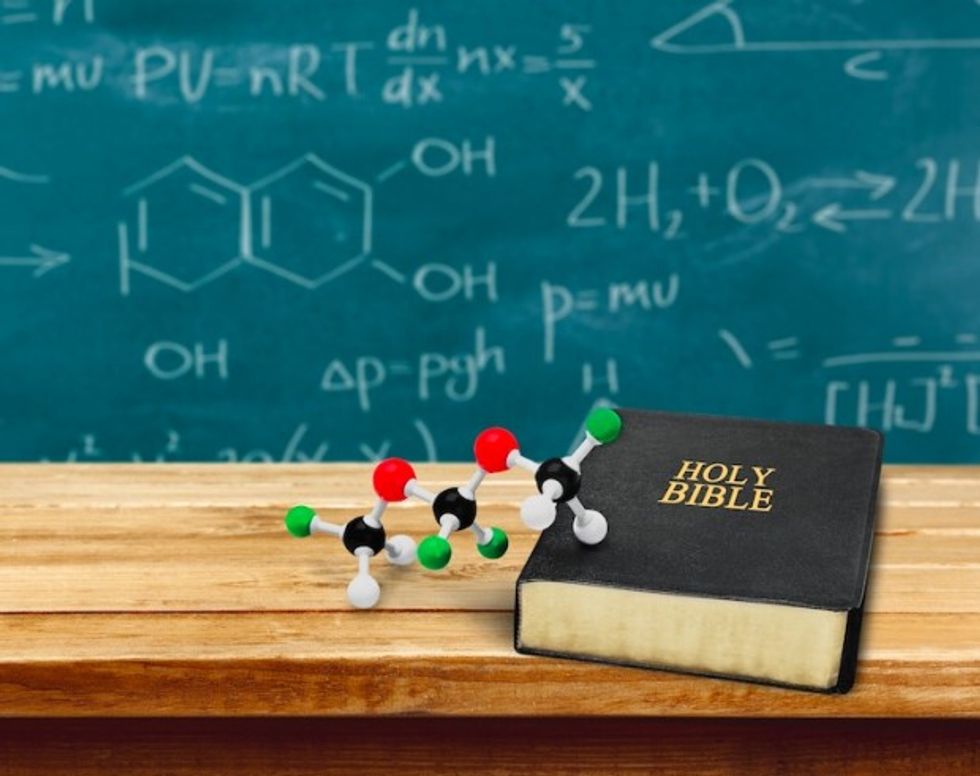 Photo credit: Shutterstock
At the same time, atheist activists have been active in trying to drive a narrative that derides religion, fervently pitting it against the sciences.
"There have been atheists — the so-called new atheists — that have kind of seized on that love affair with science and have really twisted peoples understanding of the situation," he said. "I really believe that over the years that message has been very effective at poisoning peoples' mind about science and the Bible."
As previously reported, Guillen shared a statement with TheBlaze earlier this week in which he pushed back against critics who "claim that modern evolutionary biology discredits the Bible" as well as those who say that "the ancient biblical story of creation discredits science."
"The subject at hand is important to science because evolution is the conceptual foundation of today's biology," Guillen wrote. "It's equally important to the Bible because nowhere is evolution explicitly mentioned in the Genesis account of creation."
He continued, "But the subject is complicated because evolution is actually three theories in one – the evidence for which ranges from solid to non-existent. It's also complicated because, even though the Bible is infallible (or so I believe), we who read and live by it are not."
Read his statement in its entirety here.
--
Front page image via Shutterstock.com.
--
Follow the author of this story on Twitter and Facebook: