GREENVILLE, S.C. — With the absence of Florida Sen. Marco Rubio at a conservative convention Thursday night, the rift between him and Texas Sen. Ted Cruz grew — and conservative radio personality Mark Levin joined in. 
The fight, complete with an abundance of lying accusations between the two GOP presidential candidates, has exponentially amplified on the campaign trail with the South Carolina primary just days away. Both candidates, along with Dr. Ben Carson, were scheduled to appear at the Conservative Review convention Thursday evening, but Rubio was a no-show due to scheduling conflicts, a Rubio campaign source told TheBlaze.
Not long after Rubio's absence was announced, Cruz's campaign spokesman called it a "final admission that Marco Rubio isn't even going to try to compete for the votes of conservatives in South Carolina or anywhere else. "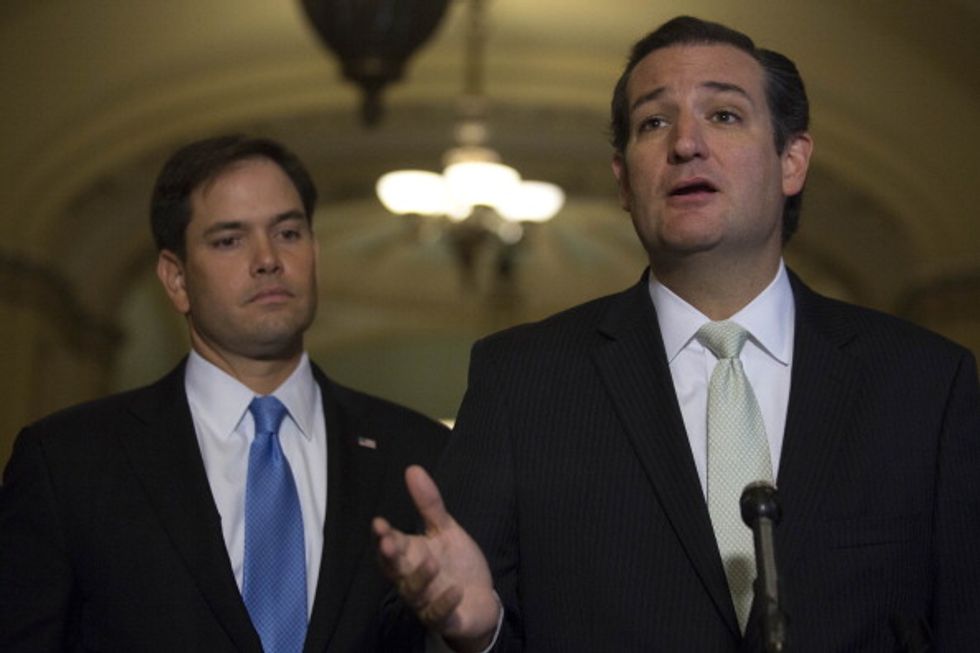 Senator Ted Cruz, a Republican from Texas, right, speaks during a news conference with Senator Marco Rubio, a Republican from Florida. (Andrew Harrer/Bloomberg via Getty Images)
"And who can blame him? Rubio isn't a conservative," Rick Tyler, a spokesman for Cruz, continued in a statement. "Instead, Rubio and his campaign would rather hide behind their deceptive campaign tactics and liberal record on amnesty for illegals and voting to nominate John Kerry."
Cruz's camp and Rubio's camp had been at each others' throats for much of Thursday. Earlier in the morning, following a campaign rally at a Greenville CrossFit, Rubio's senior advisor Todd Harris slammed a new website paid for by Cruz for President which knocks the senator's record on immigration and trade deals. The website also features an image of Rubio's smiling face photoshopped onto a man's body shaking hands with President Barack Obama.
"Did the Cruz campaign really take a break from photoshopping pictures and recording false robocalls to send out this false press release? This ridiculous attack is just the latest example of Ted Cruz's willingness to say or do anything in this campaign," Alex Conant, a spokesman for Rubio, told TheBlaze.
According to Conant, Rubio's "schedule got blown up this evening" and the campaign was running behind — causing him to miss the event held at the Bon Secours Wellness Arena in Greenville, South Carolina.
However, Rubio's absence — and notably that of surrogates Rep. Trey Gowdy (R-S.C.) and Sen. Tim Scott (R-S.C.) — did not go unnoticed.
Following the convention, Levin dismissed the notion of surrogates speaking on behalf of Rubio, sarcastically asking, "Are they running for president?"
"This is about the candidate speaking. So my position was that if the Conservative Convention was not good enough for Marco Rubio, it's not good enough for his surrogates," Levin told reporters. "Cruz didn't send a surrogate here. Carson didn't send a surrogate here. The others who stayed away, they stayed away, and that's up to them."
"It's their loss, it's not our loss," he added. "I have nothing against Tim Scott or Trey Gowdy, but this is the Conservative Convention, and we have some presidential candidates go up, and their guy bailed out."
An official with the convention added that former Florida Gov. Jeb Bush had not been awarded surrogates to speak for him when discussing his scheduling conflicts earlier in the week, so surrogates could not be afforded to Rubio.  
While neither Gowdy nor Scott spoke, Sen. Mike Lee (R-Utah), who is in South Carolina on behalf of both candidates but has refrained from endorsing any, did speak at the event. Lee told TheBlaze earlier Thursday afternoon that the fighting between Cruz and Rubio — who he called his "friends and allies" — is "not pleasant" but "not a problem" for him.
Businessman Donald Trump leads South Carolina ahead of the state's primary on Saturday. However, Cruz and Rubio are virtually neck-and-neck with Cruz just .5 points ahead of Rubio, according to Real Clear Politics' aggregated polling data. 
TheBlaze's Fred Lucas contributed to this report. 
—
Follow Kaitlyn Schallhorn (@K_Schallhorn) on Twitter