Hillary Clinton has been projected to win the Nevada caucuses.
With 79 percent of the Nevada's precincts reporting, the former secretary of state had 52.1 percent of the vote, and Vermont Sen. Bernie Sanders was at 47.8 percent, according to the Associated Press.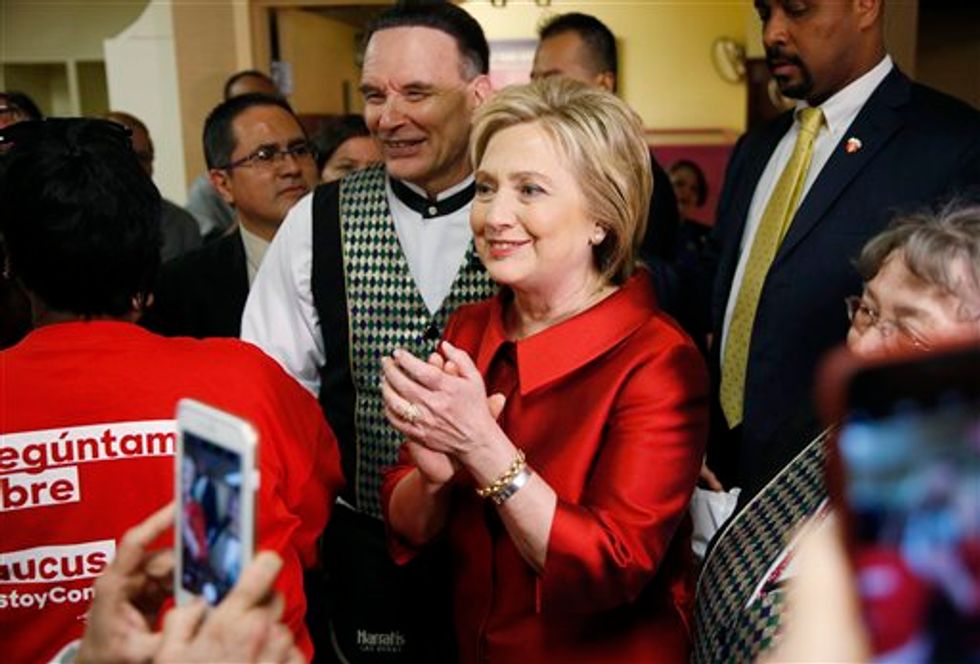 Hillary Clinton greets Harrah's Las Vegas employees earlier today. (AP/John Locher)
Thirty-five delegates are up for grabs in Nevada. So far, Clinton has picked up 18 and Sanders has 14.
Clinton's win follows a second-place finish in New Hampshire on Feb. 9. Before that, she won the Iowa caucuses by a razor-thin margin.
Saturday's results were slightly closer than anticipated — Clinton had consistently led in the polls in Nevada and averaged a 2.4 percent lead over Sanders in the state.
Sanders called Clinton to congratulate her on her win on Saturday evening, but characterized his close second place finish as something other than a loss.
"I am very proud of the campaign we ran," Sanders said in a statement. "Five weeks ago, we were 25 points behind and we ended up in a very close election. And we probably will leave Nevada with a solid share of the delegates."
In her victory speech at Caesars Palace in Las Vegas, Clinton made a dig at Sanders' economically-focused campaign.
"The truth is, we aren't a single-issue country," she said. "We need more than a plan for the big banks."
—
Follow the author of this story on Twitter and Facebook:
[facebook //www.facebook.com/plugins/like.php?href=