Vermont Sen. Bernie Sanders defeated former Secretary of State Hillary Clinton in the New Hampshire primary on Tuesday, multiple media outlets projected.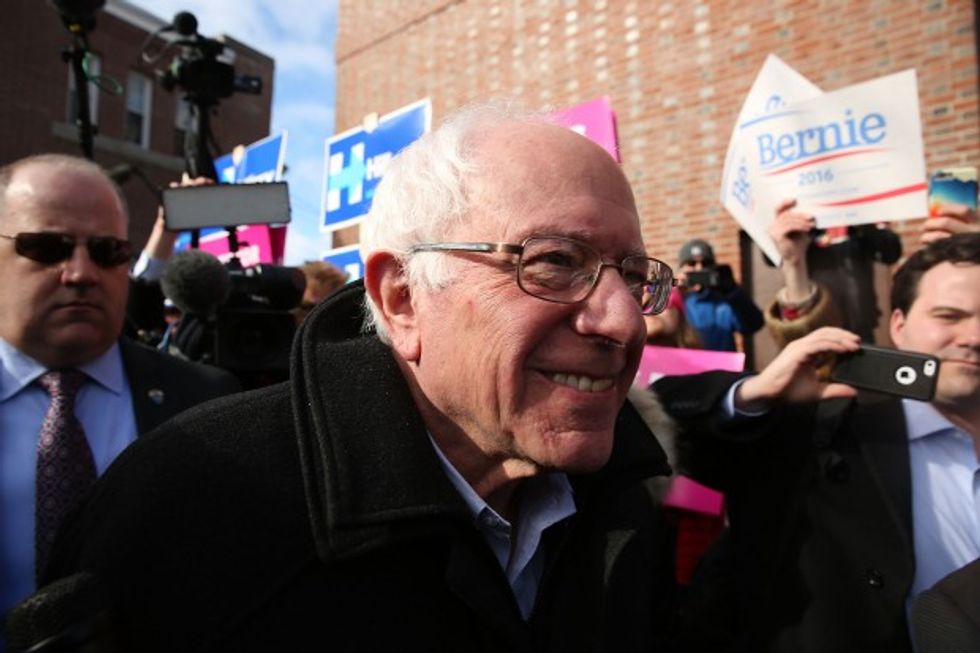 CONCORD, NH - FEBRUARY 09: Democratic presidential candidate Senator Bernie Sanders (D-VT) walks through downtown Concord on election day on February 9, 2016 in Concord, New Hampshire. Sanders, who is expected to win over Democratic rival Hillary Clinton, greeted voters before taking a short walk where he was mobbed by members of the media. (Photo by Spencer Platt/Getty Images)
Sanders' victory in the first-in-the-nation primary follows his narrow loss to Clinton in the Iowa caucus.
During remarks at a campaign rally in Concord, N.H. following his victory, Sanders attributed the win to "a huge voter turnout" and "enthusiastic and aroused" voters supporting the campaign.
"We won because we harnessed the energy and excitement that the Democratic Party will need to succeed in November," Sanders said.
Sanders congratulated Clinton for "a vigorous campaign" and said that he hopes the two can have an "issue-oriented" debate. He added that the Democratic Party must unite because "the right-wing Republicans we oppose must not be allowed to gain the presidency."
Some pundits characterized Sanders' win as insignificant for frontrunner Clinton, because the senator represents neighboring Vermont and is well known among local voters. Others characterized Clinton's loss as a significant blow to her campaign due to the fact that she has been campaigning in the state's presidential primaries – either for herself or on behalf of her husband – for over 20 years.
Following the primary in the Granite State, the two remaining Democratic presidential candidates will square off in the Palmetto State on February 27.
According a Real Clear Politics average of polls of Democratic presidential primary voters in South Carolina, Clinton significantly leads Sanders among likely voters in the "First in the South" primary. The polls of Palmetto State voters were conducted prior to both the Iowa caucus and the New Hampshire primary.