Republican presidential candidate Sen. Marco Rubio (Fla.) did not hold back when asked about a recent report from Breitbart in which the head of an immigration union offered a scathing critique of Rubio's Gang of Eight work.
Appearing on Fox News, Rubio denied giving Breitbart or the remarks by Immigration and Customs Enforcement Council President Chris Cranes "any credence." Instead, Rubio blasted the website as "not a credible source" that publishes "conspiracy theories."
"We don't even credential [Breitbart] for our events. This is the same website that reported that Fox News and you and your guys in your debate gave me the questions to the debate so I could prepare," Rubio told Fox News' Neil Cavuto. "You know that's not true. So I literally don't even talk about the things they report because they're basically conspiracy theories and oftentimes manipulated."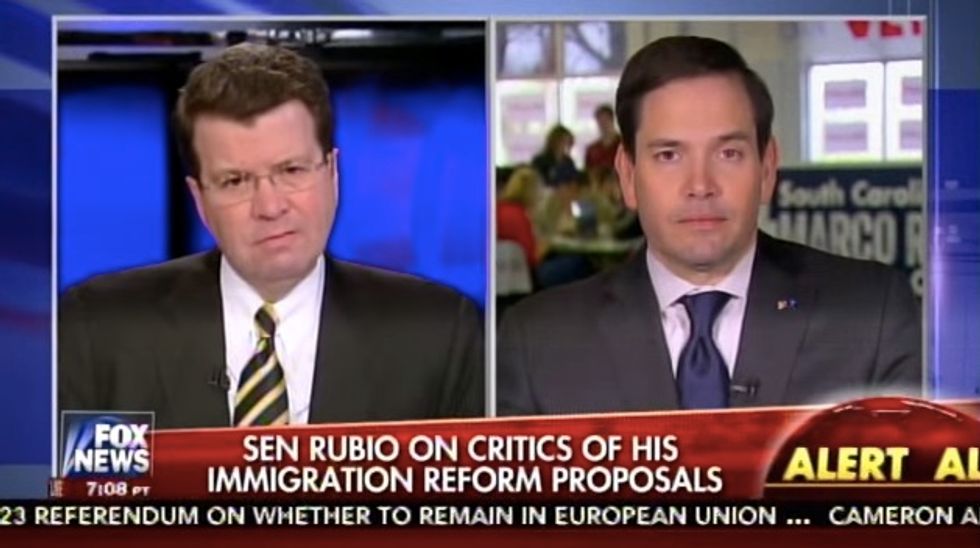 Image source: YouTube
In the interview with the conservative website, Crane criticized Rubio for setting up meetings alone with him while working on the controversial immigration reform bill in 2013 and complained about how he was treated during a press conference.
"If it had been Mark Zuckerberg in the crowd asking questions the Gang of Eight Senators would have been tripping over themselves to kiss his backside, but as a normal citizen without the means to filter money into their campaigns they had me forced out by police," Crane said.
Crane, who Breitbart said has served as an ICE officer for 13 years and is now head of their union, also denied that Rubio has given an "honest representation" when he says the bill would have provided enforcement first.
"In my opinion, Sen. Rubio absolutely knowingly mislead the American people regarding the bill," Crane told Breitbart. "He was not telling the American public the truth about what that bill contained. Every American will have to determine on their own what that says about his character, but for me I don't think I'll ever be able to trust him again."
"Yeah, number one, that's not true," Rubio said when asked about Crane's accusations, particularly that his "heart wasn't in it" while he was a part of the Gang of Eight. "And he's not an ICE official, he's a head of a union."
Rubio continued, "And it's being reported on a website that's not a credible source."
When asked about the report, a Rubio campaign source told TheBlaze that he would just "let Marco's statement speak for itself."
Breitbart released the report the day before South Carolina's divisive Republican primary. According to Real Clear Politics' aggregated polling data, Rubio is polling in second behind businessman Donald Trump and barely ahead of Texas Sen. Ted Cruz.
Watch Rubio's remarks below.
—
Follow Kaitlyn Schallhorn (@K_Schallhorn) on Twitter