GREENVILLE, S.C. — As a Bernie Sanders' staffer stood sentry at one of the entrances to the Bon Secours Wellness Arena turning those away who lacked the appropriate ticket to enter that door, she remarked, "People are really angry today."
The staffer's comment was uttered out of frustration, not to make a political point — yet it was unequivocally demonstrative of the self-proclaimed socialist's presidential bid. And speaking to a sizable crowd in Greenville Sunday afternoon, Sanders, the junior senator of Vermont, continued to drive that message.
"We are gaining momentum because the American people are tired of the same old, same old establishment politics and establishment economics," Sanders, wearing a new sports coat, told listeners.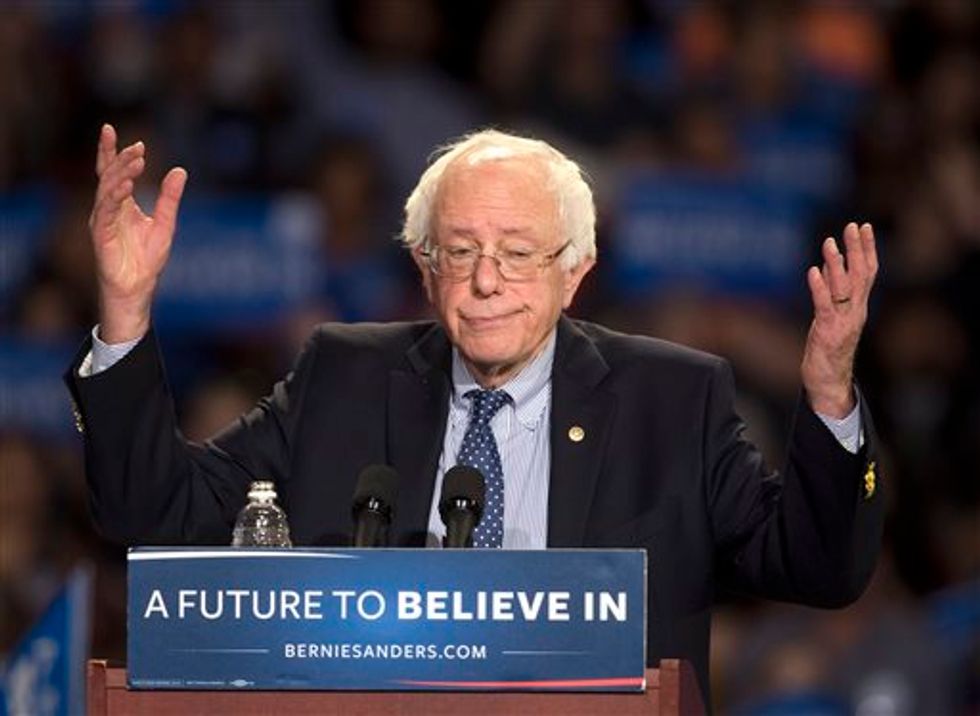 Democratic presidential candidate Sen. Bernie Sanders, I-Vt., speaks during a rally Sunday, Feb. 21, 2016, in Greenville, S.C. (AP Photo/John Bazemore)
"This is a campaign of the people, by the people and for the people," Sanders said before he was forced to pause his stump speech as supporters chanted "Bernie!"
Sanders brought his anti-corporate message to almost 5,000 people at the Bon Secours Wellness Center. Built in 1998 for $63 million, it originally held the moniker the Bi-Lo Center, named after a massive supermarket chain. It was eventually changed to honor the Bon Secours St. Francis Health System in 2013 at a price tag of $4.5 million over 10 years.
According to the Sisters of Bon Secours, the group believes that "the call of the Gospel is to proclaim and participate in accomplishing hope for the world marked by healing, compassion and liberation. In continuing the healing of Jesus, and in our long tradition, we believe the struggle for a more human world is not an option; it is an integral part of spreading the Gospel and involvement in social justice issues is an important part of who we are as Sisters of Bon Secours."
An inside wall of the arena lauds the Sisters: "In 1824, twelve women came together to form the congregation of the Sisters of Bon Secours, offering help and healing to those in their community. Inspired by their example, our system of caregivers keeps the Sisters' mission alive today through our commitment to be Good Help to Those in Need."
Quote on Bon Secours' wall about the Sisters the arena is named after. pic.twitter.com/PpKhrHPZhn

— Kaitlyn Schallhorn (@K_Schallhorn) February 22, 2016
Sanders also criticized "Republican family values," reiterating what he's said multiple times on the campaign trail — that those family values mean Republicans don't want women to be in control of their own bodies but do want to strip federal funding from Planned Parenthood.
Besides being angry about certain blocked entrances at the arena, Sanders' supporters are angry at a bevy of other issues — namely GOP policy positions, big banks and Hillary Clinton.
"Hillary, during the time Sanders was marching with the Civil Rights Movement, she was working for a Republican campaign," Vikki Baker of Greenville told TheBlaze. "To me, she's just a Republican trying to play a Democrat just so she has a chance at winning, that's all she wants. I don't need her to condescend to me and tell me that just because I'm a woman, I have to vote for her because she's also a woman, and that's what she wants."
Baker was also angry about the student loan debt she will accrue as she finishes up college. Enrolled at Greenville Tech, Baker said she plans to transfer to the Savannah College of Art and Design in Georgia to fulfill her dream of becoming an artist.
"It'd be fantastic to come out of college and know I can do what I want to do with the rest of my life and be lucrative off of that," she said. "And so for me more than ever, it's so important for me to find what I want to do for the rest of my life from the get-go otherwise I'm working at Ingles or I'm working at Walgreens for the rest of my life trying to pay off the debt."
Garrett McDaniel — a Laurens County councilman who spoke to the crowd prior to Sanders — likened college students with massive loan debt to "indentured servants." Sanders also decried the issue of students "crushed" with loans, saying they shouldn't be "punished" for getting an education.
A Sanders supporter at the rally told the candidate that her brother has $200,000 in student loans to pay off, to which he replied, "People who want nothing more in life [than] to get as good an education as they can should not end up $200,000 in debt."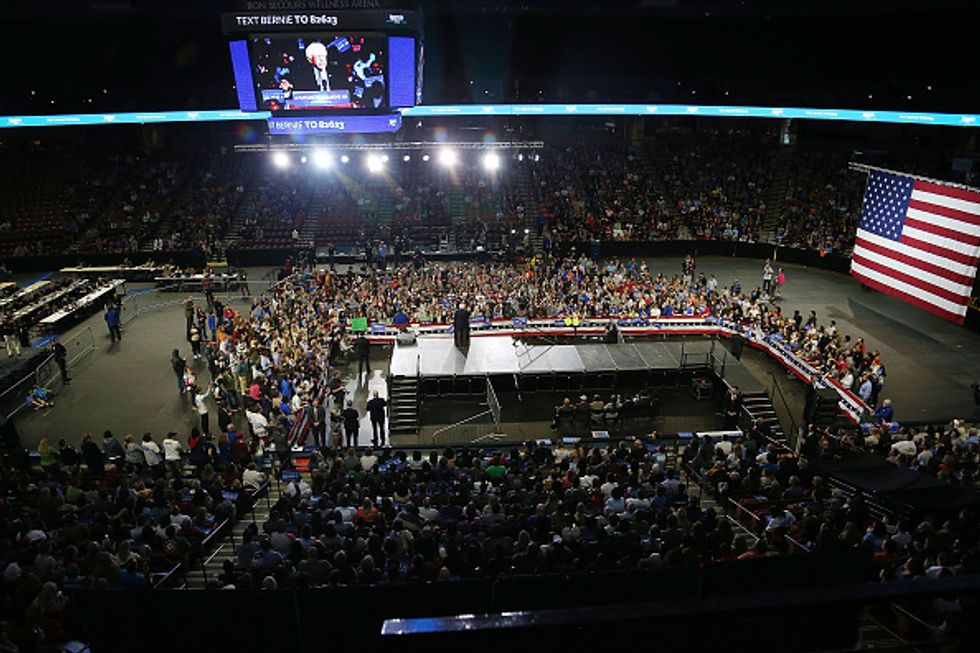 GREENVILLE, SC - FEBRUARY 21: Democratic presidential candidate Sen. Bernie Sanders (D-VT) speaks during a Future to Believe rally at the Bon Secours Wellness Arena on February 21, 2016 in Greenville, South Carolina. Sanders and Hillary Clinton continue to battle for the votes of primary voters as South Carolina holds their Democratic primary on February 27th. (Photo by Joe Raedle/Getty Images)
Yet for Brian Walker, also of Greenville, it's Sanders' positive message that drew him toward his campaign.
"I'm out here because I love Bernie's message — that it's positive, that it's a refreshing change in this election cycle," Walker told TheBlaze, adding that he liked that Sanders "is not tied to any political affiliation."
Sanders, too, wasn't all angry. In fact, he told supporters, "nothing would give me greater pleasure than beating Donald Trump" in the general election.
He also told his Carolinian supporters multiple times that they are "very smart" as they obediently finished his catchphrases during his stump speech, including, "enough is enough."
Baker added that she threw her support behind Sanders because he embraces many of the same issues that she so passionately cares about, such as animal rights and gay rights. She said her mothers were in a partnership: "I can't say that it wouldn't be heartbreaking to have all of the progress that we've had get taken away."
"Now more than ever," Baker said, "I want Sanders to win to prove that it doesn't take a black man, it doesn't take a rich man, it doesn't take a woman; it takes a real person to fix the country."
Sanders' speech came on the heels of a narrow loss to Clinton in Nevada's Democratic caucus Saturday. The two Democratic candidates are vying to come out on top in South Carolina's primary next Saturday.
—
Follow Kaitlyn Schallhorn (@K_Schallhorn) on Twitter