Republican presidential front-runner Donald Trump turned to Twitter on Monday to denounce the Ricketts — the politically-active family who owns the Chicago Cubs — for funding a super PAC that opposes his presidential campaign.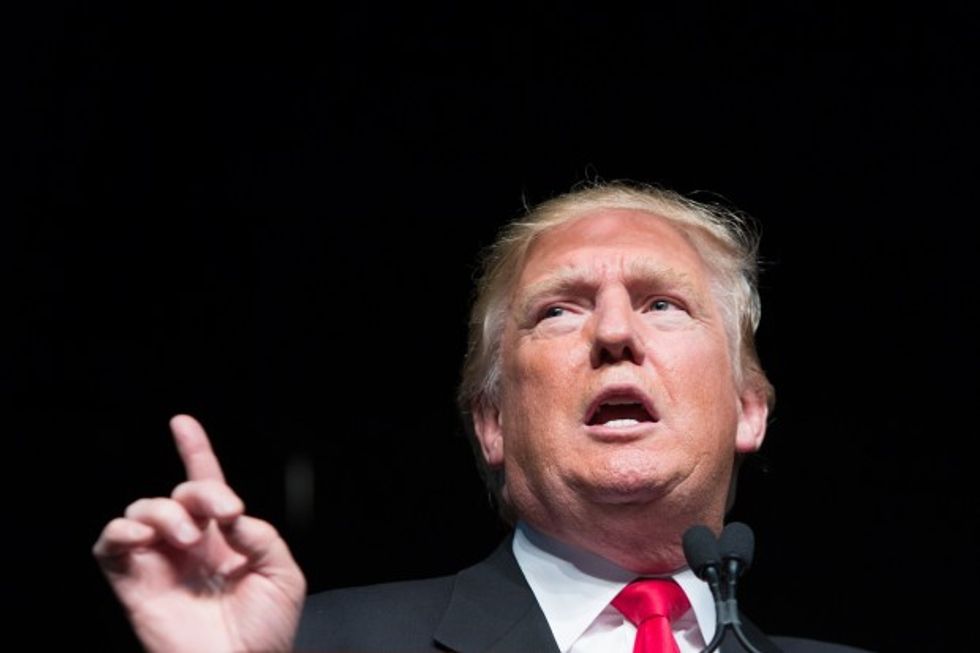 Donald Trump speaks during a campaign rally at the Georgia World Congress Center on Sunday. (Getty Images/Branden Camp)
"I hear the Rickets [sic] family, who own the Chicago Cubs, are secretly spending $'s against me. They better be careful, they have a lot to hide!" Trump wrote on Twitter Monday morning.
Trump's anger is likely targeted at the family's matriarch, Marlene Rickett, who reportedly gave $3 million to the Our Principles PAC in January. The PAC is anti-Trump and has spent millions of dollars on ads and mailings in Iowa, New Hampshire and South Carolina, all in an effort to oppose Trump's presidential bid, according to CBS Chicago.
While they adamantly oppose Trump, the Ricketts previously backed Wisconsin Gov. Scott Walker's short-lived presidential campaign. However, Marlene Rickett has also donated money to the campaigns of Texas Sen. Ted Cruz, Florida Sen. Marco Rubio, former Texas Gov. Rick Perry, South Carolina Sen. Lindsey Graham, former Florida Gov. Jeb Bush and New Jersey Gov. Chris Christie. Each of those men are, or were, candidates for the 2016 Republican nomination.
According to USA Today, Katie Packer, who helped manage Mitt Romney's 2012 presidential campaign, runs the super PAC. In comments to the newspaper, Packer said the PAC is looking to "aggressively target" the states of the March 1 "Super Tuesday" primary in the coming days.
"We will continue to shine a bright light on Trump's liberal statements and inconsistencies," Packer said.
Twitter, in it's normal fashion, responded to Trump's threat with vengeance:
Including TheBlaze's own Dana Loesch:
According to Forbes, the Rickett family is worth an estimated $4.5 billion. The majority of their wealth comes from their ownership of TD Ameritrade, which the family's patriarch, Joe Rickett, founded. They bought a 95 percent majority stake in the Chicago Cubs in 2009.
—
Follow the author of this story on Twitter and Facebook:
[facebook //www.facebook.com/plugins/like.php?href=