Israeli and German researchers announced Tuesday that they're joining forces virtually to try to crack some of the ongoing mysteries of the Dead Sea Scrolls, the 2,000-year-old manuscripts considered to be among the most important modern discoveries in biblical archaeology.
Computer scientists have set up a digital workspace that will allow antiquities scholars in different parts of the world to work simultaneously to try to piece together thousands of scroll fragments, described by the Israel Antiquities Authority as "puzzle pieces," which were found between 1947 and 1956 in caves around the Dead Sea.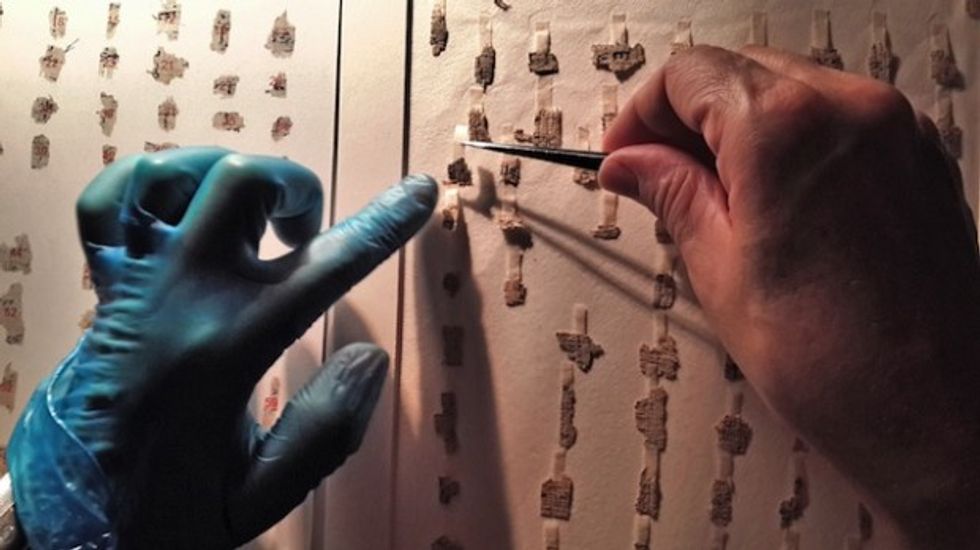 The Israel Antiquities Authority developed advanced imaging technology to help scholars around the world collaborate to piece together the thousands of puzzle pieces of 2,000-year-old Dead Sea Scroll fragments. (Image source: Shai Halevi/Israel Antiquities Authority)
The Israel Antiquities Authority explained in a press release announcing the collaborative effort that some of the thousands of scroll fragments found were "only tiny pieces."
Scholars in different parts of the world have been working to join those fragments together. The new digital tool was designed to help the researchers identify connections between the fragments.
That will "include palaeographic tools and an alignment tool connecting text and image that will enable simple transitions between the databases: readers will be able to access the original text of the scroll, up-to-date translations, high-resolution images, dictionary entries and parallel texts," the Antiquities Authority explained.

The Psalms Scroll containing Psalm 133, which features the verse, "How good and pleasant it is when God's people live together in unity!" (Image source: Shai Halevi/Israel Antiquities Authority)
The system will also automatically identify words and letters in the scrolls to aid researchers seeking connections with other fragments.
The researchers plan to link the major databases dedicated to Dead Sea Scroll scholarship: the Qumran-Lexicon-project of the Gottingen Academy of Sciences and Humanities in Germany and the Israel Antiquities Authority's Leon Levy Dead Sea Scrolls Digital Library.
According to the Israel Museum where some of the ancient manuscripts are on display, the Dead Sea Scrolls date from the third century B.C. to the first century A.D.:
Most of the scrolls were written in Hebrew, with a smaller number in Aramaic or Greek. Most of them were written on parchment, with the exception of a few written on papyrus. The vast majority of the scrolls survived as fragments — only a handful were found intact. Nevertheless, scholars have managed to reconstruct from these fragments approximately 850 different manuscripts of various lengths.

The manuscripts fall into three major categories: biblical, apocryphal, and sectarian.
The biblical manuscripts include some 200 copies of books of the Hebrew Bible, "representing the earliest evidence for the biblical text in the world," the Israel Museum explains.