© 2023 Blaze Media LLC. All rights reserved.
Foundation for Individual Rights in Education Releases List of Top 10 Worst Schools for Free Speech
"Some campuses renewed their commitments to freedom of speech, while others backpedaled."
The Foundation for Individual Rights in Education released its list of the top 10 worst schools for free speech in 2016 in a blog post last week.
For the last five years, FIRE, whose stated mission is to "defend and sustain individual rights at America's colleges and universities," has published these lists highlighting the colleges and universities in the U.S. that it deems to be the most hostile to free speech. Since its founding in 1999 by University of Pennsylvania professor Alan Charles Kors and Boston civil liberties attorney Harvey Silverglate, FIRE has fought to protect "freedom of speech, legal equality, due process, religious liberty, and sanctity of conscience — the essential qualities of individual liberty and dignity" while enlightening "the public and communities of concerned Americans about the threats to these rights on our campuses and about the means to preserve them," according to its website.
FIRE President and CEO Greg Lukianoff published the foundation's list on the Huffington Post.
"While some students filed lawsuits to fight campus 'free speech zones,' others demanded new, restrictive campus speech codes," Lukianoff wrote. "Some campuses renewed their commitments to freedom of speech, while others backpedaled. Perhaps the most striking trend of the last year was the number of professors, even tenured professors, who found their livelihoods under threat for what they said either on or off campus."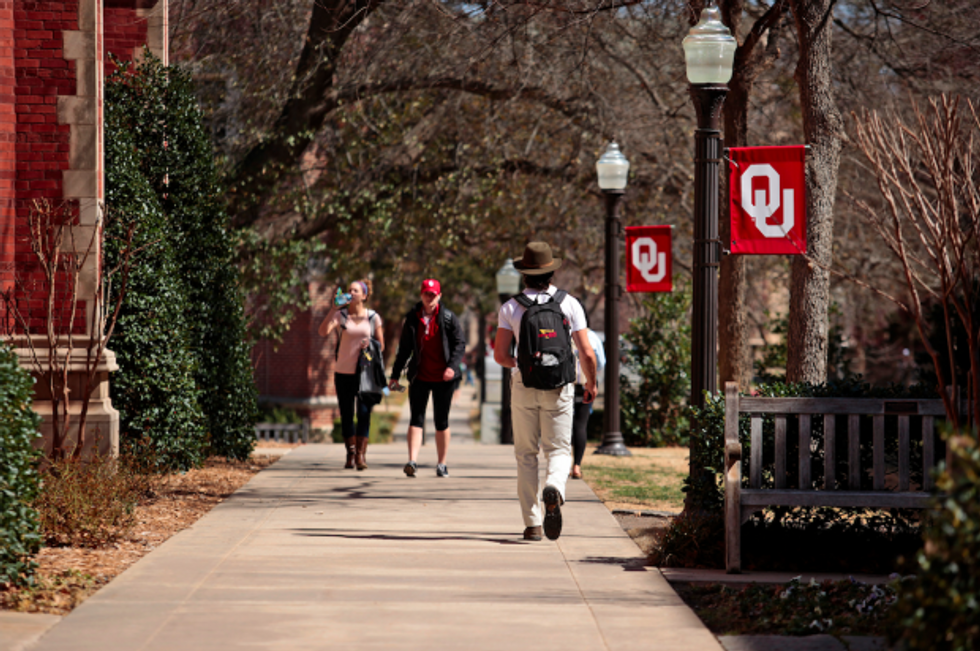 Students walk on campus between classes at the University of Oklahoma in Norman, Oklahoma. (Brett Deering/Getty Images)
This year's list showed a variety of institutions of higher learning ranging from large public colleges to private Catholic schools. Mount St. Mary's University in Maryland topped the list after it fired a tenured professor and the student newspaper's faculty advisor for denouncing the university's president, Simon P. Newman, for his comments that were quoted in the paper. The paper quoted Newman, who had been attempting to use a student survey to identify which students to dismiss, as saying, "This is hard for you because you think of the students as cuddly bunnies, but you can't. You just have to drown the bunnies ... put a Glock to their heads."
Northwestern University in Illinois found itself in second place because of a Title IX investigation into professor Laura Kipnis after she criticized Title IX itself. Kipnis was not allowed full due process, and the university refused to even let her review the evidence that was being used against her.
Louisiana State University came in third for firing a professor for allegedly using profanities in the classroom, which the university deemed to be a form of "sexual harassment" — even though none of Teresa Buchanan's students accused her of harassment.
In fourth place came University of California, San Diego after the student government voted to suspend funding for all student media publications as a guise in censoring the satirical publication, The Koala, for its mockery of campus "safe spaces."
Saint Mary's University of Minnesota came in fifth place after classics adjunct professor Dave Hillman was fired for staging an authentic version of Seneca's "Medea"  play in which cast members pointed phallus-shaped objects at audience members, in alleged instance of "sexual harassment."
The University of Oklahoma earned sixth place after it expelled two Sigma Alpha Epsilon fraternity members for their appearance in a video in which they led a "a racist and exclusionary chant," Lukianoff noted — even though offensive speech is protected under the First Amendment.
Marquette University in Wisconsin came in seventh for its ongoing campaign to fire professor John McAdams because of his personal writings on his blog when he supported a student who was suppressed during a class discussion for opinions against same-sex marriage.
Colorado College ranked eighth for suspending a student who a student responded to a post on the social media application Yik Yak about the hashtag"#blackwomenmatter" with a joke saying, "They matter, they're just not hot."
The University of Tulsa in Oklahoma was reprimanded for suspending a student after his then-fiancé criticized another student and two faculty members on Facebook, receiving the punishment, instead, according to Newsmax.
Finally, Wesleyan University in Connecticut received harsh criticism after the student government voted to remove funding from a campus newspaper that criticized the "Black Lives Matter" movement in one of its articles.
(H/T: Newsmax)
—
Follow Kathryn Blackhurst (@kablackhurst) on Twitter
—
Front-page image via Shutterstock
Want to leave a tip?
We answer to you. Help keep our content free of advertisers and big tech censorship by leaving a tip today.
more stories
Sign up for the Blaze newsletter
By signing up, you agree to our
Privacy Policy
and
Terms of Use
, and agree to receive content that may sometimes include advertisements. You may opt out at any time.