Producers of a film about the persecution of Christians are asking why their work — which included no nudity, profanity or explicit onscreen violence — was removed by YouTube, which called the film "inappropriate" and in violation of YouTube's Community Guidelines.
"We are trying to get an answer as to why YouTube banned our short faith-based film, but all they will say is that it violates community standards," Emily Weaver, the writer of the short film "Chased," told TheBlaze.
"It seems that shadowbanning … is alive and well on YouTube as well, at least in our experience," Weaver added, referring to the practice of online community sites to stealthily block content by spammers and groups they might find objectionable.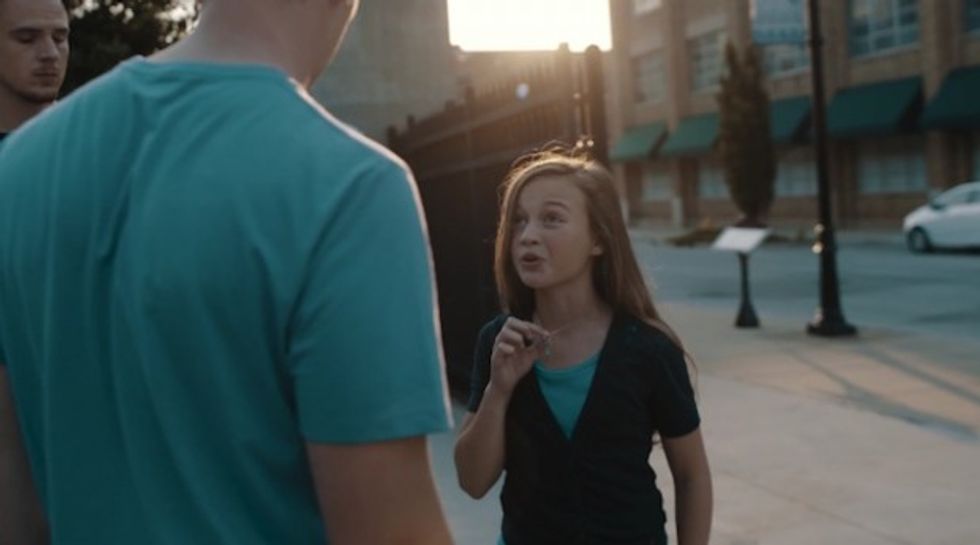 Christian filmmakers are concerned their video was removed by YouTube and flagged as inappropriate for ideological reasons. In this still from a scene in the film, "Chased," a girl shows her cross necklace. (Image source: "Chased" film)
Other video producers working to educate the West about violence and incitement in the Middle East have experienced YouTube removing their videos or shutting down their channels, including the Middle East Media Research Institute (MEMRI) and Palestinian Media Watch. Both groups translate the Arabic-language videos of jihadist leaders and others as an educational service.
Josh Troester, the Springfield, Missouri-based director and producer of "Chased," told TheBlaze that he uploaded the 33-minute video onto his group's YouTube channel Feb. 11 with the status of "private" so that only those logged in to his group's account could watch it. The video presents the scenario of what it might look like were the persecution of Christians in the Middle East and elsewhere to arrive in the U.S., including scenes that hinted of the Islamic State group. The film does, however, include several Bible verses being read.
The next day, he changed the status from "private" to "unlisted," which allows the video to be viewed by those who have a direct link, but doesn't allow it to be discovered via searches.
"Within minutes we received notice that our video was 'flagged for inappropriate content,'" Troester said.
"YouTube's notice stated that 'after reviewing the content, we've determined that the videos violate our Community Guidelines,'" he said.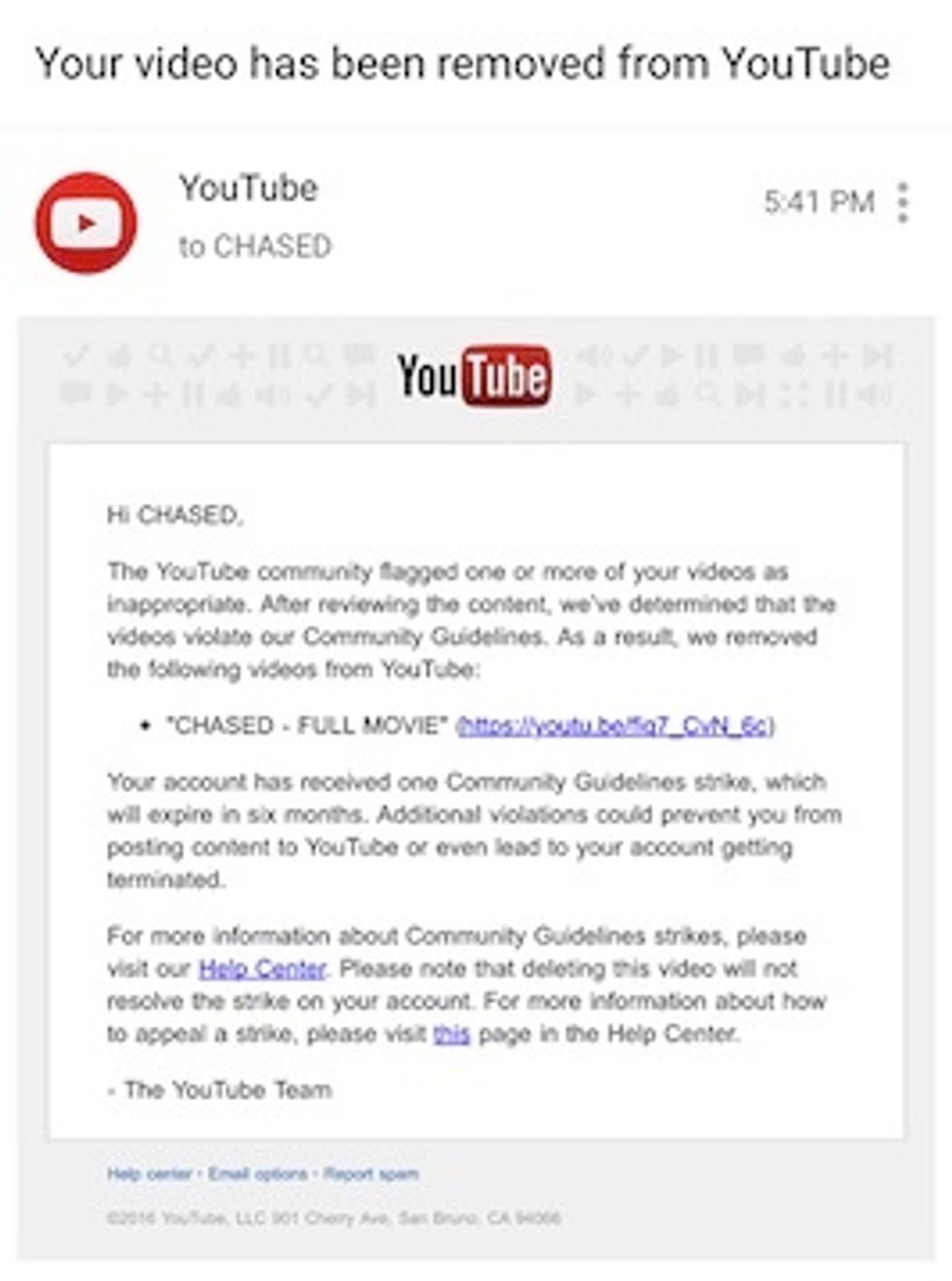 YouTube contacted the filmmakers to let them know their video was considered "inappropriate." (Image source: Josh Troester)
Troester read the video-sharing site's Community Guidelines and "determined that there must have been a mistake, as our movie did not violate any of their Community Guidelines," he said.
"The process allows for one appeal if you believe there has been a mistake. I appealed through their process stating that the movie was written to paint a picture of what persecution would look like in our own backyard," Troester said.
After a few hours, he got this email from YouTube: "After further review of the content, we've determined that your video does violate our Community Guidelines and have upheld our original decision."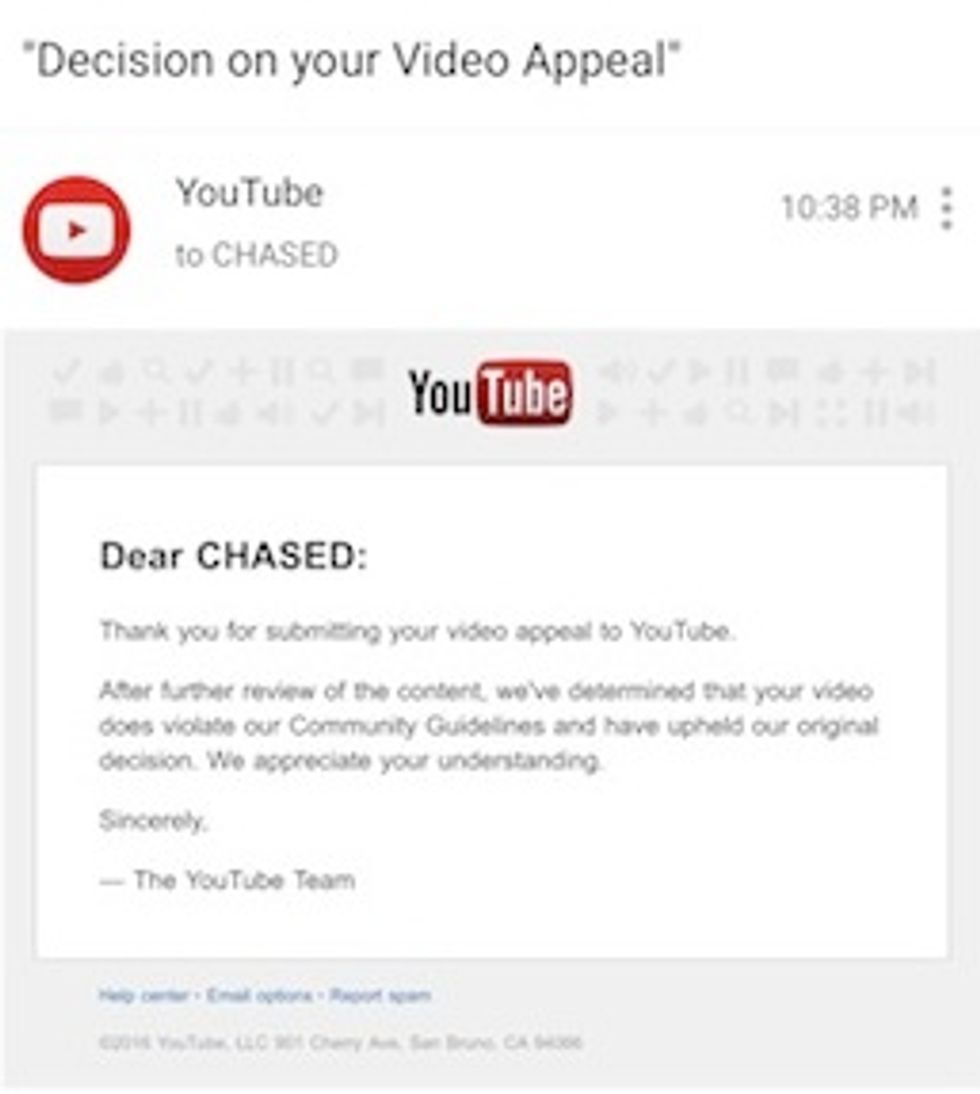 Image source: Josh Troester
"YouTube's decision to censor this movie from it's public site is confusing, disheartening, and in our opinion, inconsistent considering there are clearly multiple (potentially thousands of) pieces of content on their site that could easily be considered in violation of their Community Guidelines," Troester said.
The pro-Israel blogger Brian of London of the blog IsraellyCool last month reported he'd had a similar experience. A video he posted on YouTube that argued that Facebook features allow hate speech against Jews to be hidden, ironically, from Facebook users in Israel was also flagged by YouTube as "inappropriate" and in violation of the Community Guidelines.
Almost a week later, Brian got another email from YouTube informing him his video did not in fact violate the Community Guidelines.
Brian believes the removal of his video was spurred by critics of his work, including anti-Israel activists complaining to YouTube that the video was inappropriate. "This is my question for YouTube: Does spurious reporting carry consequences for the other side?" the blogger asked in a Jan. 24 post.
Ironically, MEMRI staffers in 2010 met with senior executives of YouTube's parent company Google to help them identify videos that incite to violence and terrorism after the research organization determined that YouTube had "emerged as the leading website for online jihad. It has replaced — and surpassed — websites administered by jihadis themselves, which were previously the leaders in online jihadi efforts."
The Missouri filmmakers' complaints came on the heels of a report last week by Breitbart journalist Milo Yiannopoulos, citing an unnamed source in the company, that Twitter "has begun 'shadowbanning' politically inconvenient users."
Twitter last month removed Yiannopoulos' blue checkmark verification, a move that was viewed widely by conservatives as punishment for his outspoken conservative views.
TheBlaze emailed YouTube requesting a response to Troester's assertions and to learn why "Chased" was removed from the site.
"Chased" can be seen at this link.