Republican presidential front-runner Donald Trump visited Regent University Wednesday to promote his campaign and catch up with a man whom he called a "great gentleman," Christian media mogul Pat Robertson.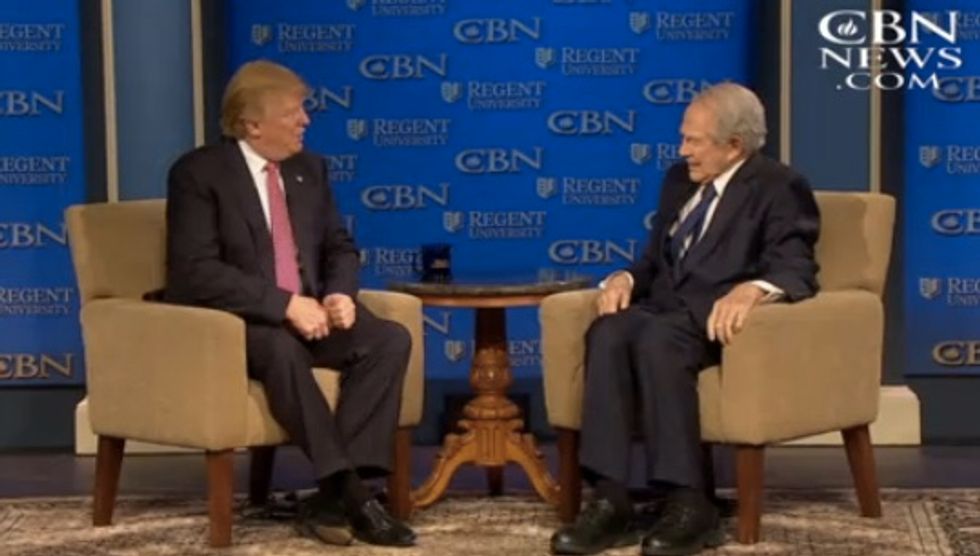 Image Source: CBN

Trump discussed his top-selling book, "The Art of the Deal," calling it "one of the great books." Trump, however, was careful to note to his evangelical audience that the greatest book is the Bible.
"Kerry did not read the 'Art of the Deal.' Probably not the Bible, either," Trump said during a discussion of Secretary of State John Kerry.
Trump also brought his sons, Eric and Donald Jr., along to stress the importance of family. Trump claimed that family is a key ingredient to personal happiness and professional success.
As Eric Trump calls Donald Trump "pops" and says his dad would be "such a great president," much of the audience at Regent goes: "Awwwwww!"

— Jenna Johnson (@Jenna Johnson) 1456334705.0
Robertson then took the stage to interview Trump.
"You inspire us all." Robertson said.
Toward the end of the interview, Robertson asked Trump what criteria he would use for appointing a successor for Justice Scalia.
Trump began by offering praise for Justices Thomas and Alito. He then offered some critique for Justice Roberts. "Justice Roberts, he could have killed Obamacare twice," Trump said. "He approved Obamacare when everybody said 'We're going to terminate it.'"
"What he did was terrible," he added.
Trump also had some harsh words for Texas GOP Sen. Ted Cruz, saying that by showing support for Justice Roberts when he was nominated to join the Supreme Court in 2005, the Texas senator effectively "gave us Obamacare in the true sense."
When Robertson pressed Trump to offer criteria he would look for in the next Supreme Court justice, Trump offered a few. "Pro-life," he said, courting loud cheers from the audience, "very conservative, very smart."
Trump also said that Antonin Scalia was a "great justice" and a good example of what to look for in a future nominee.
Trump said Thursday that he is a "very strong constitutionalist," calling the Obama administration's high number of executive orders "unconstitutional."
Robertson asked Trump if he would return to Regent to give a presidential address if he wins the November election, to which Trump promised he would.