Nevada Gov. Brian Sandoval, a Republican, is being vetted by the White House as the possible replacement to the late Antonin Scalia on the Supreme Court, according to a new report from the Washington Post Wednesday afternoon.
Just when the situation looked to be at an impasse and that the court would have to operate through the rest of the calendar year with just eight justices, a Sandoval nomination could break the resolve of many Senate Republicans, who have already said they will not consider any nomination from President Barack Obama.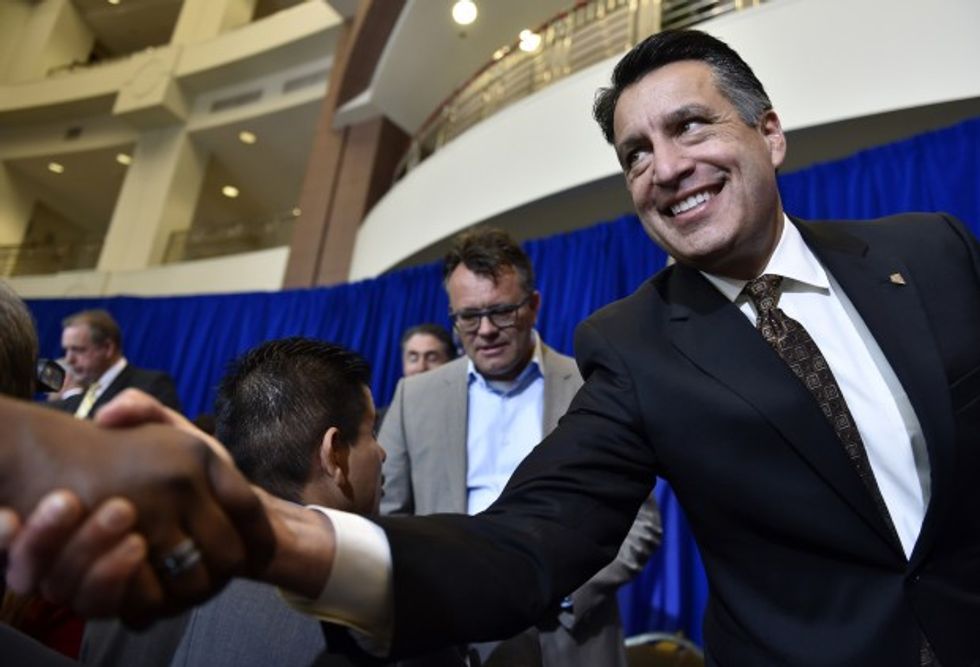 Nevada Gov. Brian Sandoval shakes hands with attendees after a news conference in Las Vegas Dec. 10. (AP Photo/David Becker)
According to the Post, Sandoval met with Democratic Senate Minority Leader Harry Reid, a fellow Nevadan, Wednesday to discuss his possible nomination.
A person familiar with the conversation said that while Sandoval told Reid he had not made a final decision on whether he would accept a Supreme Court nomination, he would allow the vetting process to move forward. Another person in Nevada familiar with the process confirmed that the process is underway.
Despite the controversy surrounding the issue in Washington, a Sandoval nomination could be one that succeeds. Prior to becoming governor of Nevada, Sandoval was unanimously confirmed as a federal district court judge in 2005 after being nominated by former President George W. Bush.
However, it is currently unknown just how many people Obama might be vetting for the high court vacancy. Thus far, White House press secretary Josh Earnest has denied that the president even has a short list of potential nominees.
Still, it appears that Obama will move forward in his constitutional duty to nominate someone to fill the court's gap. In a blog post on the website "SCOTUSblog" Wednesday, Obama outlined what he is looking for in potential nominees:
A sterling record. A deep respect for the judiciary's role. An understanding of the way the world really works. That's what I'm considering as I fulfill my constitutional duty to appoint a judge to our highest court.
—
Follow the author of this story on Twitter and Facebook:
[facebook //www.facebook.com/plugins/like.php?href=