Israeli Prime Minister Benjamin Netanyahu on Thursday said that even after it committed to the nuclear deal, Iran "is continuing to aid terrorism."
"Yesterday, Iran announced that it will finance the families of the terrorists and murderers," Netanyahu said according to a transcript released by his office. "This shows that Iran, even after the nuclear agreement, is continuing to aid terrorism, including Palestinian terrorism, Hezbollah terrorism and its assistance to Hamas."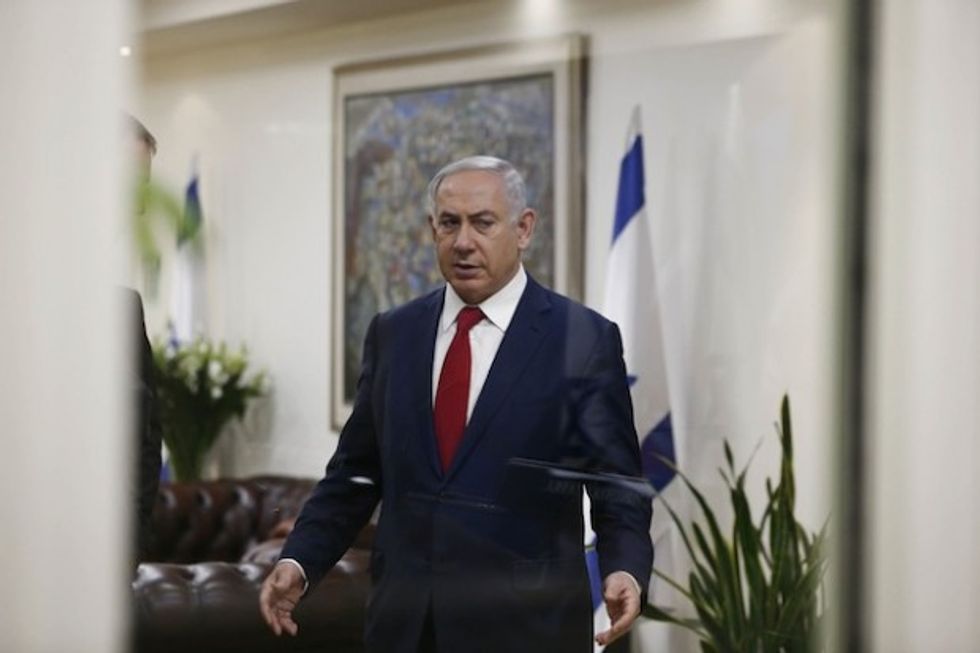 Israeli Prime Minister Benjamin Netanyahu said the international community must "confront and condemn" Iran's pledge to pay rewards to the families of Palestinian terrorists. Netanyahu noted that the terrorism funding came even after the Iran deal. (Amir Cohen, Pool via AP)
Netanyahu was referring to an announcement Wednesday by Iran's ambassador to Lebanon that his country planned to offer thousands of dollars to Palestinians who attack Israelis.
"This is something that the nations of the world must confront and condemn, and assist Israel — and other countries, of course — in repelling," the Israeli leader said in Jerusalem.
Iranian Ambassador Mohammad Fathali described at a Beirut press conference the payments planned for the families of Palestinian assailants.
"The decision firstly includes giving an amount worth $7,000 to every family of a martyr of the intifada in Jerusalem," Fathali said, according to quotes posted by Reuters.
He said that families of assailants whose homes have been demolished by Israel would get $30,000.
One Israeli policy aimed at deterring terrorist attacks is to destroy the homes of some assailants.
The Jerusalem Post reported that Fathali also said that "the martyrs' blood will release the entire Palestine, from the river to the sea," referring to the entire territory of Israel, the West Bank and Gaza bordered by the Jordan River and the Mediterranean Sea.
Osama Hamdan, Hamas' foreign relations chief, said at the press conference that Hamas appreciated the Iranian support.
The Israeli prime minister's office posted a translated excerpt of Netanyahu's remarks:
Israel has faced five months of nearly daily Palestinian attacks that have included stabbings, shootings and vehicular assaults. Palestinians have alternately referred to the wave of violence as the "Jerusalem intifada" and "knife intifada."