A dating website that targets singles who support Vermont Sen. Bernie Sanders in his Democratic presidential campaign was launched this month with the goal of bringing together Sanders supporters who "Feel the Bern" in their public support for the senator and in their romantic relationships.
The website, berniesingles.com, states that it was founded in 2016 by a group of "dank" individuals who "just want the fire to Bern in everyone's heart!" It presents itself as a "dating website and online community for people of all walks of life, and specifically for those who share the philosophy championed by U.S. Senator and Presidential Candidate Bernie Sanders." Furthermore, the site wishes its members to know that "The 1% aren't the only ones getting screwed this election season."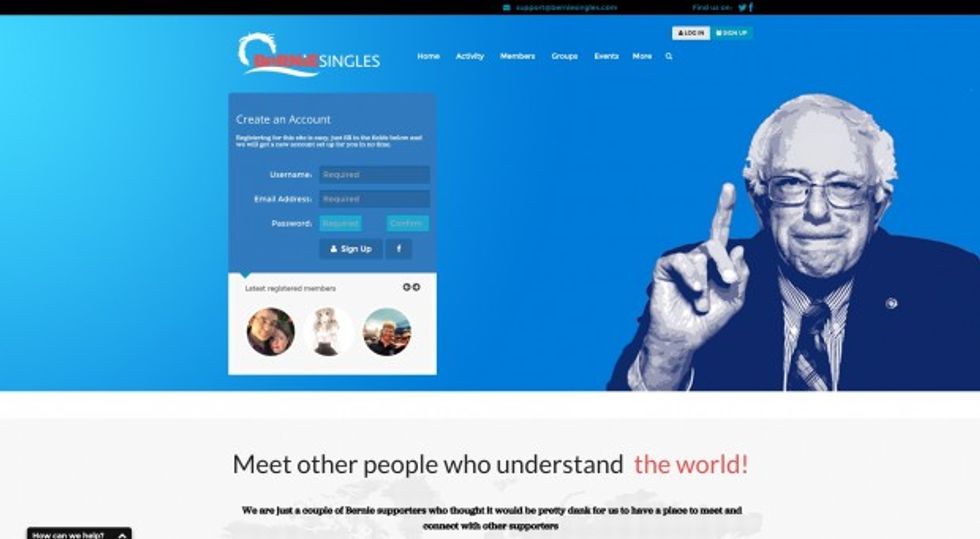 Bernie Singles (Image source: BernieSingles.com)
At the time this article was published, 6,580 members had joined the Bernie Singles online community to take a further step in finding potential romantic partners who share their ideals. Although the online community is geared toward connecting single Sanders supporters who are at least 18 years of age, the website also states that it seeks to offer a place to meet "cool Bernie-loving dudes and dudettes" or "people that have a general understanding of how the economy works," WPTZ-TV reported.
"Even more people are going to know about Bernie and his beliefs and be able to, like, join together about how much they like Bernie, and I think it's a really good thing," Sanders supporter Katy Osterholtz told WPTZ. "I mean, hey, I'm not going to be on the dating site now, because I'm only 17 but I think it's great."
Andrew Whitney, one of Osterholtz's friends and a fellow Sanders fan, added that he believed the website would help people who are passionate about politics avoid romantic heartache by highlighting their beliefs up front.
"That can always be awkward if you, like, get down that far down the road and you find out they're voting for someone like Donald Trump or something like that," Whitney told WPTZ.
If Bernie can do such amazing things, why not add bringing two people together a thing. Join https://t.co/X5ddtzx4kn #Bernie #Berniesingles

— Bernie Singles (@Bernie Singles) 1455860065.0
Bernie Singles co-founder Colten Caudle, 19, told the Huffington Post that he was inspired to help launch the website after he found love through the Bernie Facebook page with Sadie Marie Jensen, 20, in February.
"Knowing that someone else is a Bernie supporter instantly gives you plenty in common, and with Bernie in the news more often now, gives you plenty to talk about," Caudle told the Huffington Post.
—
Follow Kathryn Blackhurst (@kablackhurst) on Twitter