ORLANDO, Fla. (TheBlaze/AP) -- SeaWorld is acknowledging that it sent a worker to infiltrate an animal rights group which opposed the theme park.
SeaWorld Entertainment CEO Joel Manby said Thursday that the company will no longer use such practices to spy on opponents.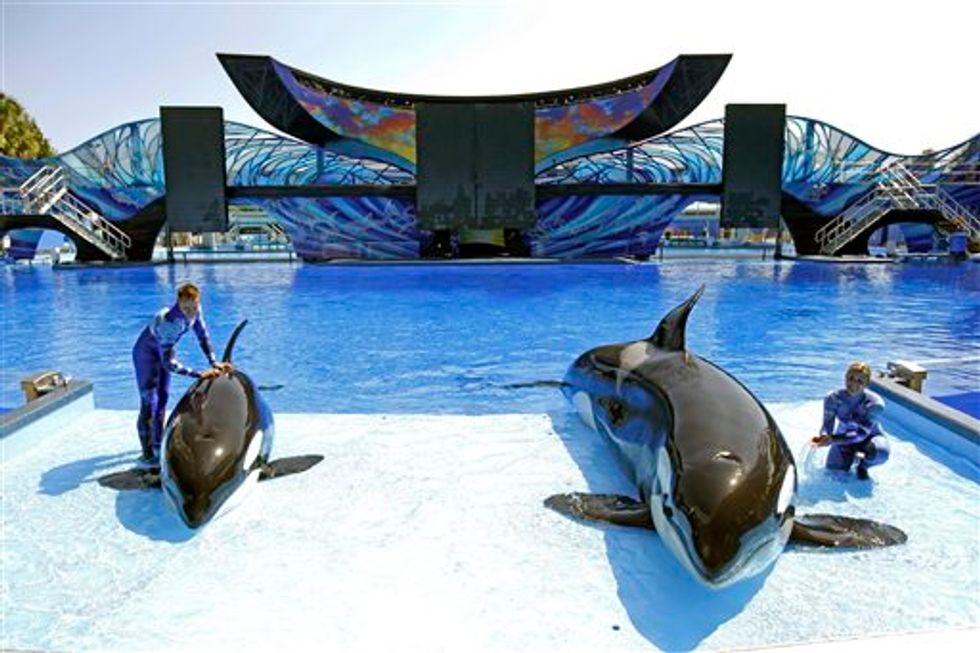 In this April 10, 2014 photo, SeaWorld trainer Ryan Faulkner, left, with killer whale Melia, and Michelle Shoemaker, right, with Kayla work on a routine for a show at the Orlando, Fla. theme park. SeaWorld suffered a decline in attendance during its most recent quarter, the company reported Thursday, Aug. 6, 2015, as the amusement park operator struggled to restore its image amid a withering public campaign by animal activists. (AP Photo/John Raoux, File)
Manby says that the company is hiring an outside firm to review its security practices.
SeaWorld San Diego worker Paul McComb was suspended last summer after People for the Ethical Treatment of Animals said he had tried to incite violence among peaceful protesters while posing as an activist. The company said Thursday that McComb is still employed by SeaWorld.
The animal rights group, better known by its acronym, PETA, said that SeaWorld's refusal to fire McComb shows that it condones corporate spying.
SeaWorld released its 2015 fourth quarter earnings Thursday morning. As PETA pointed out, the company's stock declined by more than 11 percent after the the report was made public.
BREAKING: #SeaWorld stock is down more than 11% after 2015 earnings report is released. pic.twitter.com/PunDzbStVr

— PETA (@peta) February 25, 2016
The company announced last week the departures of Chief Parks Operations Officer Dan Brown and Chief Zoological Officer Brad Andrews. The management shakeup will take affect April 1, the Orlando Sentinel reported.
–