Republican presidential candidate Donald Trump's viral "Stump for Trump" supporters took to CNN Friday afternoon to accuse GOP rival Marco Rubio of leading a "gay lifestyle" in the past.
Lynette Hardaway and Rochelle Richardson, known better as "Diamond" and "Silk," launched the bizarre claim after Rubio instructed viewers during Thursday night's Republican debate to Google information on Trump's hiring of Polish workers.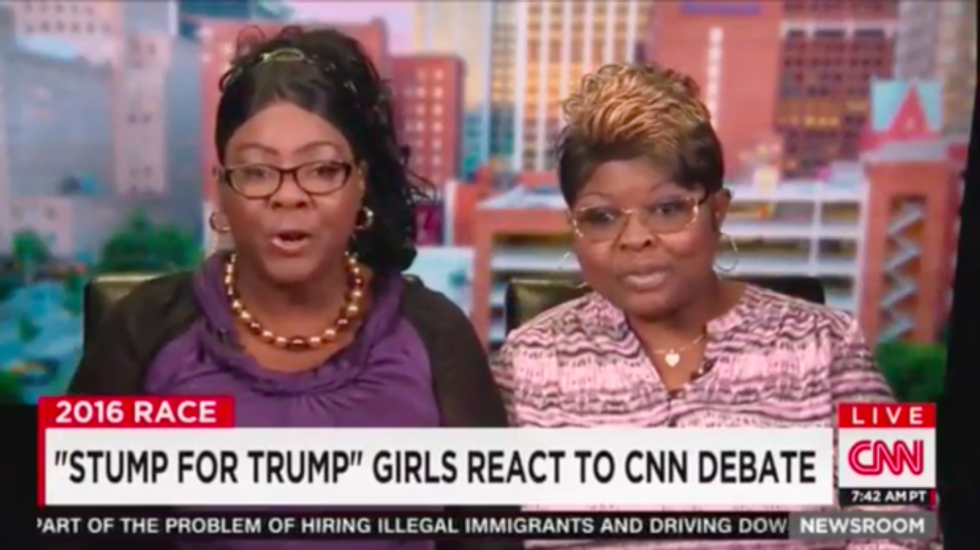 Image: CNN/YouTube
"Marco Rubio told us to Google Donald Trump, but I did one better, I Googled him," Hardaway told CNN anchor Carol Costello.
"And when I Googled him — you know, he owes America and the gay community an apology, because it sounds like that he may have had a gay lifestyle in his past. So you have to be cautious when you tell people to Google people. Stuff will come up," she continued.
Costello, seemingly frustrated by Hardaway's claim, responded, "What?! No, Lynette."
"All you have to do is Google him," Hardaway insisted.
"Lynette," Costello said, obviously annoyed.
Seeking to move on, Costello redirected the conversation to Trump's history of hiring immigrants to work in his organization.
The CNN anchor went on to say that her network conducted a fact check, telling the Trump supporters that she "found that Donald Trump did, indeed, hire outsiders from the United States to work at his various hotels."
"Donald Trump says that illegal immigrants, undocumented immigrants, are taking Americans' jobs, but he's getting people from outside of the country and hiring them instead of Americans. That doesn't bother you?" Costello asked.
Neither Hardaway nor Richardson seemed bothered by the issue.
—
Follow the author of this story on Twitter: