MSNBC host Melissa Harris-Perry blasted network executives in an email sent to colleagues and published online Friday, writing that recent decisions to substitute her weekend show for 2016 coverage had left her "effectively and utterly silenced."
Harris-Perry's letter was posted in full to Medium after The New York Times broke the news that she had no intention of hosting her show Saturday.
"Putting me on air seems to be a decision being made solely to save face because there is a growing chorus of questions from our viewers about my notable absence from MSNBC coverage," she wrote. "Social media has noted the dramatic change in editorial tone and racial composition of MSNBC's on-air coverage."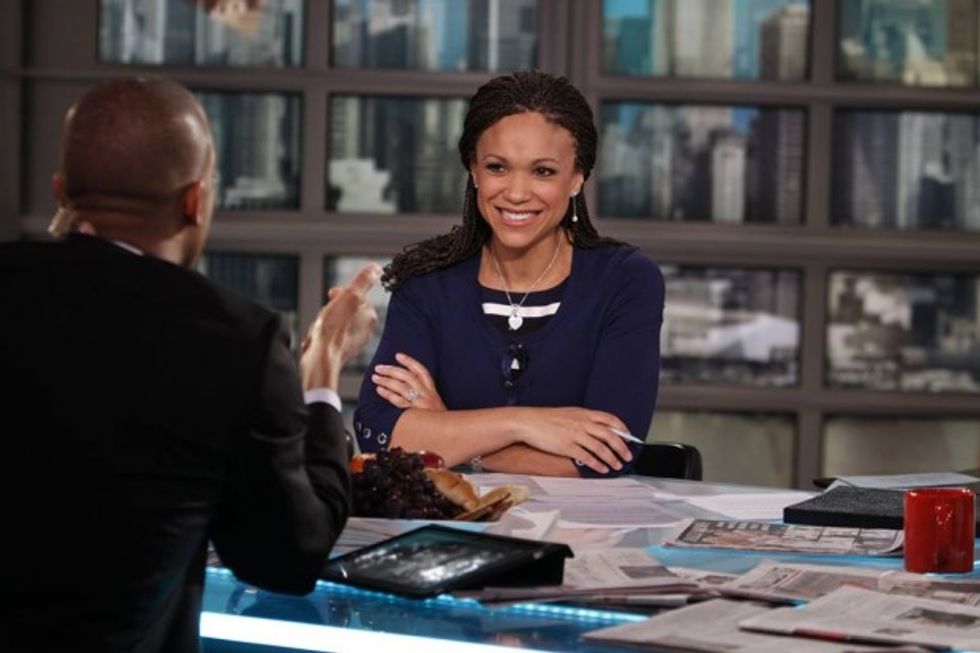 Image source: Facebook
Harris-Perry, who also accused MSNBC of taking away editorial control from her, suggested her race might have played a role in the network's behavior toward her.
"The purpose of this decision seems to be to provide cover for MSNBC, not to provide voice for MHP Show. I will not be used as a tool for their purposes," she wrote. "I am not a token, mammy, or little brown bobble head. I am not owned by Lack, Griffin, or MSNBC."
[sharequote align="center"]"I will not be used as a tool for their purposes."[/sharequote]
The MSNBC host, who is also a tenured professor, later appeared to recant that statement, telling the Times that she doesn't think executives are "doing something mean to me because I'm a black person."
An NBC News spokesperson told the Times that 2016 programming had forced many daytime programs to be substituted with campaign coverage and called the way Harris-Perry handled the situation to be "surprising, confusing and disappointing."
"In this exciting and unpredictable presidential primary season, many of our daytime programs have been temporarily upended by breaking political coverage, including M.H.P," the statement said. "This reaction is really surprising, confusing and disappointing."
But, Harris-Perry's contention appeared to go beyond just her show. She argued in her letter that she felt the network was intentionally keeping her off air — even during campaign coverage.
"I have stayed in the same hotels where MSNBC has been broadcasting in Iowa, in New Hampshire, and in South Carolina, yet I have been shut out from coverage," she wrote. "I have a PhD in political science and have taught American voting and elections at some of the nation's top universities for nearly two decades, yet I have been deemed less worthy to weigh in than relative novices and certified liars. I have hosted a weekly program on this network for four years and contributed to election coverage on this network for nearly eight years, but no one on the third floor has even returned an email, called me, or initiated or responded to any communication of any kind from me for nearly a month."
"It is profoundly hurtful to realize that I work for people who find my considerable expertise and editorial judgment valueless to the coverage they are creating," Harris-Perry continued.
Harris-Perry wrote that she would return when allowed to do "substantive, meaningful and autonomous work,' but "not a moment earlier."
—
Follow the author of this story on Twitter and Facebook: