During the CNN Republican presidential debate Thursday evening, Florida Sen. Marco Rubio suggested that the audience Google "Donald Trump Polish workers," a reference to a crew of illegal immigrants from Poland that Trump hired during the construction of Trump Tower in the 1980s.
But they were Googling another shot that both Rubio and Texas Sen. Ted Cruz mentioned: "Trump University."
"You lied to the students at Trump University," Rubio said to Trump during the debate.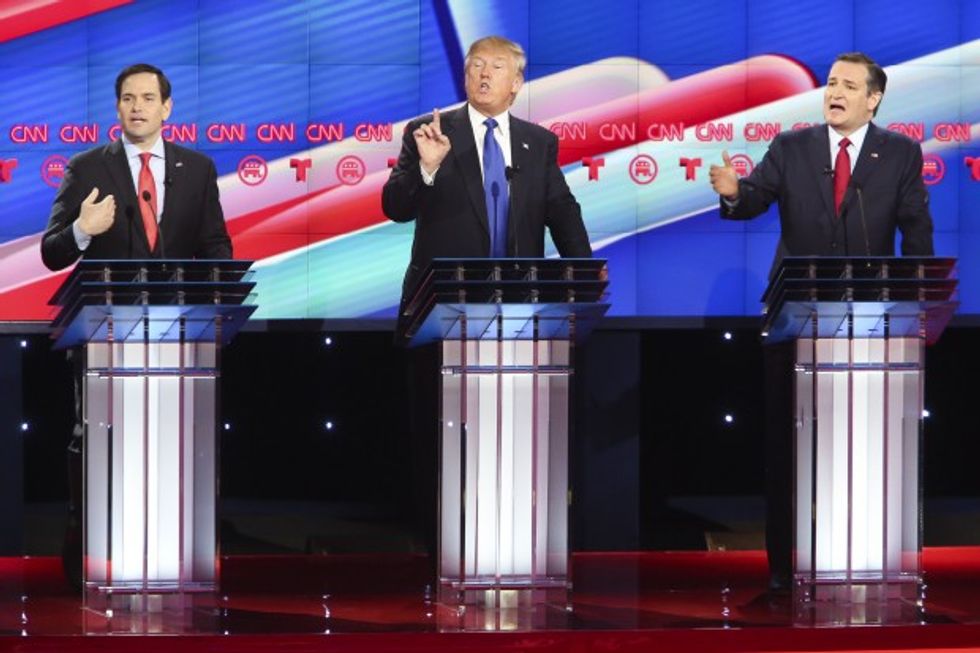 From left, Florida Sen. Marco Rubio, businessman Donald Trump and Texas Sen. Ted Cruz speak during the CNN Republican debate Thursday in Houston. (Getty Images/Michael Ciaglo-Pool)
"You know, Marco made reference earlier to the litigation against Trump University," Cruz said later. "It's a fraud case. His lawyers have scheduled the trial for July. I want you to think about, if this man is the nominee, having the Republican nominee on the stand in court, being cross-examined about whether he committed fraud. You don't think the mainstream media will go crazy on that?"
Trump said that he'll "win that case."
"That's an easy case," Trump added.
According to the Washington Post, Goggle searches for Trump University spiked during the debate.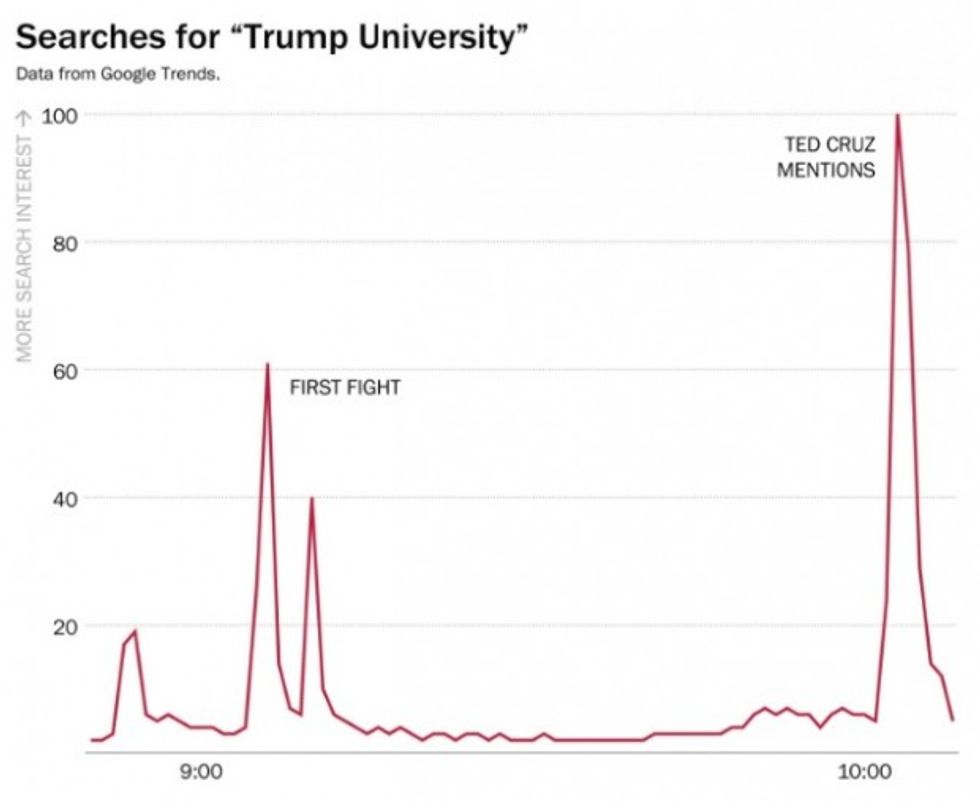 Image source: Washington Post
Trump University is a defunct real estate workshop that Trump claimed would teach students his real-estate investment secrets.
According to Business Insider, though the "university" ceased operations in 2011, Trump faces ongoing litigation for "allegedly failing to deliver on promises to teach real-estate investment techniques and defrauding students of $40 million."
The Washington Post reported that instead of the "fast route to easy money" they were promised, Trump University students who attended the series of workshops across the nation "say they found generic seminars led by salesmen who pressured them to invest more cash in additional courses. The students say they didn't learn Trump's secrets and never received the one-on-one guidance they expected."