Republican presidential candidate John Kasich received an endorsement Friday from a former Obama administration official and Illinois congressman Ray LaHood.
"I served alongside John Kasich in Congress when he was Chairman of the Budget Committee and led the way to balance the federal budget," President Obama's former Transportation Secretary said in a statement released by the campaign.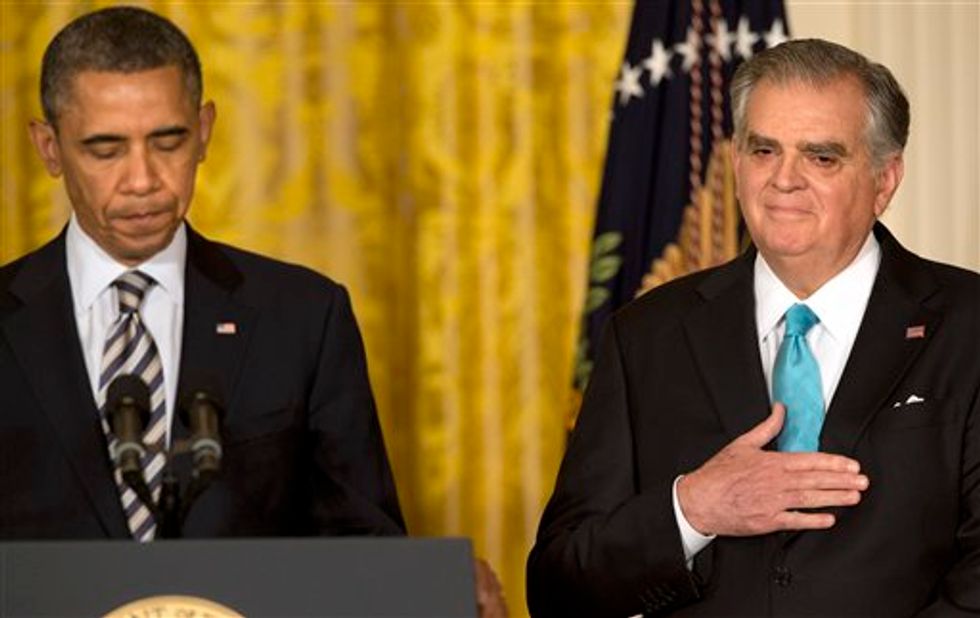 Then-Transportation Secretary Ray LaHood, right, places his hand over his heart as President Barack Obama describes his service while announcing the nomination of Charlotte, N.C., Mayor Anthony Foxx, not pictured, who succeeded LaHood, Monday, April 29, 2013. (AP Photo/Jacquelyn Martin)
"I have always admired his ability to bring people together to get things done. His record of results is unmatched in this field, and I am certain that he is the best leader to unite our nation."
The statement also announced that LaHood would be an Illinois co-chair of Kasich's campaign.
LaHood, a Republican House member from 1995 to 2009, served in Obama's cabinet for the first four years of the administration.
"I have known Ray for many years and respect his dedication to serving our country," Kasich said in the statement. "I'm grateful for his support as we expand our ground operations in Illinois."
LaHood is the father of Rep. Darin LaHood (R-Ill.), who has voiced his support of Marco Rubio for the Republican primary race.