Bill Maher hard some harsh words for the #BlackLivesMatter protestor who crashed a Hillary Clinton fundraiser this week. On Friday's episode of "Real Time with Bill Maher," the talk show host said to the young woman and every other #BlackLivesMatter protester that Clinton is not the racist here.
Maher charged the protestors with acting "purer" than everyone else, noting that a considerable percentage of Donald Trump supporters actually oppose the Emancipation Proclamation.
"This is where you start the battle?" he asked. "You f***ing idiots!"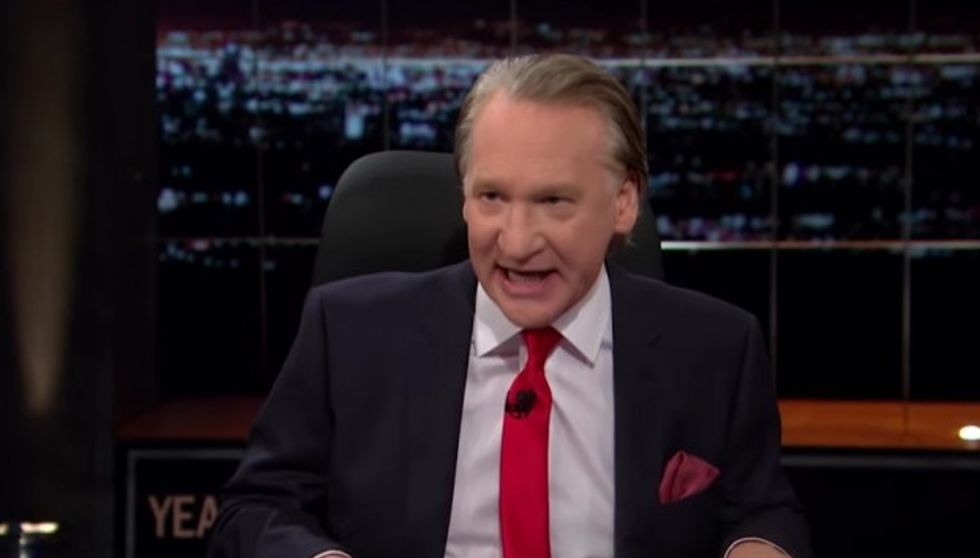 Image via YouTube
Guest Michael Eric Dyson challenged Maher, arguing that the social justice movement knows Republicans "don't give a flying damn" about their cause. Mark Ruffalo agreed, adding that the protestors are trying to determine whether the party that's supposed to be on their side follows through on its claims.
Maher insisted that if voters spend too much time attacking Democrats like Clinton and ignore the Republicans, they will end up with President Donald Trump.
Ruffalo then pointed out the protester at the $500-a-plate Clinton event was the only black person there.
Maher then asked, "Do they have to be everywhere giving you money?!"
Ruffalo, obviously taken aback, jumped back in his chair. Maher proceeded to complain about his guest taking offense at him using the word "they."
Watch:
(H/T: Mediaite)