VIRGINIA BEACH, Va. — During a visit to televangelist Pat Robertson's Regent University Monday, Republican presidential hopeful Ben Carson launched into a broadside against the Democratic Party, outlining what he would do if he wanted to "destroy" the United States.
According to Carson, the "divisiveness" currently plaguing the U.S. "is about to destroy us." He implored the evangelical crowd to emphasize "our unity" because "we have to develop all of our people" to compete globally.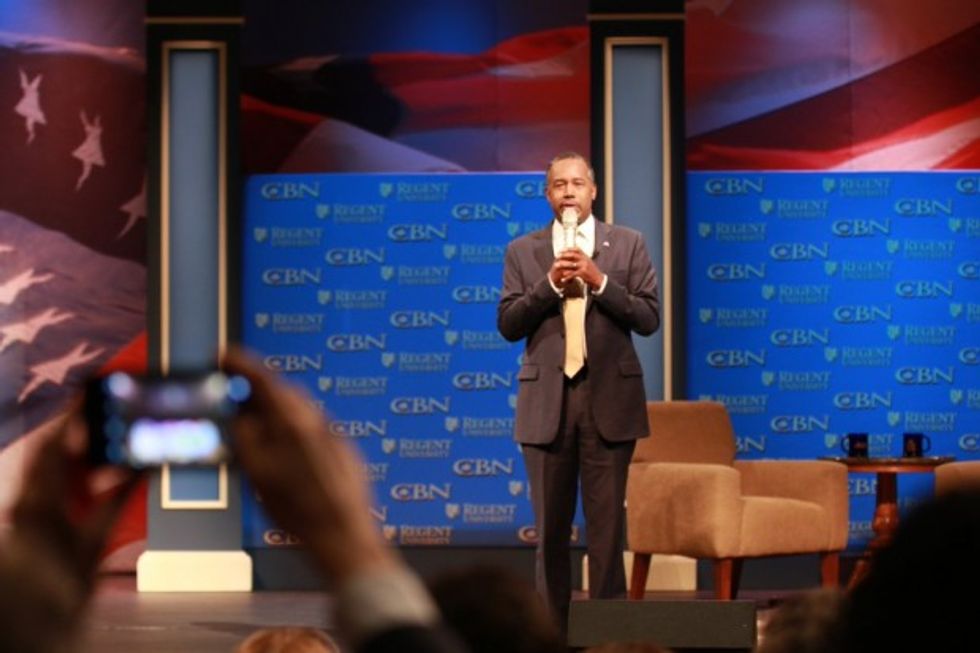 GOP presidential candidate Ben Carson speaks to a crowd at Regent University Monday. (Image source: CBN News/Twitter)
"We only have 330 million people in this country, and we have to compete against China with 1.4 billion and India with 1.1 billion. We have to develop all of our people," Carson argued. "We cannot have a situation where 20 plus percent of people are not graduating from high school, we cannot have a situation where we have 5 percent of the world's population and 25 percent of its inmates."
Carson said the U.S. needs to "reexamine" what is creating those problems and determine what is "destroying families, which is the real power structure of this nation." He then sarcastically outlined what he would do if he was elected president and was "trying to destroy" the country, targeting his Democratic presidential rivals Hillary Clinton and Bernie Sanders.
"I would divide the people. I would drive wedges between the people, have them all hating each other — Republicans hate Democrats, Democrats hate Republicans — don't talk to each other," Carson said, noting the polarizing nature of the current presidential campaign cycle.
Carson said he would "undermine" the United States' financial structure "by driving the debt to unimaginable levels."
He also pointed out the number of Syrian refugees the U.S. is set to take in, a point of contention for many conservatives, and the problem with promising to offer benefits like supplemental security income, disability benefits and food stamps.
Taking aim at Sanders, he said, "I'd be telling the kids they can go to college for free. I would just have everybody completely wrapped up in this thing, you know."
Carson then turned to the military, a hot topic in the Virginia Beach area due to its large military population.
"I would destroy the military. I would have the smallest Navy since 1917, the smallest Air Force and the oldest since 1940 through the sequester," Carson said. "I would tell the veterans that they are the most important people and how much we love them, but I would do nothing for them so that 22 of them were committing suicide every day."
The GOP hopeful then criticized the current administration's lack of focus on the U.S. electric grid, which he says "leaves us incredibly vulnerable to cyber attacks." Carson also set his sights on President Barack Obama for cutting funding for NASA's space program.
"I would get us out of the space program, recognizing that so much innovation came from that. That's one of the reasons that we were light-years ahead of everyone else in military science. Now they've all caught up with us," he said. "And recognizing also in the future that he who controls space will control the earth. That's what I would do if I were in charge and I was trying to destroy America."
Ultimately, Carson jokingly said that any resemblance to policies from his Democratic rivals "is coincidental."
"But it gives you some idea of how much trouble we're in and why we must be knowledgeable and why we must be vigilant," he concluded.
Watch Carson's entire speech and question-and-answer with Robertson:
—
Follow the author of this story on Twitter: