WASHINGTON (AP) -- Terrorists, criminals and foreign fighters are part of the daily refugee flow into Europe, the top NATO commander in Europe told lawmakers, "masking the movement" of these dangerous elements and heightening the potential for an attack.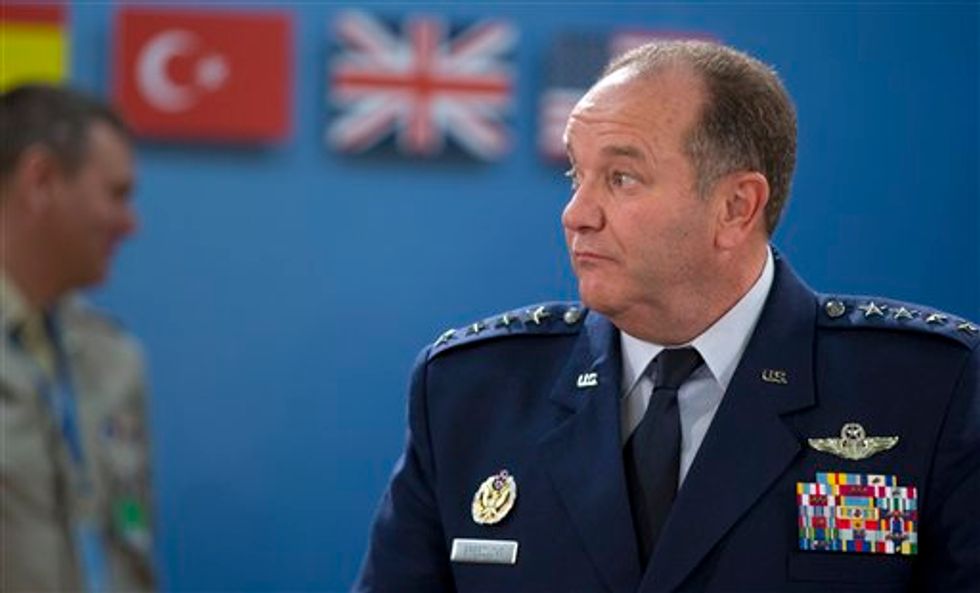 Supreme Allied Commander Europe, U.S. General Philip M. Breedlove, right, waits for the start of the North Atlantic Council meeting of defense ministers at NATO headquarters in Brussels on Thursday, Oct. 8, 2015. NATO defense ministers meet Thursday to consider the implications of recent Russian military actions in Syria, as well as ongoing measures to retool NATO to meet contemporary security threats. (AP Photo/Virginia Mayo)
In testimony Tuesday before the Senate Armed Services Committee, U.S. Air Force Gen. Philip Breedlove said the Islamic State extremist group is "spreading like a cancer" within this mix, "taking advantage of paths of least resistance, threatening European nations - and our own."
Breedlove said Russia's actions in Syria have "wildly exacerbated the problem." Despite its public pronouncements, Russia has done little to counter the Islamic State but has bolstered Syrian President Bashar Assad.
Russia and Assad, Breedlove said, are using migration as a weapon to overwhelm European support structures and break European resolve. He cited the use of barrel bombs, which are unguided weapons and have no military value, against civilians in Syria. The only purpose of these indiscriminate attacks is to terrorize Syrian citizens and "get them on the road," Breedlove said.
In addition to the dangers posed by terrorists in the refugee mix, Breedlove warned that opposition from local nationalists in Europe to the large influx of refugees could lead to violence.
–