Sen. Ben Sasse (R-Neb.) and MSNBC's Joe Scarborough both claim to be on the conservative side of the political aisle. However, Sasse's Super Tuesday appearance on "Morning Joe" felt more confrontational than congenial.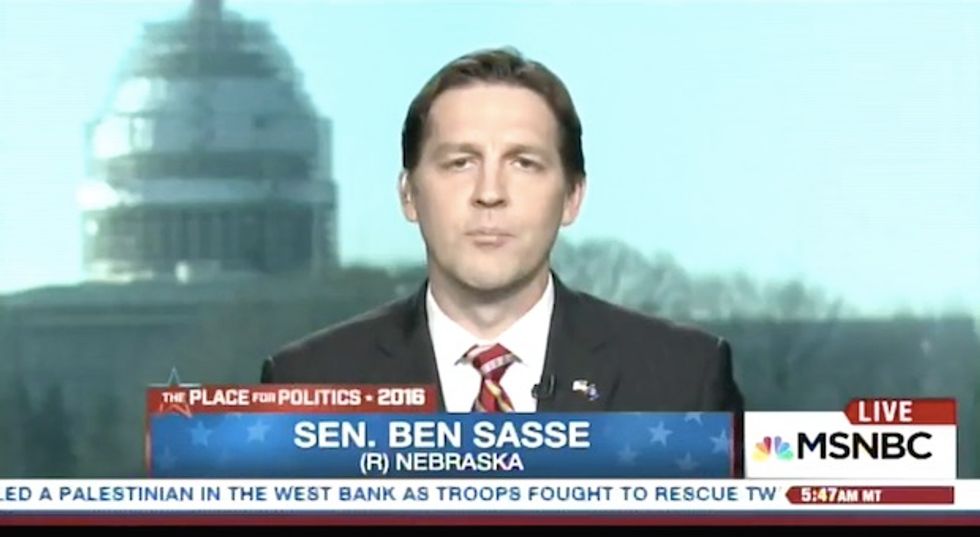 Image source: YouTube
The interview started simply enough with Scarborough asking Sasse, "Is there any way you could support Donald Trump?"
The senator responded, "Given who this guy is now, I can't see how we think that," adding, "I don't think this guy has any more core principles than a Kardashian marriage."
Both co-hosts Mika Brzezinski and Scarborough seized on Sasse's use of the word "now" in his answer and wondered if Trump might be able to "grow" or "evolve" enough to earn the senator's support.
Sasse stated that he did not see Trump evolving, adding, "The American people are angry about Washington, and I get that. But, they're gonna want more choices than two fundamentally dishonest, New York liberals."
After a strident Sasse mentioned the need for "more choices," Scarborough sensed tension coming from his guest and stated, "Hey, senator, by the way, I'm actually a fan of yours. You're making this a lot more difficult than you should."
Sasse disagreed that he was making things difficult. But when Sasse mentioned he was not interested in "playing the game," Scarborough lit up.
"I'm not playing any games! If you believe the future of our party, of our conservative cause and the Republic is at stake, I'm not interested in playing games either," said Scarborough
The Nebraska conservative responded to Scarborough accusing him of conflating the meaning of the "Republic, the definition of America," "the conservative movement" and "the Republican Party."
Scarborough bristled, chastising Sasse and telling the first-term senator, "I'm conflating nothing. You were playing tee ball while I was fighting for those principles — for conservatism, for the Republican Party and for this country."
Sasse called the comment a "Donald Trump-level quality swipe."
Watch the exchange:
—
Follow the author of this story on Twitter and Facebook: