Former Ku Klux Klan Grand Wizard David Duke appeared on a conservative television program — and fireworks quickly ensued.
Duke objected off the bat to host Steve Malzberg introducing him as a former Klansman and said "the media does this as a way to defame me."
"I was in the Klan 40 years ago," Duke said. "I was also in the House of Representatives."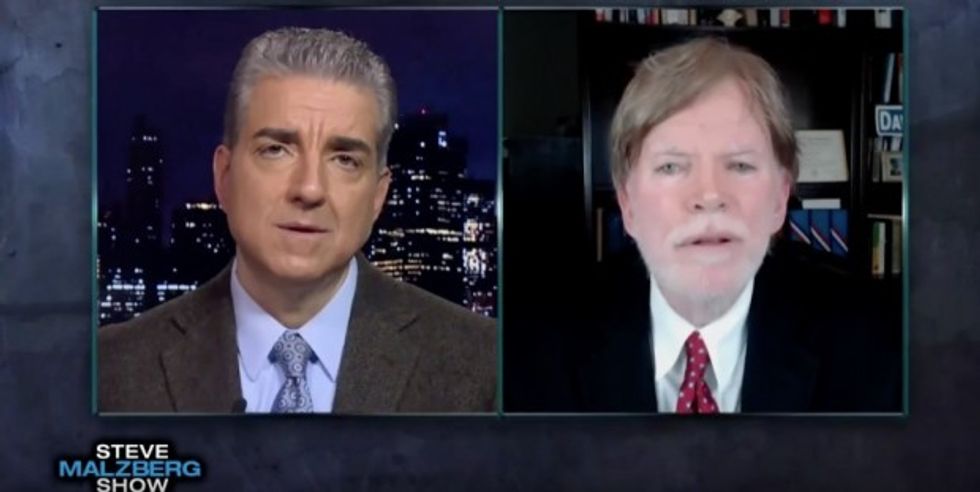 Image source: Screen grab
"So let me ask you: do you still have a problem with Jews?" Malzberg asked. "Do you have a problem with blacks?"
Duke said he didn't consider himself "anti-Jewish, anti-black" and called a newspaper quote Malzberg cited as "totally bogus."
"But you were the Ku Klux Klan grand wizard, weren't you?" Malzberg pressed.
Duke said he was in a "non-violent Klan organization" for three years and left the group.
"The Klan is irrelevant! I am not in the Klan! Do you understand that?" he said, raising his voice at the host.
"But you were," Malzberg doubled down. "You were the grand wizard of the Klan!"
Duke said it was unfair he was introduced as a former Klansman when CNN contributor Van Jones is not introduced as a former communist. Malzberg attempted to interject when Duke erupted.
"Let me finish, please!" the former grand wizard shouted.
"I want to get to Donald Trump," Malzberg said, referencing the initial reason he had invited Duke on the program.
"Let me finish! Let me finish!" Duke said. "Let me finish please! Let me finish my statement!'
"If we're not going to [inaudible] we don't have to do the interview and I'll just play this tape, what's happening here today, to my people on the Internet. If that's what you want. That's fine," Duke added.
"I want to go on and ask you about Donald Trump," Malzberg quipped.
"I want to answer your question! If I don't have an opportunity to answer your question fully — I haven't said one complete sentence hardly without you interrupting me," Duke said.
Malzberg allowed Duke to again explain that he felt he had an "unfair standard" applied to him. He said it was not fair Jones is never called a former communist while the media always refers to him as a former KKK member.
Duke said that he was supporting Trump because he believes "it will destroy America if European Americans become a tiny minority in this country." Duke added that he felt European Americans are "the ones being discriminated" against today.
The former grand wizard said he had not had any contact with Trump in any form.
Duke became the center of controversy after Trump refused to disavow him during an interview on a Sunday program. CNN host Jake Tapper asked the billionaire if he would reject Duke's endorsement and Trump declined to do so, saying he had "never heard" of the former Klansman. Trump later blamed the incident on a faulty earpiece and spent the days that followed disavowing Duke.
—
Follow the author of this story on Twitter and Facebook: