Bill and Hillary Clinton are known for stretching the rules and might have done so again on Super Tuesday, the Boston Globe reported.
Campaigning for his wife, the former president entered a polling station at Holy Name Parish School's gym in the West Roxbury neighborhood of Boston and spoke with poll workers, according to the Globe. He also reportedly bought a cup of coffee and posed for a photo with one woman.
He also reportedly entered another polling station in the Newton Free Library, in Newton, Massachusetts, after talking to voters outside the polling station.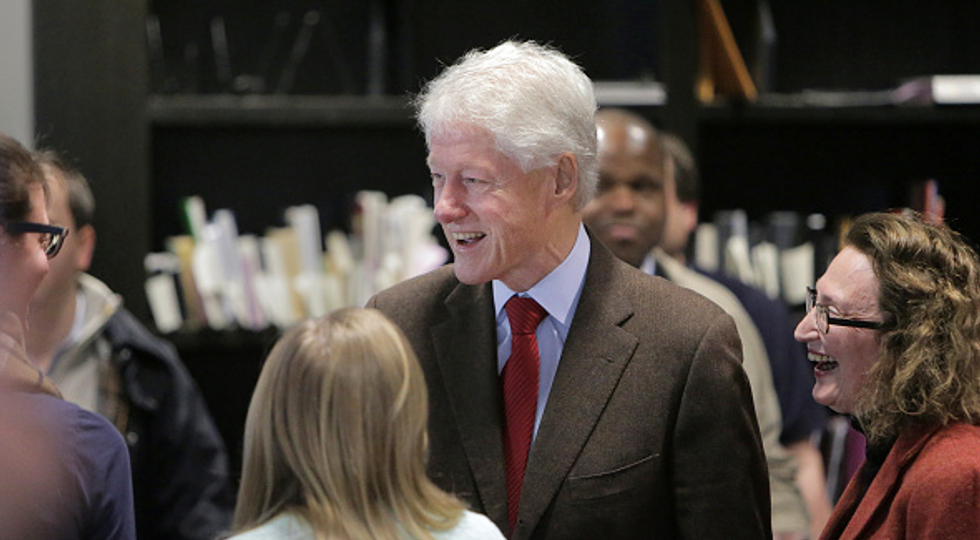 President Bill Clinton greets people inside the Newton Free Library, a polling place, in Newton, Massachusetts, during primary voting on Super Tuesday. (Lane Turner/The Boston Globe via Getty Images)
Hillary Clinton, a former secretary of state, won a close victory over Vermont Sen. Bernie Sanders in Massachusetts, with 50.1 percent to Sanders' 48.7 percent.
There was a video clip on Twitter of Bill Clinton shaking hands with election workers along with Boston Mayor Martin J. Walsh, a Hillary Clinton supporter, that prompted the tweets asking, "Aren't there rules about electioneering at the polling location?" and "How is this legal?"
Fmr President Bill Clinton and @marty_walsh Meeting election workers in West Roxbury #wcvb #SuperTuesday pic.twitter.com/BiHK3eGSoc

— Sera Congi (@seracongi) March 1, 2016
"We had to remind some of our poll workers that even a president can't go inside and work a polling place," Massachusetts Secretary of State William F. Galvin told the New York Times.
"He can go in, but he can't approach voters," said Galvin, a Democrat. "We just took the extra precaution of telling them because this is not a usual occurrence. You don't usually get a president doing this."
The secretary of state's office said that the Hillary Clinton campaign has been notified of state rules that say on Election Day, certain activity is prohibited within 150 feet of polling places, which includes "solicitation of votes for or against, or any other form of promotion or opposition of, any person or political party."
From information that was available, it doesn't appear that former President Clinton actually approached voters but rather only talked to poll workers. There is also no evidence that this could have tilted the state's election to Hillary Clinton.
The Globe reported that in the West Roxbury polling station, when a woman asked for a photo with the former president, he replied, "As long as we're not violating any election laws."
An official with the Boston mayor's office said they were not campaigning at the polling stations.
"President Clinton joined Mayor Walsh to thank poll workers in West Roxbury this morning," the mayor's spokeswoman Bonnie McGilpin told the Globe.