Dr. Ben Carson has requested an imminent meeting with the rest of the Republican presidential contenders — but so far no one has RSVP'd to his invitation.
Ahead of the Super Tuesday results, Carson's campaign announced that as the doctor was "concerned with the lack of civility currently being displayed" in the Republican presidential contention, he called for a private meeting of all of the candidates ahead of the Fox News GOP debate in Detroit on March 3.
"A house divided cannot stand, and it is imperative the Republican Party exhibit unity by the candidates coming together with a pledge to talk about the many serious problems facing our country, instead of personally attacking each other," Carson said Tuesday afternoon.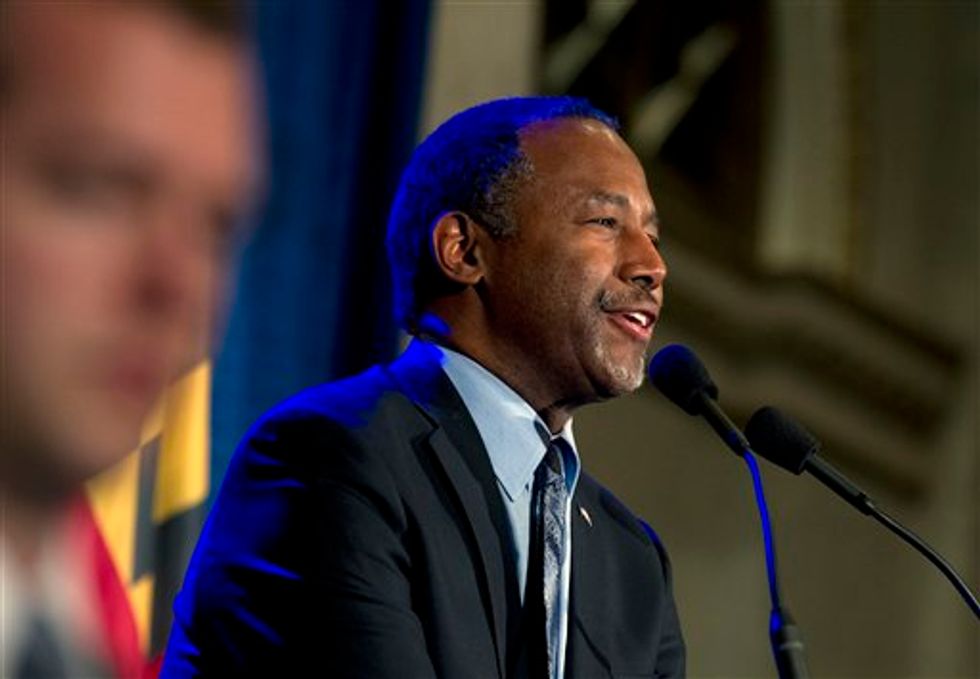 Republican presidential candidate retired neurosurgeon Ben Carson speaks during an election night party in Baltimore, Tuesday, March 1, 2016. ( AP Photo/Jose Luis Magana)
However, by late Tuesday night, his campaign said not a single candidate had responded to his request.
"All campaigns have been reached, but no answers yet," Larry Ross, spokesman for Carson's campaign, told TheBlaze.
Carson didn't fare too well during Super Tuesday, but nonetheless, the retired neurosurgeon vowed to stay in the presidential race "as long as he continues to receive revenue and support of 'We the People,'" a campaign official told TheBlaze Tuesday night.
"I am not moved or discouraged when the political class count me out," Carson said in a statement released shortly after midnight on Tuesday.
"Today, because 'We the People' continue to show unprecedented support, I remain one of five [GOP presidential candidates]. Millions of Americans plead with me to continue," Carson said. "They want to have a choice and a representative voice to ensure people of faith are not marginalized and that integrity is restored to leadership, with a focus on common sense solutions to the myriad problems we face as a nation. They know I am a citizen candidate, not a politician, who won't do what is expedient, but what is right."
Carson was unable to walk away with a win in any of the 11 states, but did get three delegates in Virginia.
Alaska projections were not yet available at the time of this report.
—
Follow Kaitlyn Schallhorn (@K_Schallhorn) on Twitter