Florida Sen. Marco Rubio told CNN anchor Jake Tapper Tuesday night that he was not "in denial" about his chances of succeeding against Republican presidential front-runner Donald Trump after Tapper pressed him on the issue following the Manhattan billionaire's sizable victories on Super Tuesday.
At the beginning of the interview, Tapper told Rubio that this was "not a good night" for him, as Donald Trump came away from the Super Tuesday primary election with the most wins over Rubio and Texas Sen. Ted Cruz.
"The past week, you've been relentlessly hammering Donald Trump," Tapper said to Rubio. "Tonight, he won state after state after state. Is it possible that your quarrel is not so much with Donald Trump as it is with Republican primary voters?"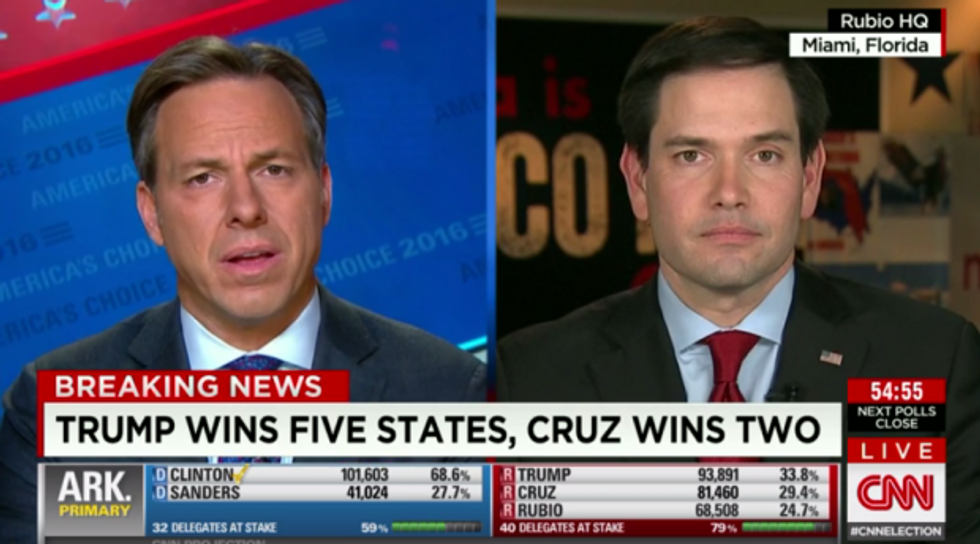 Jake Tapper and Marco Rubio (Image source: CNN)
Rubio disagreed with Tapper, saying that the anchor was "mis-analyzing the night," adding that he would be picking up a "major number of delegates in virtually every state on the map."
The Florida senator also pointed out that he came very close to Trump in Virginia and that his campaign was celebrating a victory in Minnesota. Rubio also proceeded to criticize Cruz, saying that the Southern states from Super Tuesday were supposed to serve as Cruz's "firewall." Cruz ultimately won his home state of Texas, as well as Alaska and Oklahoma.
But Tapper didn't buy Rubio's enthusiasm about his chances against Trump, Rubio's victory in Minnesota and what turned out to be a closer-than-expected result in Virginia.
"Senator, you keep saying that, and [Trump] keeps winning states," Tapper said. "You're talking about Virginia, and that's another state Donald Trump won. And I'm just wondering if there's a certain amount of denial that you're in this race."
Rubio rejected Tapper's suggestion.
"Usually at this point in the race, you'd have a front-runner, and other people would be saying, 'You need to drop out and rally around the front-runner for the sake of the party,'" Rubio retaliated. "They're saying the opposite now. There will never come a time in this race where our supporters are asking us to get out and rally around Donald Trump."
(H/T: Business Insider)
—
Follow Kathryn Blackhurst (@kablackhurst) on Twitter