Sen. Ben Sasse (R-Neb.) used his appearance at the Conservative Political Action Conference Thursday to explain what he is looking for in a presidential candidate and explained his view of conservatism.
"I am anti-establishment, but what we need most of all is not just someone who wants to breath fire on Washington, but wants to breathe passion into our children for a constitutional recovery," Sasse said. "Because that's how we will actually make America great again."
The Nebraska Republican has recently faced a controversy for saying that he will not support Donald Trump as the Republican presidential nominee. Sasse has said that if Trump and former Secretary of State Hillary Clinton are their respective parties' nominees, he will seek a third option.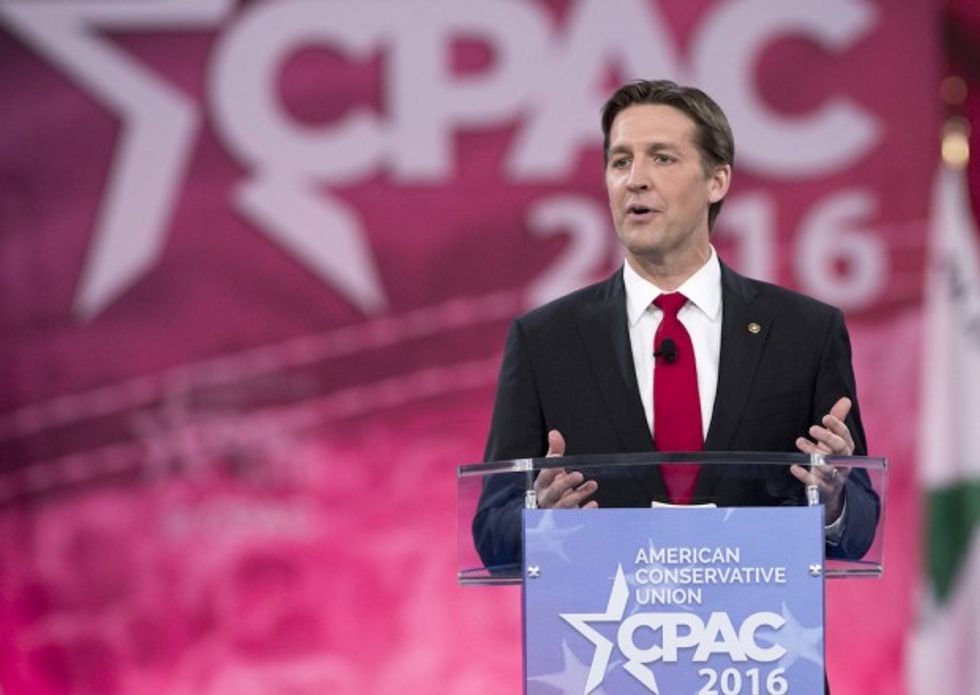 Sen. Ben Sasse (R-Neb.) speaks during the annual Conservative Political Action Conference 2016 at National Harbor just outside Washington, D.C., Thursday. (Saul Loeb/AFP/Getty Images)
Sasse spoke to the crowd about "what classical conservatism means."
"The three terms that we should talk about a bit today are Republican, conservative and American exceptionalism or the American idea," Sasse said. "I am all three. I am a happy Republican. I am a principled, committed conservative. And we obviously all in this room believe deeply in the American idea."
"So I urge all of you to be Republican, to be conservative and to be American," Sasse said. "But it's very important the way we rank order those three. So I stand before you today, and I say, I am an American first, and I am a conservative second, and I am only a Republican third – although I am happily a Republican."
Sasse said that if those three identities are ranked out of order, then "we actually wage war against them."
"We should begin by admitting that it's been a bad seven years for all three of those categories," Sasse continued. "It's been a bad seven years for the Republican Party. It's been a bad seven years for conservatism, but even more importantly than that, it's been a real bad period for those of us who believe deeply, who cherish, who love the American idea. If you've inherited the American tradition as we have, we want to lift it up, we want to celebrate it the American idea. And, tragically, we've had in this country the last seven years, a guy who, as president, said that one of his purposes is to fundamentally remake America. I don't think we want to remake America, we don't want to change America, we want to recapture the greatness of America, and pass that on to the next generation."
He said that President Barack Obama doesn't believe in American exceptionalism, and he hopes that the next president has a proper understanding of the phrase.
"American exceptionalism is not some sort of ethnic claim, that because of something we received in the bloodstream, Americans are better than other people, American exceptionalism is a claim about history," Sasse continued. "American exceptionalism is a claim about what happened in the American founding, and if we don't understand why the American founding was extraordinary, you can be sure that our kids won't understand why America is extraordinary."
Sasse said we are living in a time of "cultural amnesia" about the principles of the American founding and American exceptionalism as the president has attacked it.
"Our founders were making a claim about human dignity," Sasse said. "Our founders were saying that everybody, everywhere — not just people like us who have been blessed to be born in this place — but everybody, everywhere is ordained with natural rights. That everyone, everywhere is created in the image of God, with natural rights and government is just our shared project to secure those rights. Government is not the author or the source of any of our rights."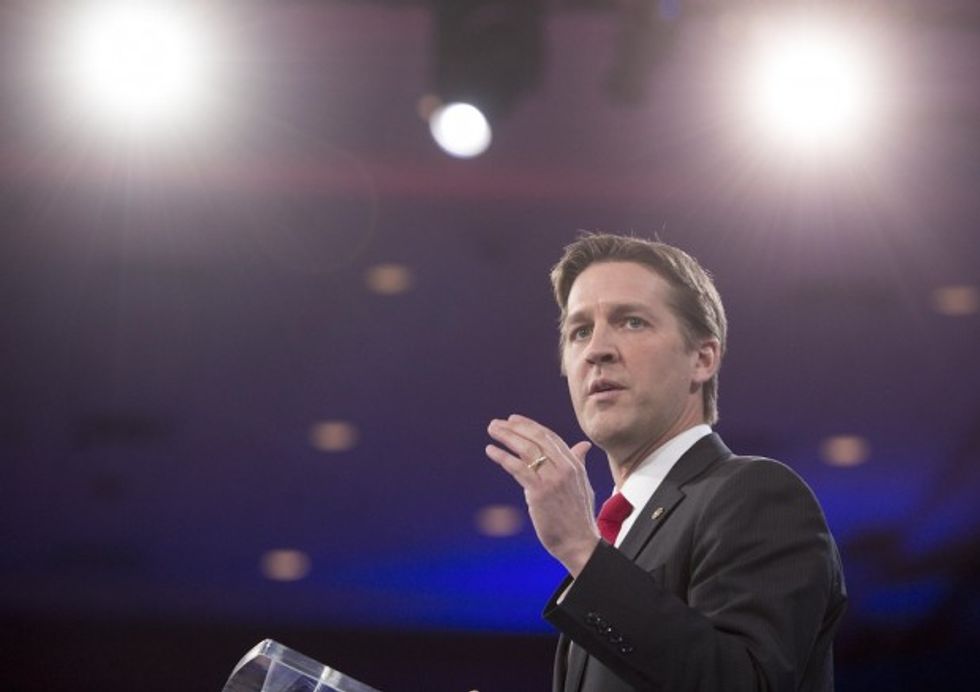 Nebraska GOP Sen. Ben Sasse addresses the crowd at CPAC 2016 at National Harbor in Oxon Hill, Maryland, Thursday. (Saul Loeb/AFP/Getty Images)
"Politics are about creating a framework to be free from so many horrible things in the world so you can be free to go and live all the great things that life has for you," he continued, pointing out that "we live in a time of constitutional crisis."
"Forty-one percent of Americans under age 35 think that the First Amendment is dangerous because someone might use their freedom of speech to say something that might hurt someone else's feelings," Sasse said. "Actually, that's quite the point."
The senator when on to say that it's essential to be an American first, followed by conservative, then Republican.
"Conservatism is a set of policy principles," Sasse said. "Republicanism is about an organization."
"It matters what we believe," Sasse said.
"I wasn't here to talk about any of the presidential candidates," Sasse said, adding that "in a time of constitutional crisis," people should ask if the candidates believe in limited government.
"You need to hear from your presidential candidates somebody you would want to sit at the dinner table with your children," Sasse said.
Sasse was introduced to the crowd at CPAC as a "gym rat," a reference to his recent Twitter feud with Trump.
"On Twitter recently, I had a guy who said I don't look worthy to be a U.S. senator, I look like a gym rat," Sasse said. "As my wife said, 'You have bad hair, bad teeth, no fashion sense, no rhythm, there were lots of big, ripe targets, how did you get tagged a gym rat?"
—
Follow Kate Scanlon (@kgscanlon) on Twitter