Larycia A. Hawkins — the former Wheaton College professor who sparked controversy at the well-known Christian school for declaring that Muslims and Christians "worship the same God" and wearing a Muslim headscarf, or hijab, in solidarity with Islam — is headed to a new position at the University of Virginia.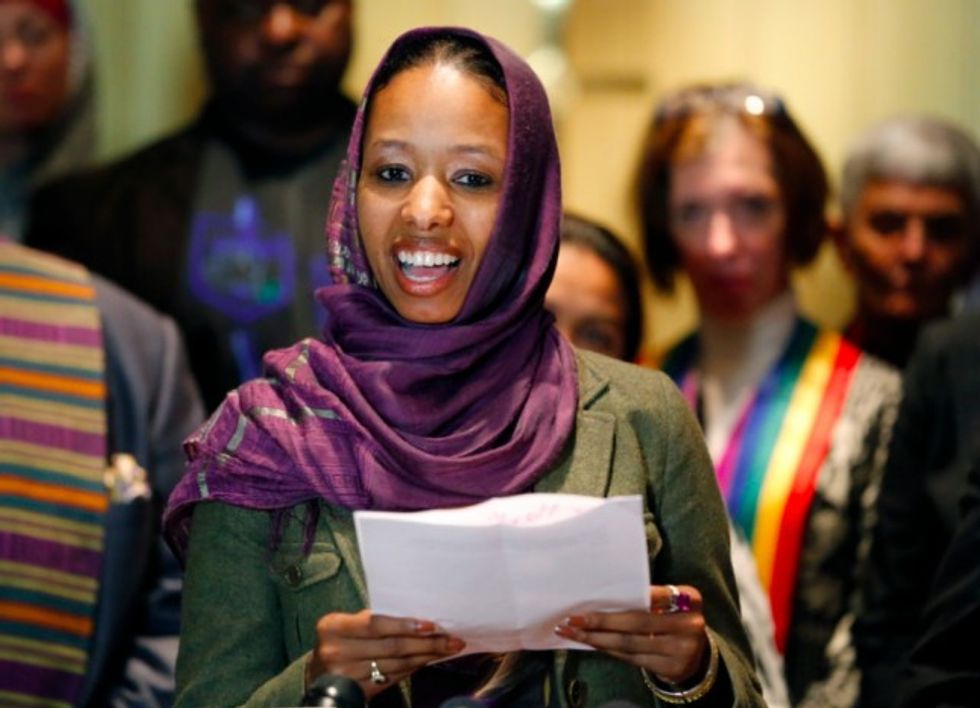 Former Wheaton College associate professor Larycia Hawkins talks to reporters during a news conference Dec. 16 in Chicago. Hawkins, a Christian teaching political science at the private evangelical school west of Chicago, who is wearing a headscarf to demonstrate solidarity with Muslims, was put on leave Tuesday after making statements about the faiths' similarities that the college said conflicted with its "distinctively evangelical" identity. (AP Photo/Charles Rex Arbogast)
Hawkins is the school's Abd el-Kader Visiting Faculty Fellow, the Chronicle of Higher Education reported, a position named after the 19th-century Islamic scholar and leader.
Hawkins, who taught political science at Wheaton, will conduct research on the relationship between religions and race in her new post at UVA's Institute for Advanced Studies in Culture, the Chronicle added.
Things heated up at Wheaton following a Dec. 10 Facebook post in which Hawkins said she'd be wearing a hijab in solidarity with Muslims during Advent and also proclaimed that Christians and Muslims "worship the same God."
"I stand in religious solidarity with Muslims because they, like me, a Christian, are people of the book," she wrote. "And as Pope Francis stated last week, we worship the same God."
While Wheaton had no problem with Hawkins donning a hijab, the school was troubled by her theological statements equating Islam with Christianity and placed Hawkins on administrative leave.
But she reached a "confidential agreement" with the Christian school in February and then departed.
(H/T: The College Fix)