© 2023 Blaze Media LLC. All rights reserved.
It Was Upsetting': Glenn Beck, Mark Levin Slam 'Despicable' Fox News Debate
"If I was watching that with my kids last night, I don't know what I would have said."
According to conservative radio show hosts Glenn Beck and Mark Levin, Thursday night's GOP debate on Fox News was anything but presidential.
Levin doesn't think it's even worth having the debates at this point in the process, and he didn't particularly like Fox host Megyn Kelly's moderating Thursday night, either.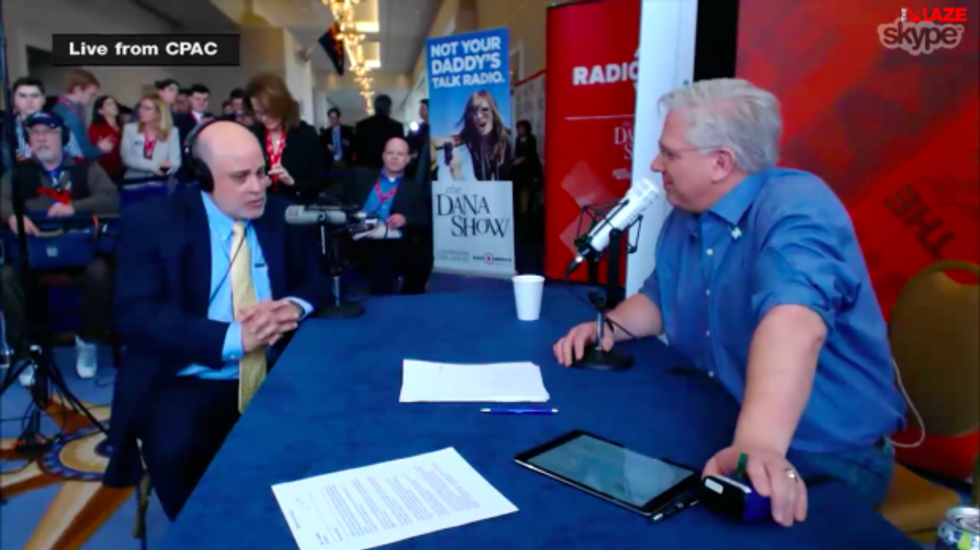 Glenn Beck and Mark Levin discuss Thursday night's GOP debate. (Image source: TheBlaze TV)
"I said to myself, 'Why are they still debating? Do we learn a damn thing out of any of these debates?' Seriously, got all these problems in the country," Levin said on The Glenn Beck Radio Program. "And I think Megyn Kelly really does have a problem with this stuff. I think she went on way too long with the Trump University. I got all that. That stuff gets out there."
Levin said he expects the debates to be "rough-and-tumble," but inquired, "Can we at least keep it above the belt rather than below the belt?"
Beck agreed, describing the Fox forum as "despicable" and something he would not have wanted his children to watch, specifically referring to Republican candidate Donald Trump's harangue about his genitalia.
"If I was watching that with my kids last night, I don't know what I would have said on the opening volley of 'yeah, I'm pretty well endowed,'" Beck commented. "I mean, what do you say?"
Levin blamed the billionaire businessman and Fox News for the nature of the debate, arguing that Trump has "brought down the level of this discussion."
"Somebody needs to cool it, and you would think the moderators might play that role but the moderators don't play that role," Levin argued. "They encourage it."
"Yeah, because they like the ratings," Beck said in agreement. "It's a great showing."
Complimentary Clip from TheBlaze TV The full episode of The Glenn Beck Program, along with many other live-streaming shows and thousands of hours of on-demand content, is available on just about any digital device. Click here to watch every Glenn Beck episode from the past 30 days for just $1!
—
Follow the author of this story on Twitter:
Want to leave a tip?
We answer to you. Help keep our content free of advertisers and big tech censorship by leaving a tip today.
more stories
Sign up for the Blaze newsletter
By signing up, you agree to our
Privacy Policy
and
Terms of Use
, and agree to receive content that may sometimes include advertisements. You may opt out at any time.