After new potential evidence surrounding the OJ Simpson murder trial emerged Friday, the owner of the construction company that demolished Simpson's former Los Angeles estate where a knife was found buried in the ground spoke out, calling the find "a joke."
"I think it's a joke. I think it's just filler. No one on my crew found anything," Mike Weber, owner of Weber-Madgwick Inc., told the Los Angeles Times. "I had instructed my people, 'if you find anything, don't keep it. Tell me, we'll take appropriate action.'"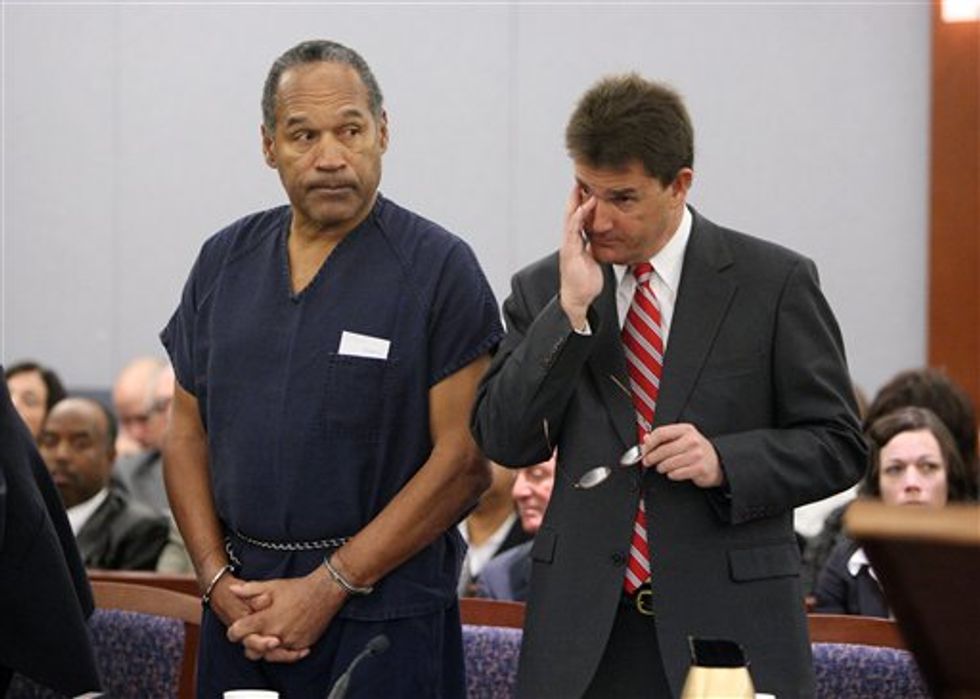 AP Photo/Isaac Brekken, Pool, File
Weber's crew spent six weeks razing Simpson's former residence in 1998. According to Weber, work at the property continued for at least two years as a new home was being built.
"Hundreds and hundreds of people were there after me," he said.
TheBlaze reported Friday that the knife was being examined by the LAPD after news surfaced that a construction worker discovered the knife years ago and gave it to an off-duty cop, who kept it in his home before finally handing it over to police in January 2016.
Simpson's former estate was in the Brentwood section of L.A. In 1995, a jury found him not guilty of murder in what the media deemed the "Trial of the Century."
In 1997, a jury found Simpson civilly liable for the stabbing deaths of his ex-wife Nicole Brown Simpson and her friend Ron Goldman. He's now imprisoned in Nevada on a robbery-kidnap conviction.
The weapon used in the killings, however, has been a mystery for decades.
TMZ first reported that the resurfaced blade is a folding Buck knife. The knife, which was handed over to the LAPD's Robbery and Homicide Division, is now undergoing forensic testing for hair and DNA.
"It is being treated as we would all evidence," LAPD Capt. Andy Neiman said Friday, according to Fox News. He also said that police were "quite shocked" to learn about the knife after so many years.
When the news of the knife broke, Weber said he began receiving tons of emails from friends, linking to to when media outlets reported that he was looking for the knife.
"Jokingly, I said I was looking for the knife. And that's not just being flippant. We never found it," Weber said.
NBC News reported that law enforcement officials said the blade was a smaller, utility-style knife typically used by construction workers or other workers — not consistent with it being the murder weapon.
Simpson likely will not be tried again for the stabbings because of constitutional protections against double-jeopardy, or being charged for the same crime twice.
A source told TMZ the knife appeared to have blood residue on it, but it's very rusted and stained, making further testing necessary.
(H/T: Fox News)