Former Anti-Defamation League Director Abe Foxman said Monday that Republican presidential candidate Donald Trump asking supporters to raise their right hands and pledge to vote for him is "a fascist gesture," in an interview with the Times of Israel.
"As a Jew who survived the Holocaust, to see an audience of thousands of people raising their hands in what looks like the 'Heil Hitler' salute is about as offensive, obnoxious and disgusting as anything I thought I would ever witness in the United States of America," Foxman told the Times.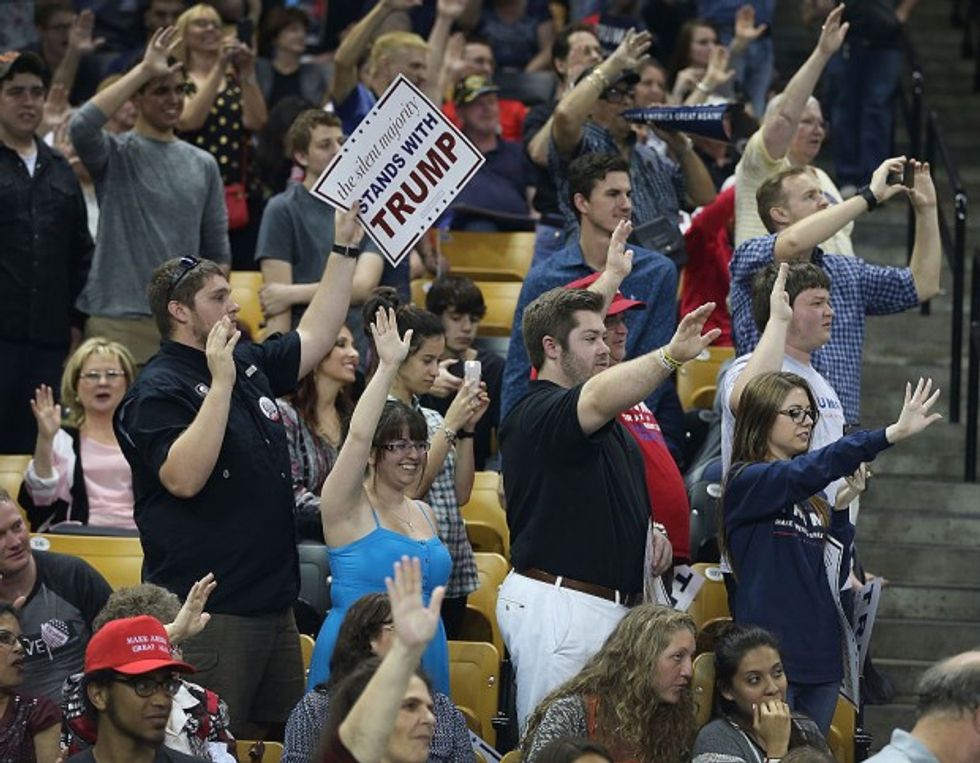 People raise their hands afer Republican presidential candidate Donald Trump asks them during an Orlando, Florida, campgaign rally to pledge that they will vote for him. (Joe Raedle/Getty Images)
At a Saturday evening rally in Orlando, Florida, Trump asked supporters to raise their right hands and pledge to vote for him.
"Let's do a pledge. Who likes me in this room?" Trump said. "Raise your right hand: 'I do solemnly swear that I — no matter how I feel, no matter what the conditions, if there's hurricanes or whatever — will vote, on or before the 12th for Donald J. Trump for president.'"
Trump incorrectly stated the date of the Florida primary, which will take place March 15.
"Don't forget you all raised your hands," Trump continued. "You swore. Bad things happen if you don't live up to what you just did."
Twitter users characterized the images of supporters raising their right hands as similar to the Nazi salute, and the words "Heil Trump" trended on Twitter Saturday evening.
Not everyone agreed that Trump's request for the gesture went too far — some argued that his attempt to get the audience to make a pledge, while optically inconvenient, wasn't intentionally a reference to fascist leaders of the past.
Foxman was born in Poland in 1940 and said he was saved from the Holocaust by his Catholic nanny.
"We've seen this sort of thing at rallies of neo-Nazis," Foxman said. "We've seen it at rallies of white supremacists. But to see it at a rally for a legitimate candidate for the presidency of the United States is outrageous."
Foxman told the Times that he believes Trump is aware of the implications of the gesture.
"It is a fascist gesture," Foxman said. "He is smart enough — he always tells us how smart he is — to know the images that this evokes. Instead of asking his audience to pledge allegiance to the United States of America, which in itself would be a little bizarre, he's asking them to swear allegiance to him."
"He even threatens that if they don't, they will suffer and be punished," Foxman added. "This is so over the top for a man who really doesn't come out of the underground. He is a man of the world. Even though he proclaims he doesn't know who David Duke was, or the other white supremacists, we know very well that he knows. So he's playing to an image."
Foxman called Trump's Saturday rally "an unprecedented moment in American political history."
"You can find some authoritarian, semi-fascist tinges in Southern politics during the segregationist era," he said. "But there's never been anything like this, and nothing on this scale."
Foxman called the incident a "low point" in Trump's campaign.
"I think he was intoxicated with all the things that he's already got away with, and it led him to this," said Foxman. "This is the summit of his own intoxication with what he perceives as his leadership quality."
"When he said, 'I can walk down the street on Fifth Avenue and kill somebody and my supporters will not desert me,' he knows exactly what buttons he's pushing." Foxman continued. "Or when that guy interrupted his speech. People in that situation may think internally, 'Oh, I want to punch him in the mouth.' But you don't say it, you don't say it, because it's not civilized. But he said it and it was applauded."
Foxman said that he hopes Trump will not become the Republican nominee.
"There's a long, long way to go, but I remain an optimist. I'm an optimist about the American people," he said. "I think the American people are rational and reasonable at the end of the day. And I think that if the intoxication we are seeing continues, more and more people will realize that this is not a person that they want to be led by."
ADL, an organization that fights anti-Semitism and bigotry, declined to comment on Foxman's remarks.
And a Trump campaign spokeswoman did not immediately return TheBlaze's request for comment.