Palestinian Authority President Mahmoud Abbas Monday accused the Israeli government of "Judaizing" Jerusalem.
"The danger of Judaizing Al-Quds grew following Israeli violations," Abbas said according to Israel's NRG news site, using the Arabic name for Jerusalem.
Speaking at a summit of the Organization of Islamic Cooperation gathered in Jakarta, Indonesia, in support of the Palestinians, Abbas also accused Israel of engaging in "aggression" against holy sites in Jerusalem and building in areas he described as Palestinian territories.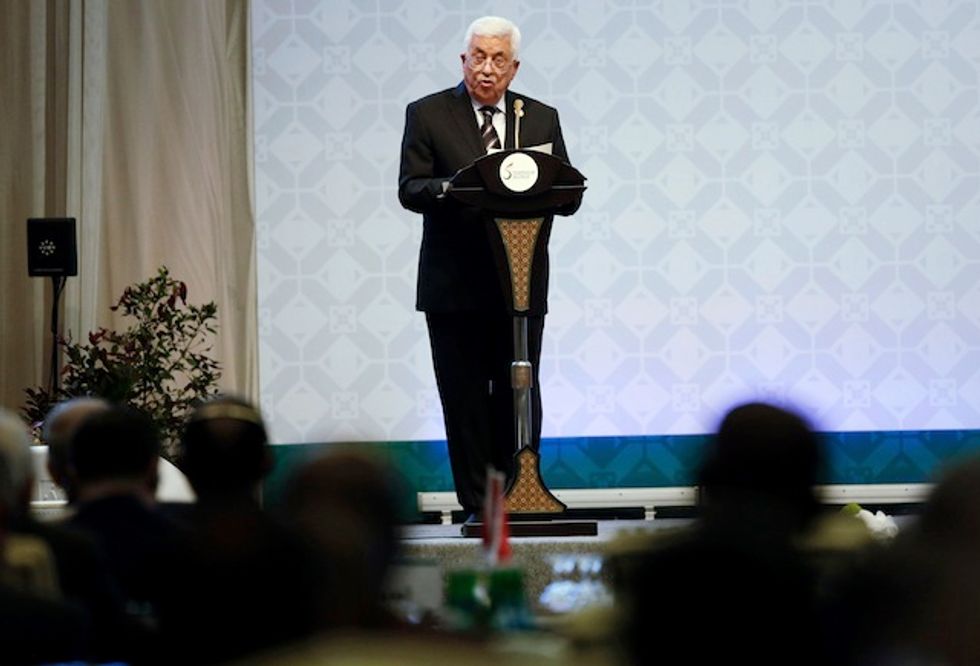 Palestinian president Mahmud Abbas delivers a speech in Jakarta during the plenary session of the 5th Extraordinary Organization of Islamic Cooperation Summit on the Palestinian territories Monday. (Achmad Ibrahim/AFP/Getty Images)
"The Israeli government does not allow Muslims to enter the Al-Quds Al-Sharif complex," Abbas said, referring to the place Muslims call the Noble Sanctuary and Jews call the Temple Mount.
Abbas' claim was incorrect, as Israel allows Muslims to pray on the Temple Mount while it prohibits any Jewish prayer at the holy site.
The Temple Mount is the holiest site in Judaism and third-holiest site in Islam. Though Abbas accused Israel of "Judaizing" Jerusalem, there has been a Jewish connection to the city for thousands of years, documented in detail in the Bible.
Additionally, archaeologists have found numerous artifacts attesting to the Jewish connection to the city, most notably the Western Wall of the Second Temple.
Indeed, on Monday, the Israel Antiquities Authority announced that archaeologists had found two seals in Jerusalem inscribed with Hebrew names and dating to the time of the First Temple, which according to the Bible was constructed by King Solomon.
In his speech to the Islamic gathering, Indonesian President Joko Widodo accused Israel of engaging in "illegal activities" and "colonization."
"As part of the international community, Israel must end its illegal activities and policies in the occupied territories. Indonesia and the Islamic world stands ready to take concrete actions to urge Israel to end its colonization to Palestine," the Indonesian leader said, according to the Jerusalem Post.
Israel has faced a five-month wave of nearly daily attacks by Palestinians, which the Israeli government says has been fueled by incitement on social media and in official Palestinian media outlets.
The wave of attacks began around the same time that Abbas accused Israelis of desecrating the Temple Mount with their "filthy feet" and falsely accused the Israeli government of working to change the so-called "status quo" by which Jewish visits to the Temple Mount are severely limited along with the total prohibition on Jewish prayer at the holy site.