Should alarming and offensive words such as "jihad" be allowed on customized license plates? That's the question some in Missouri are asking after a couple was spotted with a license plate reading "JIHAD 1."
According to KMOV-TV, the people who own the plate are Muslim, but they don't associate the word "jihad" with terrorism like most people. Instead, they chose the word to be on their custom plate because its their son's name. The word, the couple explained to KMOV, actually has nothing to do with terrorism or violence at all.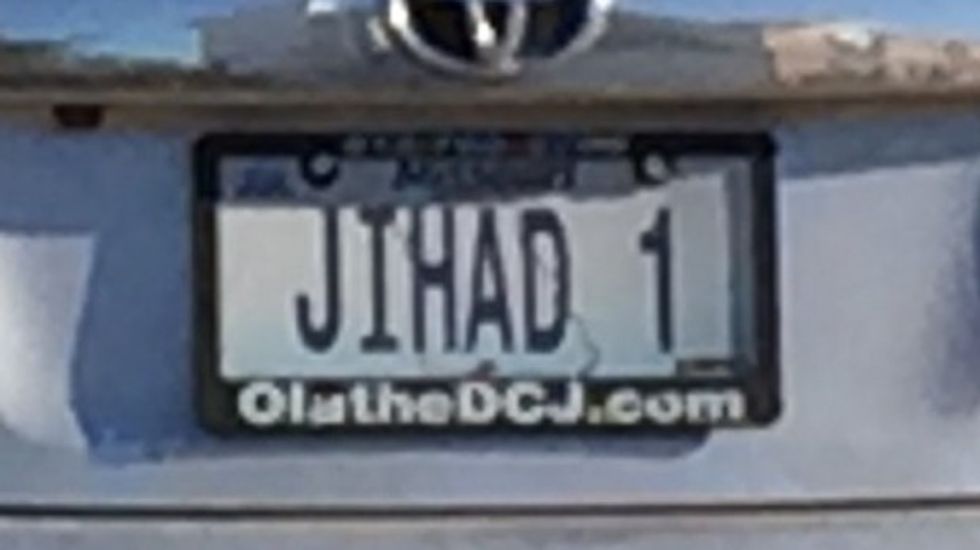 Image source: KMOV-TV
Faizan Syed, executive director of the St. Louis chapter of the Council on American-Islamic Relations, confirmed what the family told KMOV concerning the controversial word.
"Jihad is very common, and it doesn't mean 'holy war,'" he said. "It means someone who is struggling, so when you name your kid Jihad, it means someone who is going to struggle to be better."
But Syed said he understands how using the word on the back of a license plate could be alarming or offensive.
"It has the ability to confuse people," Syed said, adding that "because the average American thinks of 'jihad' as a certain thing, it's probably better for this individual not to use it."
However, KMOV found that the Missouri Department of Motor Vehicles had denied customization requests for words such as "J1had," among many other offensive words, so it is not known why "JIHAD 1" was allowed.
—
Follow the author of this story on Twitter and Facebook:
[facebook //www.facebook.com/plugins/like.php?href=