A freelance writer recently launched an online petition to get rapper Fetty Wap to perform his famous hit "Trap Queen" at former first lady Nancy Reagan's funeral — and it's getting some serious traction.
According to the Urban Dictionary, a "trap queen" is a "loyal, respectful and wise women" who is "both street smart and book smart" and "loyal to her lover."
Though some will note that the online petition takes on a humorous tone, the implications behind labeling Nancy Reagan a "trap queen" are serious.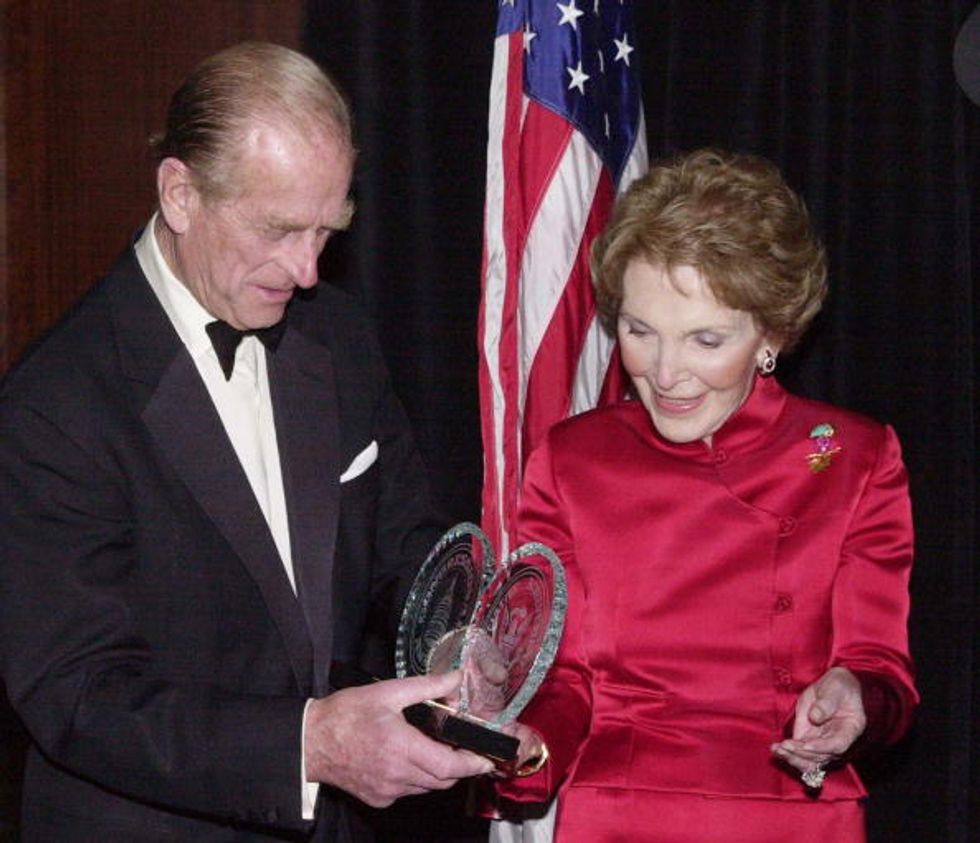 Former first lady Nancy Reagan and His Highness the Duke of Edinbourgh look over the Leadership Award presented to her March 15, 2000, in Beverly Hills. The Congressional Award Foundation lauded Mrs. Reagan's efforts as first lady in the fight against youth drug abuse in the United States and around the world. (Jim Ruymen/AFP/Getty Images)
Reagan died Sunday at age 94. She was known for her devotion to her husband, former President Ronald Reagan, and her political activism, notably her "Just Say No" anti-drug campaign.
The song "Trap Queen" is the rapper's shout-out to a girlfriend and loyal sidekick. It celebrates her ability to make money and cook pies.
The Change.org petition, created by a freelance writer named David Dennis, suggests that a Fetty Wap performance would be fitting for the funeral of a woman who was "married to the money and introduced America to the stove."
Though the likelihood of Fetty Wap actually delivering a musical eulogy at the former first lady's funeral, the petition is clearly an attempt to make a political statement. A description on Change.org refers to Nancy Reagan's "diabolical" anti-drugs advocacy:
While her husband, Ronald Reagan, was linking up with Papi to flood the streets with narcotics, Nancy was on TV telling kids to 'Say No to Drugs.' Her infamous 'anti-drug' phrase encouraged strict laws on drug possession that led to a school-to-prison pipeline we're still dealing with now.

Blacks and Latinos went to jail in droves for possessing drugs her husband gave them. It was an incredible sleight of hand that would make any wannabe Trap Queen hide in shame for her inability to be as diabolical as Nancy.
The petition refers to a long-running conspiracy theory implicating the CIA's involvement in Central American cocaine trafficking during Reagan's presidency.
Fetty Wap has yet to issue a comment regarding the petition, but some people are all for the performance. As of Tuesday the petition had more than 5,000 supporters:
Woke up to over 4,000 people wanting to get @fettywap to perform Trap Queen at Nancy Reagan's funeral. IT'S LIT! pic.twitter.com/MmYWran152

— David D. (@DavidDTSS) March 8, 2016