Between four and five dozen activists reportedly gathered in a parking lot outside of a downtown library in Ann Arbor, Michigan, Saturday to mourn a City Council-approved killing of 63 deer.
The group was heard chanting, "Deer lives matter, and all lives matter," adding, "When we kill the deer, we kill ourselves."
The protesters prayed, chanted, sang songs and took turns holding a heart-shaped trinket featuring a deer in honor of the deer killed by Department of Agriculture sharpshooters. The culling of the deer was permitted between Jan. 2 and March 1.
The protesters also built a deer-shaped topiary and hung 63 prayer flags adorned with hoof prints to honor each deer killed.
Protest organizer Shunahsii Rose told Michigan's MLive.com, "In a universal capacity, we're asking Ann Arbor to return to a path of peace, and this particular day we are offering a memorial to the deer that have been shot as a result of the Ann Arbor deer cull."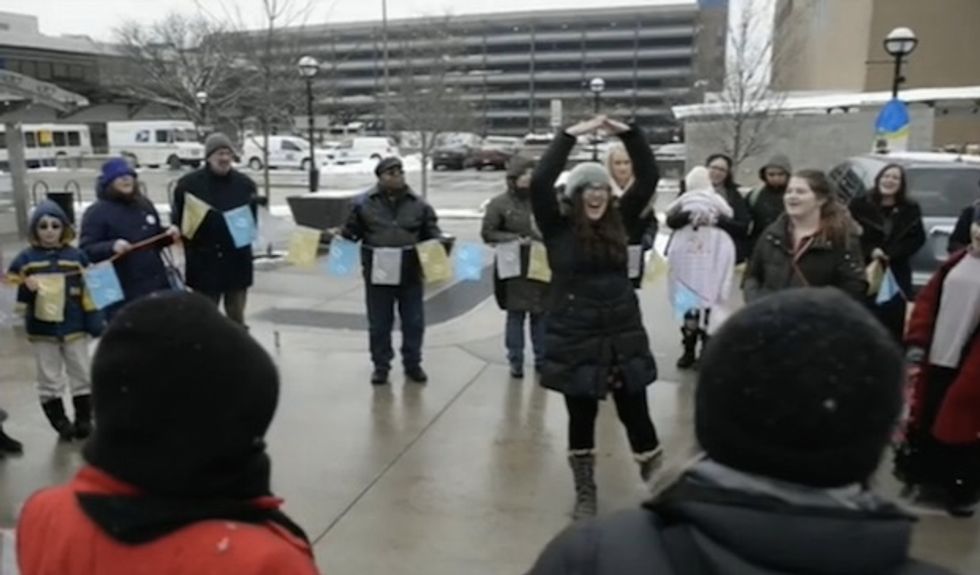 Image source: YouTube
Ann Arbor's deer population had become a problem — the sheer number of deer plagued the community at several levels. There were concerns over the spreading of Lyme disease thanks to a tick commonly found on deer, the swollen herd was eating local vegetation, and motorists were complaining about deer on the roads.
The Ann Arbor City Council easily passed a resolution authorizing the culling of as many as 100 deer. By the time March 1 rolled around, 63 had been killed and the venison harvested and donated to local food shelters.
"Someday, through our work and the work of peacemakers over the whole world, the boundaries will dissolve, the animals will be cherished," on protestor said.
Despite the removal of 63 deer from the local population, Ann Arbor's city council believes the problem is getting worse and already scheduled another cull for next winter.
(H/T: MLive)
—
Follow the author of this story on Twitter and Facebook: