Melissa Click, a former assistant communications professor at the University of Missouri, announced that she is appealing the termination of her employment following her behavior during a race-related student protest last November, claiming that the university's move was political in nature.
Click, 45, issued a statement Tuesday in which she insisted that her Feb. 25 dismissal from the university was unfairly decided because the school's governing curators failed to follow proper procedures in responding to faculty misconduct, according to the Associated Press. Instead of adhering to the correct protocol, Click accused the curators of allowing the Republican state lawmakers who called for her dismissal to influence their decision unfairly.
"In their decision to terminate my employment, the curators bowed to conservative voices that seek to tarnish my stellar 12-year record at MU," Click wrote, according to the AP. "Instead of disciplining me for conduct that does not 'meet expectations for a university faculty member,' the curators are punishing me for standing with students who have drawn attention to the issue of overt racism at the University of Missouri."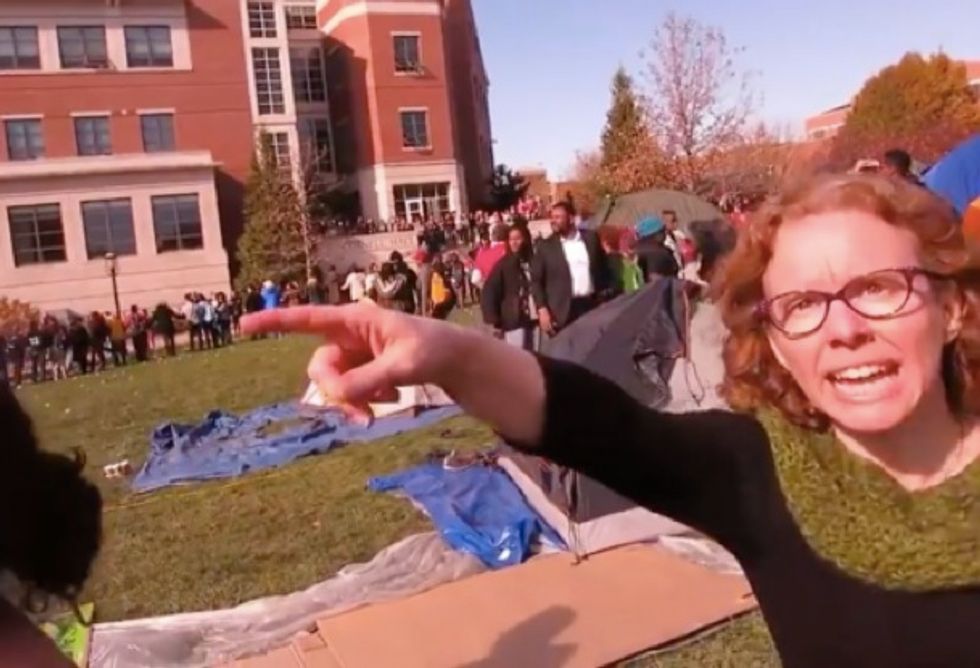 University of Missouri communications professor Melissa Click telling student-journalist Mark Schierbecker to leave students' space. (Image source: YouTube)
Accusing the university's governing board of "using [her] as a scapegoat to distract from larger campus issues," Click stated that "their termination of [her] employment will not remedy the environment of injustice that persists at MU."
Click, who was fired in February following her suspension in January, issued her statement the day after the American Association of University Professors announced that it was investigating the process that led to Click's dismissal, seeking to determine if the curators violated her right to due process and "whether conditions for academic freedom and tenure at the institution are sound," the AP reported.
Regardless of the investigation's outcome, Click maintains that she will not relinquish her support for her minority students, although she admitted that she does regret her actions caught on camera that showed the former professor asking for "some muscle" in confronting student journalists in October, as well as cursing at a police officer during a student protest last November.
"I will not apologize for my support of black students who experience racism at the University of Missouri," Click concluded in her statement.
(H/T: Fox News)
—
Follow Kathryn Blackhurst (@kablackhurst) on Twitter