© 2023 Blaze Media LLC. All rights reserved.
Pastor Who Said Islam 'Is Inspired by Satan Himself' Has a Theory About the Prophet Muhammad
"I believe Islam is a false religion, based on a false book, written by a false prophet."
Pastor Robert Jeffress of First Baptist Church in Dallas, Texas, responded to controversies over his past theological statements in a recent interview with TheBlaze, offering up a theory about the Prophet Muhammad.
Rather than back away from his remarks in November during which he called the Islamic faith a "false religion" that "is inspired by Satan himself," Jeffress — author of the new book, "Not All Roads Lead to Heaven" — defended his beliefs about Islam.
"I believe Islam is a false religion, based on a false book, written by a false prophet," he said.
And the preacher also addressed those who might believe that he went too far in his characterization of the Muslim faith.
"I know people think, 'Well, when you say 'inspired by Satan,' that's over the top.' Look, in 2 Corinthians 11 Paul said, 'Don't be surprised if Satan doesn't appear as an angel of light to deceive people,'" Jeffress said. "You know, Muhammad claims that an Angel gave to him the revelation that resulted in Islam. I don't doubt that for a moment, but I believe the angel wasn't from God. I think it came from Satan."
Listen to Jeffress' comments at the 15:30 mark below:
2 Corinthians 11:14-15 reads, "And no wonder, for Satan himself masquerades as an angel of light. It is not surprising, then, if his servants also masquerade as servants of righteousness. Their end will be what their actions deserve."
As previously reported, Jeffress responded to the Paris terror attacks back in November by making his controversial comments about the Muslim faith.
"Make no mistake about it — Islam is just not another way to approach God," he said at the time. "Islam is a false religion and it is inspired by Satan himself who Jesus said came to steal, kill and destroy, and this weekend we saw the fruit of Satan's destruction in the acts of these terrorists."
The preacher told TheBlaze in his recent interview that his comments were uttered the Sunday after the Paris terror attacks that killed 130 people, explaining that his parishioners were nervous about what had unfolded. 
So, he said that he took some time to address it.
Jeffress further explained his comments about Islam, telling TheBlaze that if one believes that "Islam is a false religion that won't lead people to heaven, but will lead them to hell, well of course it's inspired by Satan."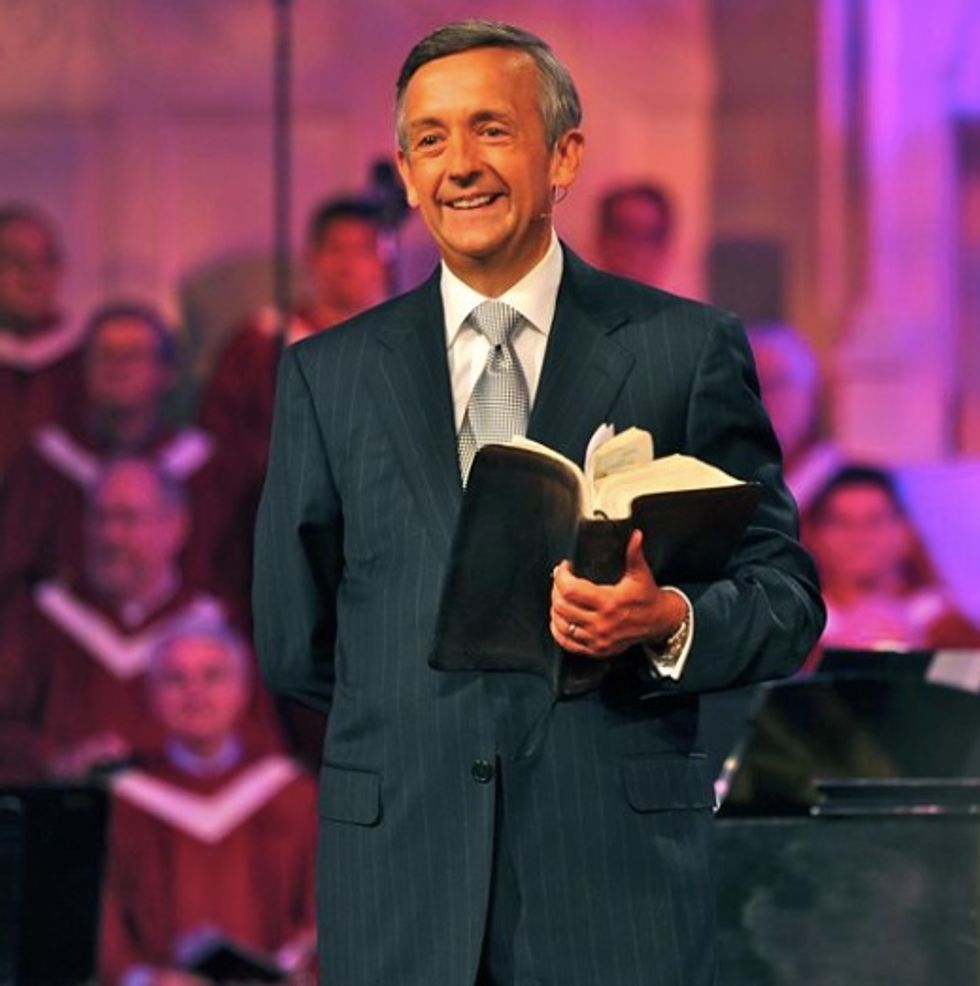 Dr.Robert Jeffress (Facebook)
He also addressed critiques he has received from Bill Donohue of the Catholic League over past comments that he has made about elements of the Catholic Church with which he disagrees.
Despite sharing theological points of contention, Jeffress said, "I believe that there will be millions of Catholics in heaven who have trusted Christ as their savior," but added his belief that no one goes to heaven as a group and that salvation is an individualized paradigm.
"I've got a lot more in common with Catholics than I do with other Mainline protestants," he said.
Read about what Jeffress had to say about salvation and Donald Trump as well.
--
Follow the author of this story on Twitter and Facebook:
Want to leave a tip?
We answer to you. Help keep our content free of advertisers and big tech censorship by leaving a tip today.
more stories
Sign up for the Blaze newsletter
By signing up, you agree to our
Privacy Policy
and
Terms of Use
, and agree to receive content that may sometimes include advertisements. You may opt out at any time.